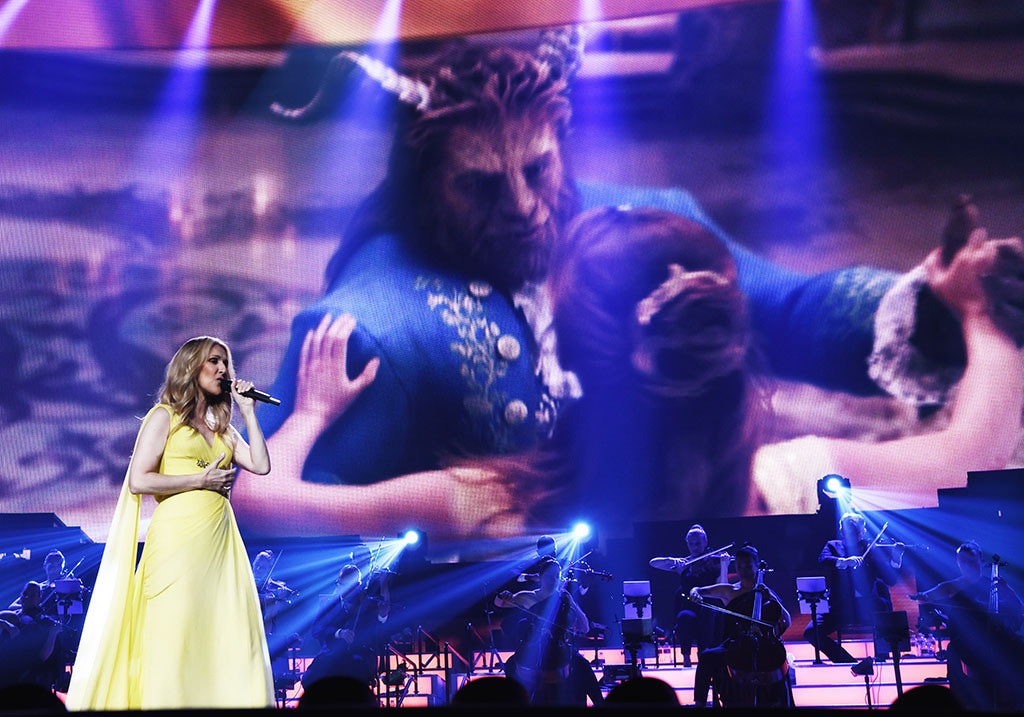 Denise Truscello
It's impossible to imagine Beauty and the Beast without Céline Dion.
The 49-year-old singer surprised fans at The Colosseum at Caesars Palace in Las Vegas Wednesday when she performed "How Does a Moment Last Forever" for the very first time. The ballad, by Alan Menken and Tim Rice, was written for Walt Disney Studios' live-action movie musical, starring Dan Stevens and Emma Watson. Dion's rendition of "How Does a Moment Last Forever" played over the end credits, while Kevin Kline (as Maurice) sang it in the movie as he tinkered with a music box.
For Wednesday's performance, Dion paid homage to Belle by wearing a yellow gown. Footage from the film—including the iconic ballroom dance scene—played on the big screen behind her.
Before the band began, Dion felt "very nervous and very excited at the same time." After the big reveal, she told fans, "I'd like to sing it for you in concert tonight for the very, very first time."
Dion contributed the animated film's soundtrack in 1991, singing the pop version of the title track with Peabo Bryson. The duet was a hit, winning an Academy Award and a Golden Globe. "It put me on the map. It gave me a career," she told E! News' Sibley Scoles at the movie's world premiere in L.A. two months ago. "I still sing the song, and I will for the rest of my life."
"It feels strange. I cannot believe that 26 years has passed," the singer added. "Fast, fast, fast!"
"Twenty-six years later, they came back to me and they said, 'Would you consider singing another song for Beauty and the Beast?' 'What do you mean, Beauty and the Beast? Are we done?' They said, 'Yeah, but we're not going to be animated. It's going to be with real actors,'" she said. Feeling unsure, she consulted René Angélil. "He helped me a lot. That's why I'm here."
Beauty and the Beast is available on Blu-Ray, Digital HD and Disney Movie Anywhere June 6.