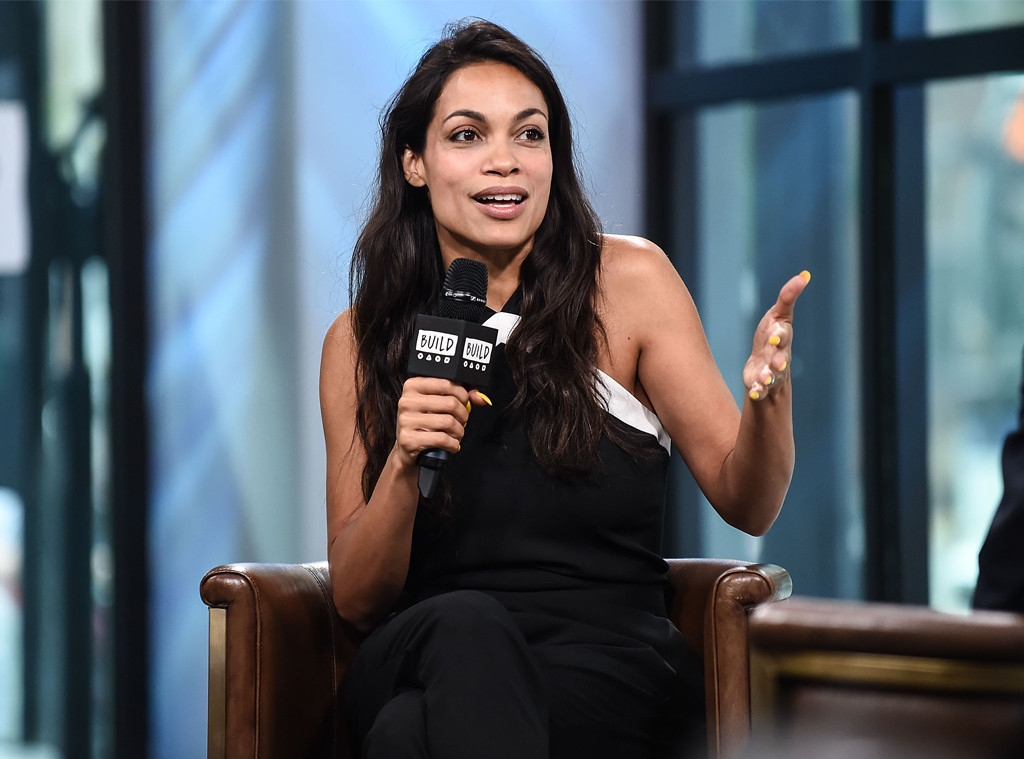 Daniel Zuchnik/WireImage)
Rosario Dawson fought back tears Wednesday afternoon.
The 38-year-old Unforgettable actress traveled from L.A. to New York City to appear on AOL's BUILD series, marking her first interview since the recent death of her 26-year-old cousin Vaneza Ines Vazquez. "I've been dealing with a lot of loss lately and reconnecting with my family and my friends in a different way. I'm realizing how much I've pulled myself back, and I've been just really humbled by this opportunity tonight," admitted Dawson, who was in her hometown on behalf of The Lower Eastside Girls Club of New York. "They're giving me an award and it's recognizing all of the achievements and things I've done with the organization, which is amazing. And I'm humbled by those achievements, but I'm also really humbled by my failures."
Vazquez's death made Dawson realize she should "never take anything for granted" and "to constantly be working on yourself and take advantage of every moment," the actress added. "Tomorrow is not guaranteed, and you want to make sure the people that you love know that, and that you're doing things with your time that you're proud of, because it goes by so fast. It gets really easy to get caught up in the minutiae, but then you're sitting in the Girls Club and you're zooming off into the your own universe and back, and you realize, 'I can be so much bigger and so much more.' We're the only ones who are stopping ourselves from having that."
"I'm challenging myself now, still. I want to go back to school. I want to keep growing. I want to keep learning. I want to be a better person. I want to manage my time better. I want to be more organized," she said. "I don't want to be lazy. I don't want to take anything for granted."
"Even as I'm going through a really emotional and stressful time in my life, I was so grateful to get on the plane to come here today and be here with all of you and celebrate what we have to celebrate, because that's super important. And it's too easy to kind of go down the wormhole—the rabbit hole—and think about the stuff that didn't happen," Dawson continued. "My cousin just died, Vaneza, and I'm coming up on the six-year anniversary of my grandmother's passing. And from 75 to 26, you just don't know when your time is. And I just don't want to be in any kind of position where I'm looking back going, 'I should've, could've, would've, didn't, damn!'"
On May 11, Dawson walked downstairs in her Venice, Calif., home and discovered Vazquez, who was unresponsive. The actress called the paramedics, but they were unable to revive her on the scene. Vasquez was taken to St. John's Medical Center in Santa Monica, where she was later pronounced dead. Preliminary tests indicated her death was likely due to natural causes.
Vasquez, who was working for Dawson at the time of her death, had a history of hypertension and migraines, according to a police report obtained by E! News. She was taking some medications and was under a doctor's care.
Vasquez's mother, Lisa Centeno, paid tribute to her late daughter on Facebook days later. "Vaneza, my sweet, sweet beautiful baby—your passing has left me destroyed forever but I know you are at peace in Paradise," Orlando-based Centeno wrote. "I love you, my alpha child."