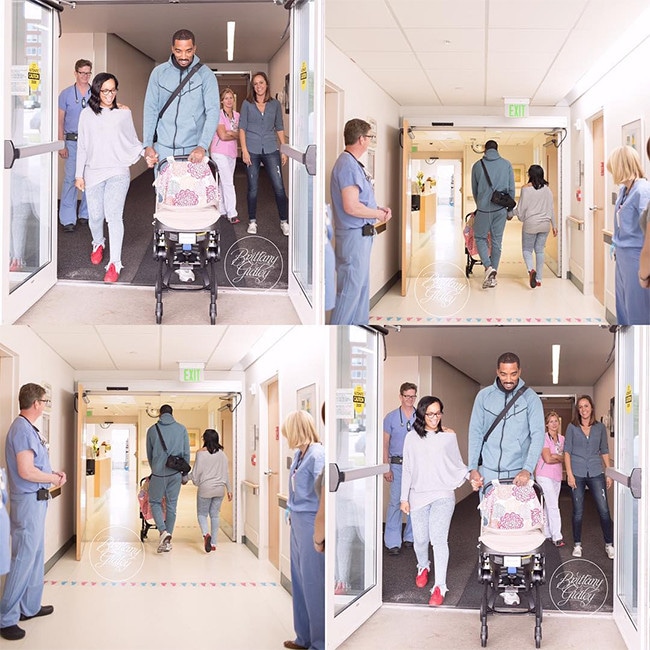 Instagram
Baby Kota is home!
This past January, Cleveland Cavaliers player J.R. Smith's wife Jewel Harris gave birth at Hillcrest Hospital in Mayfield Heights, Ohio to their daughter, Dakota, five months early at 21 gestational weeks. The baby weighed one pound—at least five times less than the normal birth weight, making her a micro preemie—and was rushed to the NICU. She was released from the hospital Tuesday, weighing a healthy 7 pounds and 5 ounces.
"We Walked In Together We Walked Out Together!!" Smith wrote on Instagram, alongside a heartwarming photo collage of him and his wife leaving with their baby in a stroller. "Thank you so much to our extended family at the #NICU You all are truly the WORLDS GREATEST! @jewey808 back to #TeamNoSleep #KotasHome."
The child joins big sisters Demi and Peyton.
Smith posted on Wednesday a photo of the baby sleeping on his bare chest with Demi cuddled up, staring at her new sister. Dakota is wearing an oxygen tube. In the weeks following birth, premature babies often have difficulty breathing.
"#wcws @jewey808 (My big WCW), he wrote.
On Instagram, the NBA player has chronicled Dakota's progress in the NICU.
"Today is one of the greatest days of my life. Today I get to hold my youngest for the first time! GOD is GREAT! #DakotaStrong," he wrote in February.