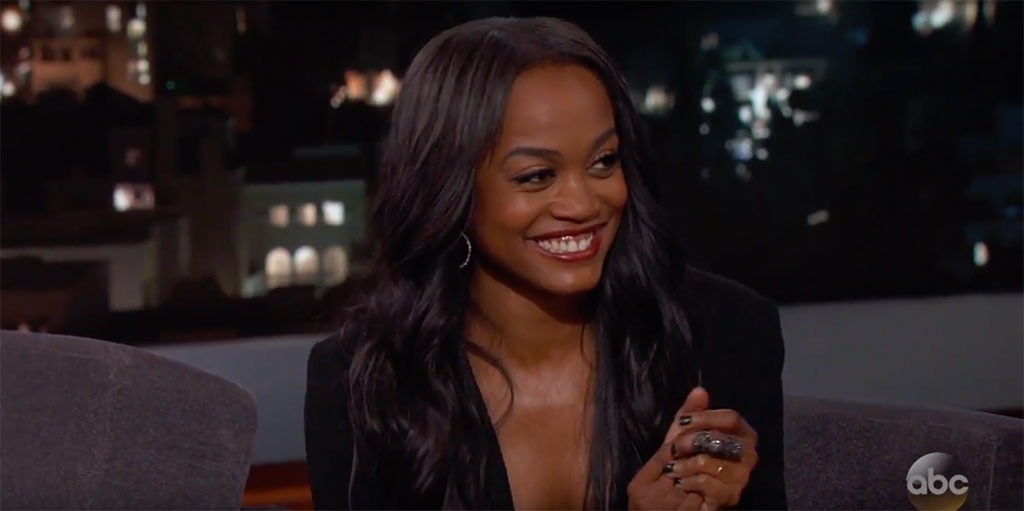 YouTube
With the newest season of The Bachelorette officially in full swing, Jimmy Kimmel is asking the questions everyone wants to know the answers to. 
Rachel Lindsay got in the late-night hot seat Monday night, right after the premiere episode of her season aired. Since there were a few things Kimmel—and every fan—was eager to find out, the host gave the reality star a lie detector test with some questionable equipment to figure out what exactly is in store for the ABC show. 
The questions included:
Is your name Rachel Lindsay? FALSE

Are you engaged? Answer: Yes TRUE

Did you keep Whaboom around because the producers asked you to because they need one lunatic in the house at all times? Answer: No TRUE

Did you do anything on the show that could potentially get you disbarred? Answer: No TRUE

Do you believe the "Tickle Monster" should be behind bars? Answer: No FALSE
While we would love to know Lindsay's real name, we're happy to know this Texas attorney won't be out of a job after her journey to find love is all said and done. 
As for the Whaboom, also known as Lucas, he's apparently not the only eccentric contestant. "There's more than one [lunatic]," she told Kimmel. 
For those asking what a Whaboom is, we did, too. "It's an essence, it's a lifestyle, it's an occupation but it's also a verb," host Chris Harrison told E! News. "You can Whaboom and you can be Whaboomed."
Meanwhile, we didn't expect the "Tickle Monster" to be around for long, either. After all, according to the lie detector test, Lindsay secretly thinks he should be behind bars.