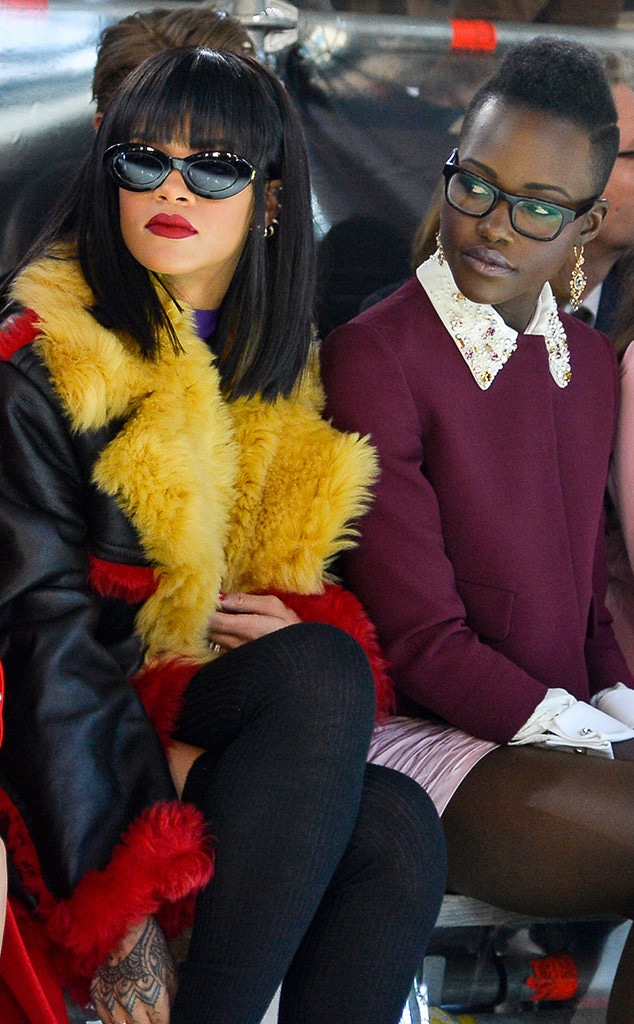 Pascal Le Segretain/Getty Images
It's the photo that got the whole Internet talking...
The world basically fell in love with the idea of Rihanna and Lupita Nyong'o starring in a heist movie together after the fierce females were photographed sitting next to each other at a Miu Miu fashion show in 2014. It may have all seemed like a Twitter pipe dream, but it just became a reality at the Cannes Film Festival. 
On Monday, Entertainment Weekly reported that Netflix inked a deal for the concept at the Cannes Film Festival after a "dramatic negotiation session."
The film is set to star Riri and the Oscar winner and will be directed by Ava DuVernay. The film will be written by Insecure writer, creator and actress Issa Rae, whose team confirmed to Vanity Fair that the project is in the works.
A movie based on a meme? Stranger things have happened in Hollywood!
Ava appeared to confirm the news with a Twitter Moment with the caption, "We deserve nice things."
So how did a tweet turn into a movie? Well, soon after Lupita and Rihanna attended the event, the fashionable photo of the two of them quickly went viral on Tumblr. The tweets grew with people imagining a hypothetical movie with starring the ladies. A Twitter user, 1800SADGAL, reposted the photo with the comment, "Rihanna looks like she scams rich white men and Lupita is the computer smart best friend that helps plan the scans."
The tweet got over 209K likes and launched a big idea that Lupita and Rihanna couldn't ignore. Many other Twitter users jumped on 1800SADGAL's tweet and thought up even more hypothetical story lines between the two stars.
Rihanna and Lupita were both tagged in the process as were Ava and Issa.
But it didn't seem like this thing was an actual thing until Lupita retweeted the idea at Riri and wrote,"I'm down if you are." Rihanna later tweeted back, saying, "I'm in Pit'z." And that's when things got serious. EW claims that the movie will begin filming in 2018.
And fret not, the Twitter users and Tumblr writer, who thought the whole thing up, won't go unnoticed. They will be credited and included in some way. 
Most of the time twitter may be filled with trolls, offensive comments and apologies for said offensive comments, but this time Twitter's done good. This is pretty much the Lady Dream Team.