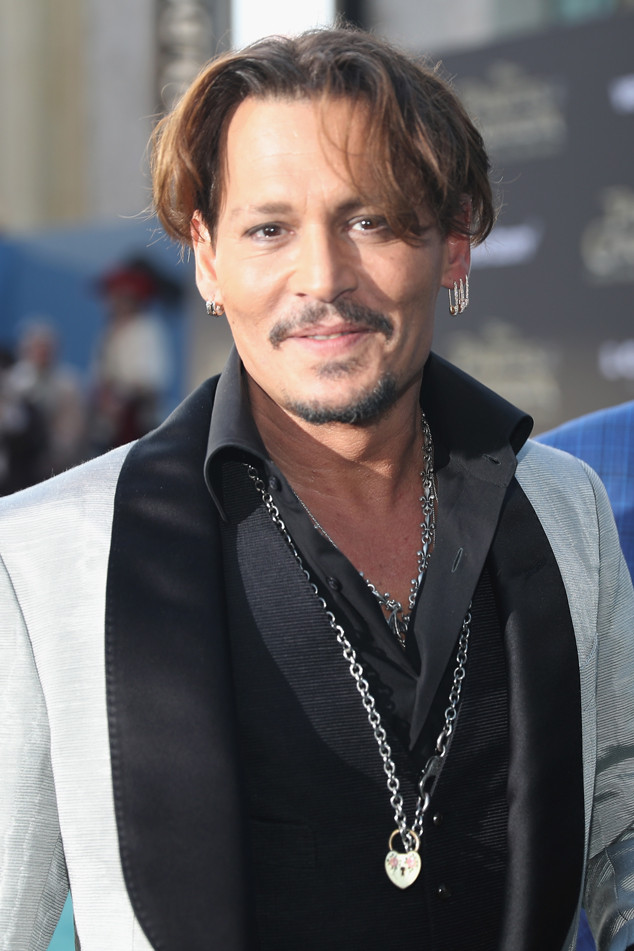 Rich Polk/Getty Images for Disney
Johnny Depp has always seemed comfortable with his reputation for being somewhat off-kilter. And to be sure, his legions of fans have been eating up that quirky, brooding, shy-but-magnetic, wounded artist vibe for 25 years.
Even when he affected that inexplicable accent, or didn't bother to remove Jack Sparrow's gold teeth before doing press, or moved to France, his ways always entranced and endeared more than annoyed. Being inordinately handsome also helped, as evidenced by his being named People's Sexiest Man Alive twice and at the age of 51 becoming the first face of Dior's new Sauvage men's fragrance.
But that was in 2015.
In 2016, exactly one year ago, Amber Heard filed for divorce from the actor after 15 months of what was already widely suspected to be a less-than-ideal marriage. However unsurprising, the timing seemed deliberate—Heard filed on the day of Alice Through the Looking Glass' red carpet premiere, which Depp attended after making his annual visit to Jimmy Kimmel Live.
That still would've just been a blip on the radar in the grand scheme of things, but four days after seeking the divorce, Heard then secured a temporary domestic violence restraining order against Depp. She appeared in court with a visible bruise on her face and alleged in court documents that her husband had been physically and emotionally abusive for the duration of their relationship. The petition claimed that Depp had a "long-held and widely acknowledged public and private history of drug and alcohol abuse" and, on May 21, 2016, he had returned to their downtown L.A. penthouse "inebriated and high." He was distraught about the recent death of his mother, Heard stated, and when she tried to comfort him, he started ranting and then grabbed her cell phone and threw it at her face.
Depp's attorney accused Heard of making those allegations to secure more money for herself. His daughter, Lily-Rose Depp, and ex-partner Vanessa Paradis spoke out in his defense.
Heard, via her lawyers, declared herself ready to testify, but it never got that far. In August they reached an out-of-court settlement, with Depp agreeing to pay Heard $7 million. The actress, shadowed by accusations that her actions were motivated by money, announced her intent to give the millions to charity.
That wasn't the end of their battle by any means, as Heard objected to Depp trying to give the money directly to the charities himself, and the divorce itself not being finalized until January. But compared with how the fight started—with leaked photos and video and text messages, and the instant tug-of-war that began on social media for Johnny and Amber's honor—it all ended relatively quietly. 
In the meantime, Depp went about his life. He spent some of the summer touring with his band Hollywood Vampires and he made an innocuous return to the red carpet that July in St. Paul, Minn., at the Starkey Hearing Foundation Awards Gala, having been a longtime supporter of the charitable organization.
But while he was never in any danger of losing certain fans, particularly the ones who took to social media to eviscerate Heard for lying, gold-digging and otherwise manipulatively trying to take Johnny down (there were also people who didn't claim she was lying, but rather put her in the wrong for going public with private information), a certain malaise settled over the cult of Johnny Depp.
First of all, Alice Through the Looking Glass flopped at the U.S. box office—$77 million not holding much of a candle to the estimated $170 million production budget or the $334 million that Alice in Wonderland made in 2010.
But inauspicious timing aside, it's hard to say whether that had anything to do with Depp's personal troubles, which were simultaneously unfolding during the film's first weekend in theaters. Sometimes the desire for a sequel is just grossly overestimated. And Depp, despite being so generally beloved, had had his share of financial duds in his career—as have plenty of his fellow A-listers.
Depp's drama fell even further by the wayside in September when Angelina Jolie filed for divorce from Brad Pitt and they became embroiled in a most surprising custody battle. Depp retreated to his island property in the Bahamas, spent time with his kids and used a break from work to regroup. In November he was honored with the Rhonda's Kiss Healing and Hope Award for his work to support cancer patients. By December he was back on the job, shooting the true crime drama LAbyrinth, in which he plays a detective who investigated the murders of Notorious B.I.G. and Tupac Shakur.
But while life was not upended for Depp, or for the devoted Depp fan, not all was as he had left it pre-divorce.
First, right after Heard went public, there was the call from several women's aide groups for Dior to dump him (which they did not). More memorably, after his divorce was ostensibly settled, it was revealed in November that Depp had a "surprise" cameo in Fantastic Beasts and Where to Find Them. News that would have caused an outbreak of mass unadulterated delight a year beforehand instead also caused a combination of eye rolls, anger and, for many of those who were still quite psyched, a sense of "should I be less excited?" discomfort.
It was a no-brainer to cast Depp when they did, but by the time word got out, distrust—as well as some outrage—still lingered from the summer.
"Here's the thing: Misogyny, abuse, maltreatment of people is unacceptable—but none of us know what happened in that room," Fantastic Beasts executive producer David Heyman told People at the film's premiere. "So I think it would be unfair for me to be judge and jury, or for any of us to be judge and jury."
Source material mastermind J.K. Rowling had nothing but glowing reviews for Depp's addition to the cast. "He's obviously a cameo in this film but going forward will obviously be more important," the Harry Potter author and Fantastic Beasts screenwriter said. "Watching Johnny create a character is really quite remarkable, it's fascinating. It's great as a writer to work with people like that."
The movie itself certainly didn't suffer, raking in $814 million worldwide. 
So while that was a moment when it became apparent that some people were irreversibly over him (even if, as his supporters said, seriousness of the accusations aside it was impossible to know what exactly had occurred behind closed doors), it was also a moment when it became clear that it takes more than accusations to knock a superstar out of the sky.
Despite describing the peak of the Depp drama as "stone-cold craziness," celebrity brand management expert Eric Schiffer tells E! News that he believes the Golden Globe winner has plenty left in the tank, so long as he curbs any self-destructive tendencies.
"He still has something that is invaluable," Schiff explains. "He's a master craftsman of the art of acting. He still has adoring fans around the world and he can come back as long as he stays in reality and stays sober, because he has not burned all bridges in Hollywood." (While the most recent questions surrounding Depp's sobriety were triggered by Heard's TRO filing, he has discussed it in the past. He described a previous "dark time" to Vanity Fair in 1997: "Well, I was poisoning myself beyond belief." Pointing to a soda, he said, "I'd eat that glass, man. There was a lot of liquor. A lot of liquor. I was pretty unhealthy.")
With Pirates of the Caribbean: Dead Men Tell No Tales already shot and being prepped for its May 26, 2017, release, Disney CEO Robert Iger was of course asked last year about the franchise star's personal drama.
"Not worried about it," Iger told The Hollywood Reporter amid the thick of Depp's divorce battle last June. "I don't know whether it passes or not. We have Jack Sparrow."
Even reports that Depp behaved erratically while shooting Pirates in Australia before his divorce have done nothing to diminish the public support he has from those who run the show. "You've got to understand the kind of pressure Johnny was under in Australia," franchise producer Jerry Bruckheimer told THR recently.
The film and TV titan continued, "There was so much stuff made up about him: that Johnny had a fight on set and had gone back to the States, which we both read about while we were in his trailer." Added production chief Sean Bailey, "There were certainly days when our plans were challenged. But no one should underestimate Johnny's passion and commitment to this character and franchise."
With box office trackers expecting the fifth Pirates film to make about $90 million over the long Memorial Day weekend, putting it way ahead of Baywatch estimates, Bob Iger can be secure in his decision to not blink in the face of possible turmoil. Furthermore, the buzz from early screenings is that Dead Men Tell No Tales is way better than 2011's Pirates of the Caribbean: On Stranger Tides, which still made over $1 billion worldwide.
Even Depp, who famously does not watch his own movies, says he watched this one.
"I saw part of...maybe the first one," he told Ellen DeGeneres last week, his Ellen interview part of the family friendly press tour he usually does for one of his family friendly movies. "But I ran out," he smiled. "Ran out like a scared rat! But this one, this one I did see because it's the fifth one. I thought, if this is the [he seemed to almost say "last"]—I want to make sure that we're delivering what we need to deliver to the people. Because the people, you guys that went and saw the thing three, four, five times, who knows, you deserve to not be spoon-fed formula. So I tried to up the stakes a little with some of the jokes."
But doesn't he also have more reasons than he could have imagined a year ago for wanting the film to do well?
With Depp's 2016 having seemingly already been enough to shake anyone's sense of entitled indestructibility, the plot only got thicker this year, when Depp sued his former financial managers for $25 million, alleging that gross misconduct on their part cost him a fortune.
In a statement responding to the suit, The Management Group said that they told the actor back in 2012, when he was in danger of defaulting on a $5 million bank loan, that he needed to get a grip on his spending. They stated that they then loaned him $5 million, which he promised to pay back by January 2014. The actor fired TMG in March 2016, but with Depp still owing them $4.2 million as of last October, TMG started non-judicial foreclosure proceedings on some of Depp's properties to recoup the rest of the loan. TMG then counter-sued, demanding unpaid fees and maintaining that Depp's own extravagant ways put him in a hole. 
Depp maintained his position in an April interview with The Wall Street Journal, in which he wondered aloud why, if he was so out of control, TMG didn't drop him.
According to an account in The Hollywood Reporter, accountant and TMG co-founder Joel Mandel claimed that Depp made more than $650 million over the 13 years TMG represented him, but not enough of it of the liquid variety to keep up with his $2 million in average monthly bills.
So no wonder Depp started off his now more pressing return to the spotlight with a trip to Ellen, a friendly environment that wasn't going to demand substance if that's not what he was offering. And he didn't offer any.
In fact, Johnny Depp's attitude upon his return to the spotlight could almost be mistaken for cavalier.  
It can't possibly be nonchalant—in fact, more likely it's stringently tactical—but he has yet to reward those who never doubted his true character for a second with any sort of truly self-reflective acknowledgement of the year from hell just past. 
Michael Rozman/Warner Bros.
There is a confidentiality agreement in place that prevents him from talking about his marriage—just as much as people think about it as a way to stop her from talking about it, it works both ways—but he can still delve into his own personal behavioral issues, should he be so inclined.
For instance, Brad Pitt's lengthy interview with GQ Style that came out earlier this month couldn't have gone over better. It was already fairly obvious he was going to be fine, as far as mass appeal was concerned, but his raw talk about therapy, getting sober and playing a role in mucking up his marriage firmly tipped the scales in his favor.
"He revealed this very vulnerable, authentic side that allowed women to connect with him," Schiffer said approvingly of Pitt's interview, "and see that this is a man who is trying to better himself...He was accountable for his actions and wants to be a better man and a better father, and there's no one who couldn't on some level admire that choice."
In Schiffer's opinion, Depp could stand to offer up more accountability on his end.
But if the system isn't broken, why would anyone on Team Depp want to tweak it?
He did reference a rough patch at the People's Choice Awards in January when he showed up to accept Favorite Movie Icon—a necessary gesture of appreciation for the people who helped make him all that money. Perhaps Depp felt that, in that moment, he was clearing the air.
Kevin Winter/Getty Images
"I came here for one reason tonight, and one reason only—love you too, kid, thanks," he took a second to reply to a shout from the crowd. "I came here for you, the people, who through whatever good times or bad, you know, have stood by me, trusted me, and you've...very, very graciously invited me here once again tonight, so I appreciate that very much. You have no idea how much I appreciate it."
After allowing for more whoops and declarations of love, Depp joked that the play-off band was probably about to shoot him, so he wrapped it up. "Listen, I was very deeply affected by the kindness of your recognition and by your well-wishes to my family and to myself. Which is why it's especially meaningful to me to be here, in front of you, to say thank you, and to tell you that I truly feel that need to thank you. In all honesty we all know that none of us, especially me," he smiled, "would be standing up here if it weren't for you tonight. So, thank you and...give' em hell, Betty Sue," he concluded, raising his award skyward in a gesture to his late mother, who died last May days before Heard filed for divorce.
As the Pirates premiere approached, similar to what he did last year dressed as the Mad Hatter, Depp went to Disneyland in full Jack Sparrow costume to get the fans on the Pirates of the Caribbean ride all revved up for the next movie. And he was back on Jimmy Kimmel Live last Thursday, planting a big kiss on Jimmy's mouth (it's their thing) and engaging in charming small talk before hitting the nearby red carpet for the Pirates premiere, where ecstatic fans screamed their delight at Johnny's arrival. 
More than industry eyes will be scrutinizing the Pirates box office this time around, but in the meantime, Depp's dance card is full. He has six movies in the works in various states of completion, from early attachment to post-production, including the title role in The Invisible Man—and that one is part of Universal Pictures' newly branded Dark Universe, which so far encompasses The Invisible Man, The Mummy (starring Tom Cruise and Sofia Boutella as the creature), Javier Bardem's Frankenstein monster, due to show up in Bride of Frankenstein, and Russell Crowe's Dr. Jekyll, who's going to be the Samuel L. Jackson of the franchise, linking the films together.
"He is taking work seriously and seems healthy," a source told People recently. Without going into more detail the source also said that he's "doing much better. He's more focused and happier."
To be sure, Depp looks slimmer and healthier now than he did at this time last year.
So while it might have seemed at times over the past 12 months as though the good will of the people could be fraying, it's looking as though Depp's going to emerge as unscathed as possible in the wake of one of the more jolting personal scandals among the biggest of Hollywood stars in recent memory.
"He's trying," Schiffer said about Depp's efforts to rebuild his credibility with the fans who were disappointed by him. "He can survive this, but it requires more work on himself, and it begins there."
But while Depp's devoted fans, the very ones he thanked at the People's Choice Awards, might deserve more of an explanation, maybe a little extra proof that their faith hasn't been misplaced, they haven't shown any signs that they're giving up on him. And whether he offers up more or not, they've already proved that they're more than willing to wait it out.
(E! News and Universal Pictures are both members of the NBCUniversal family.)