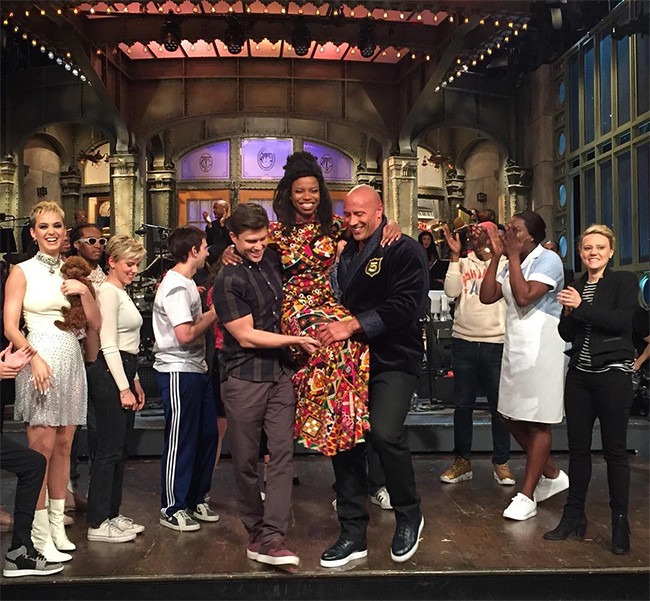 Instagram / NBC
Bobby Moynihan and Vanessa Bayer had announced before Saturday's SNL season 42 finale that they were departing the series.
A third star, Sasheer Zamata, also quietly made her own exit.
Multiple sources, including Deadline, Variety and Vanity Fair, reported Sunday morning that she too had left SNL, after four seasons. NBC, producers and Zamata have not commented. But she and cast member Cecily Strong both alluded to it.
Zamata dropped a hint about her exit in the final moments of the show, visibly tearing up as host Dwayne Johnson said goodbye, surrounded by the cast, musical guest Katy Perry and guest star Scarlett Johansson. Zamata also posted on her Instagram page Sunday a photo of The Rock and co-star Colin Jost hoisting her up in the air onstage when the cameras stopped rolling.
"Wow. What a fantastic end to a fantastic season, thanks SNL," she wrote.
Behind-the-scenes photos that have circulated online also show guest stars Alec Baldwin and Tom Hanks hoisting Moynihan on their shoulders, while SNL performers Beck Neckett and Alex Moffat carried Bayer.
Strong posted on her Instagram page a screenshot of a scene she shared with Zamata on SNL.
"This was one of my favorite moments. Just to get to do something sweet and nice because it felt like we may not get to do that in a really long time," she wrote. "There are lots of other reasons this was important that I won't write here. What I will say is that it did not escape me how Sasheer was so right there for it the entire time, happy to be a part of it and helpful and determined to help make it better. I felt like fainting and she came in and I really couldn't have wanted to stand next to anyone else."
"She's been that way for a lot of things and I love sharing t-shirts with her," she added. "She's so damn intelligent and strong and funny and I'm proud to know you, Sasheer, and to have this moment with the two of us forever."
Zamata was hired as an SNL performer in 2014, following public criticism of the show's lack of diversity. She was the first woman of African-American heritage to be cast on the show since Maya Rudolph left in 2007.
"We'd lost four men, so what we were thinking about was replacing men," creator Lorne Michaels told Deadline that year. "We brought in three women the year before. I'm always looking for people I think have the best possible shot at succeeding, because when it doesn't work, it's really rough, both on them and on the show."
Leslie Jones, who was initially hired solely as an SNL writer, remains the only black female SNL star currently on the show and is one of its most popular performers.