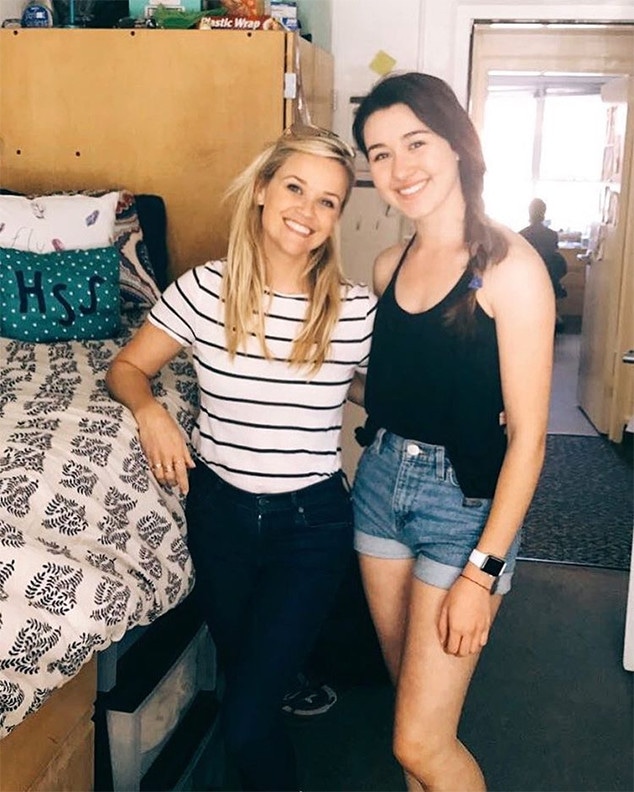 Instagram
Elle Woods has returned home!
Well, not to Harvard. But Reese Witherspoon did recently visit her actual alma mater, Stanford University, as a guest speaker. She also visited her old dorm room and hung out with its current resident, a student named Caitlyn.
"Surprise! While re-visiting @Stanford, I popped by my old dorm room.... and met its newest tenant, Caitlyn!" the Oscar-winning actress and Legally Blonde and Big Little Lies star wrote on Instagram Saturday, alongside a photo of her and the student inside the room.
"She was so nice; she even welcomed me in! #LoveSurprises #Stanford #FearTheTree," Witherspoon said, referring to the college's unofficial mascot.
The photo also shows another student in a dorm room opposite Caitlyn's, typing away at their computer, seemingly unaware of the actress' presence is standing several feet away. 
Witherspoon attended the university in the '90s as an English Literature major but never graduated, opting to concentrate on an acting career.
Last week, she spoke before students at Stanford's Graduate School of Businesses, as part of its View From The Top speaker series.
"You're the one responsible for your own path, so throw yourself at it," she said at the event.
"Thank you @stanfordbusiness for having me yesterday," Witherspoon wrote on Instagram. "It was a honor to share my experiences and chat with all of you bright minds. Keep studying hard and dreaming big! #stanford."