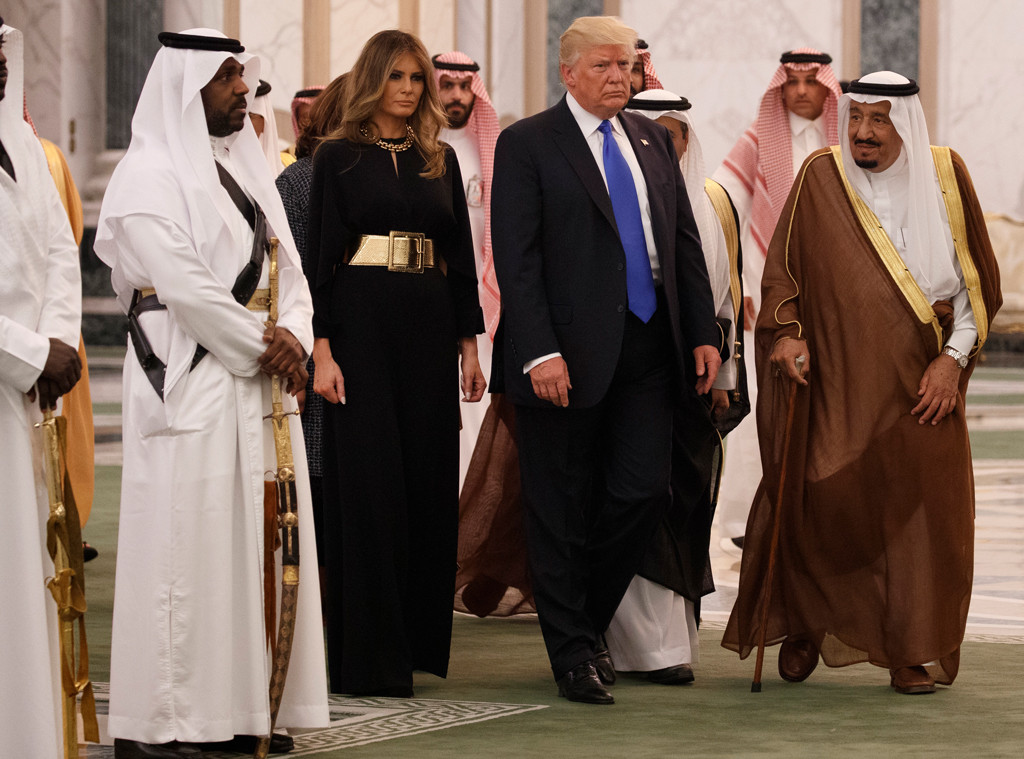 AP Photo/Evan Vucci
Melania Trump donned a regal, chic look but appeared without a headscarf as she and husband and President Donald Trump arrived in Saudi Arabia Saturday. So did the U.S. leader's daughter, Ivanka Trump.
In public, local women in the Muslim country wear a hijab over their hair, or a niqab over their hair and face, or a burqa over their whole body. They are also required to wear an abaya, a loose, black robe in public, per an official dress code. Foreigners do not need to cover their heads, although they are encouraged to, and like in most countries that follow Islamic law, they are encouraged to dress modestly overall.
Melanie wore a long-sleeved, black pantsuit with wide legs, a slit collar that ended above her chest and a wide, gold-colored belt as she and her husband made their way down a red carpeted stairway from their plane at King Khalid International Airport in the capital of Riyadh. 
MANDEL NGAN/AFP/Getty Images
MANDEL NGAN/AFP/Getty Images
Ivanka was accompanied by her husband and one her dad's senior advisers Jared Kushner. She wore a high-neck, long sleeve, black, white and burgundy floral maxi dress and nude stiletto pumps.
German Chancellor Angela Merkel and U.K. Prime Minister Theresa May have also visited Saudi Arabia without wearing headscarves. So has Laura Bush, Hillary Clinton and Michelle Obama, who drew criticism for it in 2015 by the current president.
In Riyadh, Saudi King Salman presented the U.S. leader with the Collar of Abdulaziz Al Saud Medal at the Royal Court Palace. The Trump family also met Saudi Crown Prince Muhammad bin Nayef.
The president and his family are on a nine-day trip to Saudi Arabia, Israel, the Vatican and Belgium. He plans on meeting with Arab, Israeli and European leaders and visiting sites sacred to three of the world's major religions.