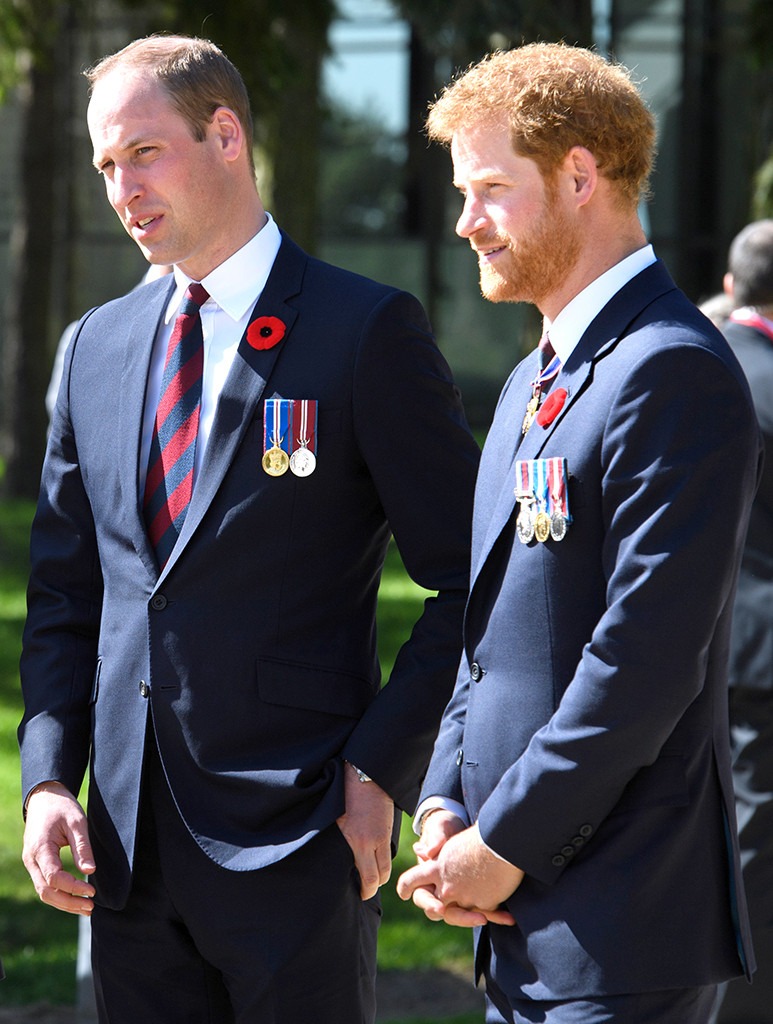 Pool/Samir Hussein/WireImage
For all of their mother's efforts to make their childhood feel as normal as possible, Prince William and Prince Harry grew up in the most abnormal of ways.
First off, William was a future king of England before he even left the womb. And Harry, also technically in line to the throne, was immediately saddled with the unofficial title of "spare heir." Seems like a lot of baggage to tote in a knapsack to nursery school.
But Princess Diana really did do what she could to both shower her boys with the sort of personal attention that their father, Prince Charles, didn't always get from his loving yet consumed-with-duty mother and father, Queen Elizabeth II and Prince Philip. 
Even more notably, as they got a little older, Diana set out to make sure William and Harry were familiar with life beyond the palace walls, that they were aware of the struggles of the less fortunate at an early age. All was part of the mission she took upon herself to make the monarchy feel less removed from the public at large and more sensitive of its' subjects lives—and of lives around the world.
"With William and Harry, for instance, I take them round homelessness projects, I've taken William and Harry to people dying of AIDS—albeit I told them it was cancer —I've taken the children to all sorts of areas where I'm not sure anyone of that age in this family has been before," Diana told the BBC's Martin Bashir during their 1995 sit-down. William was 13 at the time, and Harry was 11.
"I understand that change is frightening for people," Diana said, "especially if there's nothing to go to. It's best to stay where you are. I understand that. But I do think that there are a few things that could change, that would alleviate this doubt and sometimes complicated relationship between monarchy and public. I think they could walk hand in hand, as opposed to be so distant."
And though her altruistic intents wouldn't be questioned (as much) today, at the time Diana was juggling motherhood with what proved to be a never-ending battle with the media and, in a way, the royal family, which was suspicious of the Princess of Wales' intentions both during her rocky marriage and then after she and Charles formally separated in 1992.
"I mean, once or twice I've heard people say to me that, you know, 'Diana's out to destroy the monarchy,' which has bewildered me, because why would I want to destroy something that is my children's future?" she said.
"I will fight for my children on any level in order for them to be happy and have peace of mind and carry out their duties. But I think what concerns me most of all about how people discuss the monarchy is they become indifferent, and I think that is a problem, and I think that should be sorted out, yes."
Antony Jones/Julian Parker/UK Press via Getty Images
And then she died, on Aug. 31, 1997, at the age of 36. Will was 15 and Harry was a week shy of 13 when they walked behind their mother's coffin at her funeral, which was televised live around the world.
It all could've gone horribly wrong for the young princes after that, at least personally, as they processed their grief. Or didn't process it, as Harry recently opened up about, saying on a Telegraph podcast last month that he didn't want to face his feelings, stayed extremely angry and eventually sought counseling in his late 20s.
But even though Harry went through his storied so-called bad boy days, making a really stupid costume party decision and a few years later stripping down to shoot billiards in a Las Vegas hotel suite, at the end of the day he and his brother couldn't have turned out any better.
And it's their bond and the closeness they've cultivated as they've grown up in the most glaring of spotlights that has played a major role in making them the men they are today.
Max Mumby/Indigo/Getty Images
In 2015 a new website launched that made British public records available for a fee—and Princess Diana's will was apparently a hotly sought-after item. Today reported that Diana had left her sons a king's ransom of $30 million, as well as her pearl-studded wedding dress designed by David Emmanuel. (A replica that was originally sported by a wax figure at Madame Tussaud's was sold at auction for $175,000 in 2005.)
William and Harry both trained as pilots and served in the military, as their father and grandfather had before them, with Harry serving two (albeit one abbreviated) tours in Afghanistan. But while William met Kate at university and, aside from their brief breakup after graduation, more or less settled down, Harry skipped regular college and entered the Royal Military Academy Sandhurst in 2005 after taking a gap year. With Britain involved in wars in both Iraq and Afghanistan, Harry expressed his desire to serve overseas with his fellow troops in 2007.
"There's no way I'm going to put myself through Sandhurst and then sit on my arse back home while my boys are out fighting for their country," he reportedly said.
He was originally destined for Iraq, but ultimately the army worried he'd be too high of an enemy target, which would also put the rest of his mates at risk. So he was raring to go when the time came to ship out to Afghanistan in 2012, making him the first member of the royal family to serve in a war zone since his uncle Prince Andrew flew helicopters during the Falklands War.
With Harry busy serving his country—an experience that also led to his ongoing involvement with Walking With the Wounded and his continued personal investment in veterans affairs and making life better for former members of the military—it didn't occur to anyone to think that he was still fraught with grief and anger over his mother's death.
But what he was doing was suffering in silence—an unhealthy state of mind that only William was able to recognize, and identify with.
"My brother was a huge blessing," Harry revealed last month. "He kept saying, 'this is not right, this is not normal—you need to talk about stuff. It's not normal to think that nothing's affected you.'"
Buoyed by each other and the values instilled in them by Diana (both during her lifetime and in learning more about her as they got older), to use their position and privilege to try and be of service to others, the brothers and Kate Middleton recently joined forces to launch the Heads Together campaign to promote mental health awareness, education and treatment.
In 1995 Diana opened up about self-harm and suffering postpartum depression after William was born—and how both she and her family were at a loss about what to do, until she realized what exactly it was she was going through. But even then, she was left with tongues wagging about her being somehow not right, and the state of her mental health became an subject of fascination for much of the rest of her life.
Dominic Lipinski/Pool via AP
Finally opening up over the past year about losing their mother—and as the interest in the royal family that Diana brought to a whole new level continues via her sons and the women in their life—William and Harry are bringing the true import of her legacy back to the forefront.
And then they'll tell their kids, and so on, and so on...
William has talked about wishing his mother was around to know her grandchildren (and no one has ever wanted to even contemplate the merest idea of Diana not getting along with Kate, the assumed narrative being that they would have been fast friends). And with Harry saying he's ready to start a family and his wedding to American star Meghan Markle less than a month away, he surely shares that same seasoned wistfulness about Diana not being here.
But he has had his brother to look to for guidance, whether it's with relationship advice (Will seems to have nailed it in the awesome-wife department) or, one day, parenting advice. After all, William welcomed his third child, a son, with Middleton in late April 2018. Needless to say, they're seasoned pros at being a mom and dad by this point. 
Meanwhile, there was no guarantee that Will and Harry would be any good at relationships, considering the turmoil that roiled their family in the 1990s. But once again, they had a mother who tried her best to be honest with them about love, commitment and human frailty.
Diana recalled what she told William when Charles' extramarital affair with Camilla Parker Bowles was all over the news.
"I went to the school and put it to William, particularly, that if you find someone you love in life you must hang on to it and look after it, and if you were lucky enough to find someone who loved you then one must protect it," she told Martin Bashir. Asked how William took the news, that she loved his father but obviously couldn't live with him anymore, she said, "He's a child that's a deep thinker, and we don't know for a few years how it's gone in. But I put it in gently, without resentment or any anger."
It seems safe to say that Diana would have been rather proud of how William turned out.
And while it may have seemed status quo on the surface at the time, that William and Harry were making appearances together and not causing any Lion King-esque headlines about royal jealousies or other feud fodder, really it's a lovely, not entirely common thing that they stayed so close despite heading off on different paths in their late teens and twenties. 
And now that their expected day jobs have come calling, they're seen together often—and they look to be having a marvelous time.
It helps, of course, that Harry gets on with Kate so well. He served as best man at their wedding in 2011 and William is expected to return the favor come May 19. 
Once again, the tight-knit family will gather next month for Harry's special day. With the world watching once again, the only noticeable absence will be that of the late People's Princess. Still, Harry is comforted by the thought that his bride and his mother would have been the best of friends. 
As he said in an interview with the BBC, "I think they'd be thick as thieves. She would be over the moon, jumping up and down, so excited for me."
(Originally published May 19, 2017 at 1:36 p.m. PST)