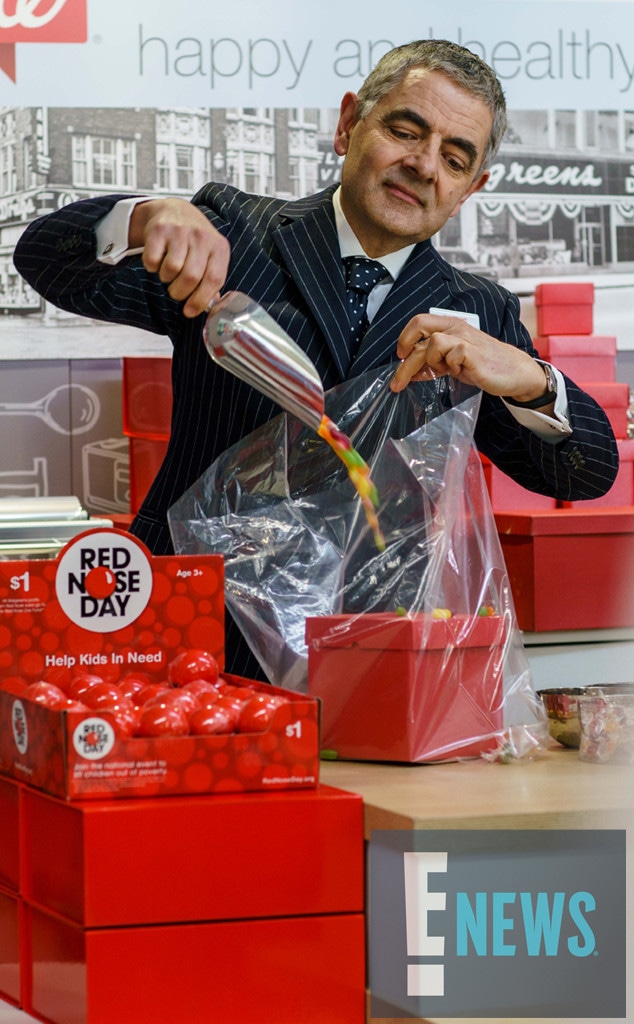 Comic Relief Ltd/Nick Briggs
"'Tis but the work of a moment!"
The cast of 2003's Love Actually has reunited for Red Nose Day, Actually, a 15-minute sequel written by Richard Curtis and directed by Mat Whitecross. E! News has an exclusive photo of Rowan Atkinson reprising his role as store clerk—this time in a Walgreens—selling red noses. We can practically hear him saying, "Oh, this isn't a bag, sir. This is so much more than a bag!"
The multi-narrative short film was broadcast in the U.K. March 24 as part of Comic Relief's Red Nose Day. It will debut in the U.S. with a special addition during NBC's charity telethon May 25.
Several cast members reprised their roles from the beloved holiday movie, including Marcus Brigstocke, Thomas Brodie-Sangster, Colin Firth, Hugh Grant, Keira Knightley, Andrew Lincoln, Martine McCutcheon, Lúcia Moniz, Liam Neeson, Bill Nighy and Olivia Olson. Laura Linney, meanwhile, was starring in Little Foxes on Broadway, making her unavailable to return for the British version. Thankfully, Curtis decided to add a new scene for the actress in NBC's broadcast.
Not everyone is back, of course. Without Alan Rickman, who died in January 2016, it was difficult for Curtis to write a scene for Emma Thompson, who starred as his jilted wife, Karen.
"I would never have dreamt of writing a sequel to Love Actually, but I thought it might be fun to do 10 minutes to see what everyone is now up to. Who has aged best? I guess that's the big question. Or is it so obviously Liam?" Curtis told E! News in February. "We've been delighted and grateful that so many of the cast are around and able to take part—and it'll certainly be a nostalgic moment getting back together and recreating their characters 14 years later. We hope to make something that'll be fun—very much in the spirit of the original film and of Red Nose Day—and which we hope will help bring lots of viewers and cash to the Red Nose Day shows."
Curtis and Lenny Henry founded Comic Relief in 1985.
Since launching in the U.S. in 2015, Red Nose Day has raised more than $60 million.
Before the May 26 telethon, see more behind-the-scenes photos from Red Nose Day, Actually:
Red Nose Day has raised over $1 billion globally since the campaign's founding in 1988. The money supports programs that ensure children in need are safe, healthy and educated. The three-hour special begins with Celebrity Ninja Warrior at 8 p.m., followed by Running Wild with Bear Grylls for Red Nose Day at 9 p.m. Chris Hardwick will host the third annual Red Nose Day Special at 10 p.m., featuring comedy sketches, musical performances and so much more.
Red Noses and related merchandise is being sold exclusively at Walgreens and Duane Reade locations nationwide; Red Noses are currently on sale at Walgreens.com in bulk quantities of 60 or more.
(E! and NBC are both members of the NBCUniversal family.)