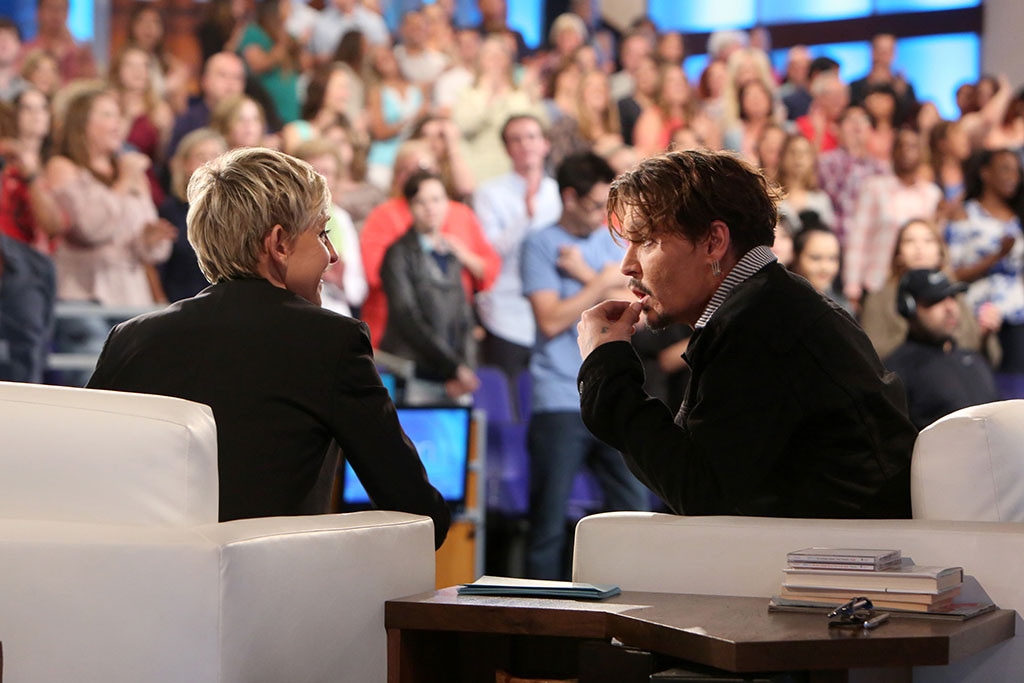 Michael Rozman/Warner Bros.
Ellen DeGeneres put Johnny Depp in the hot seat Thursday.
In his first television interview to promote Pirates of the Caribbean: Dead Men Tell No Tales (in theaters May 26), the 53-year-old actor was asked a series of rapid-fire questions. "There's no time on this," the daytime talk show host told her guest, "so I want you to really think about it."
Here were the questions Ellen asked:
• "What is your favorite part of your body? What do you like the best?"
• "Do you like your ass? "
• "What is your favorite swear word? "
• "What is the strangest place you've hooked up with someone? "
• "Who was your first celebrity crush? "
• "Who is your favorite talk show host? "
• "Out of all your co-stars, who's the best kisser? "
Johnny gave typically eccentric answers, which both amused and annoyed Ellen. "I would ask you more," the comedian playfully told Johnny, "but you're not going to answer me honestly."
Earlier in the episode, Johnny talked about reprising his role as Captain Jack Sparrow for a fifth time. The first film, Curse of the Black Pearl, was released in 2003, and Pirates is now the ninth highest grossing film franchise in history, earning $3,710,254,215 worldwide. "I didn't think I'd make it past three weeks," Johnny recalled. "I was right on the way out of the Disney premises."
Are more Pirates movies in Johnny's future? "Are we doing this until I'm 150?" the actor joked. "I'll be doing it at your local fast food restaurant, just outside." As it turns out, Dead Men Tell No Tales is the first film in the series he's watched in its entirety. "I can't stand watching myself," Johnny said, adding that he "saw part of the first one" several years ago. "I ran out like a scared rat. But this one I did see because it's the fifth one. I thought, 'You know, I want to make sure that we're delivering what we need to deliver to the people.' Because the people, you went and saw the thing three, four, five times—who knows? You deserve to not be spoon-fed formula."
Johnny added, "I tried to up the stakes a little with some of the jokes."
The actor said his favorite part of being involved in the franchise is visiting children's hospitals in character. "It's great fun because it's sort of like a three and a half hour improvisation. You go into the hospital, say hi to the kiddies—it's amazing," said Johnny, who visits "as much as I can."
"Wherever I go, I bring Captain Jack in a box. You meet all these amazing kids who are dealing with very, very adult illnesses. You see some incredible courage in their faces. It's the parents who are just falling apart," he said. "I don't break character; I just try to do as much stupid stuff as I can to make them laugh." His supermodel daughter, Lily-Rose Depp, was hospitalized for a few weeks in 2007 when she was 7 years old. As the actor told Ellen, "I know what it feels like."