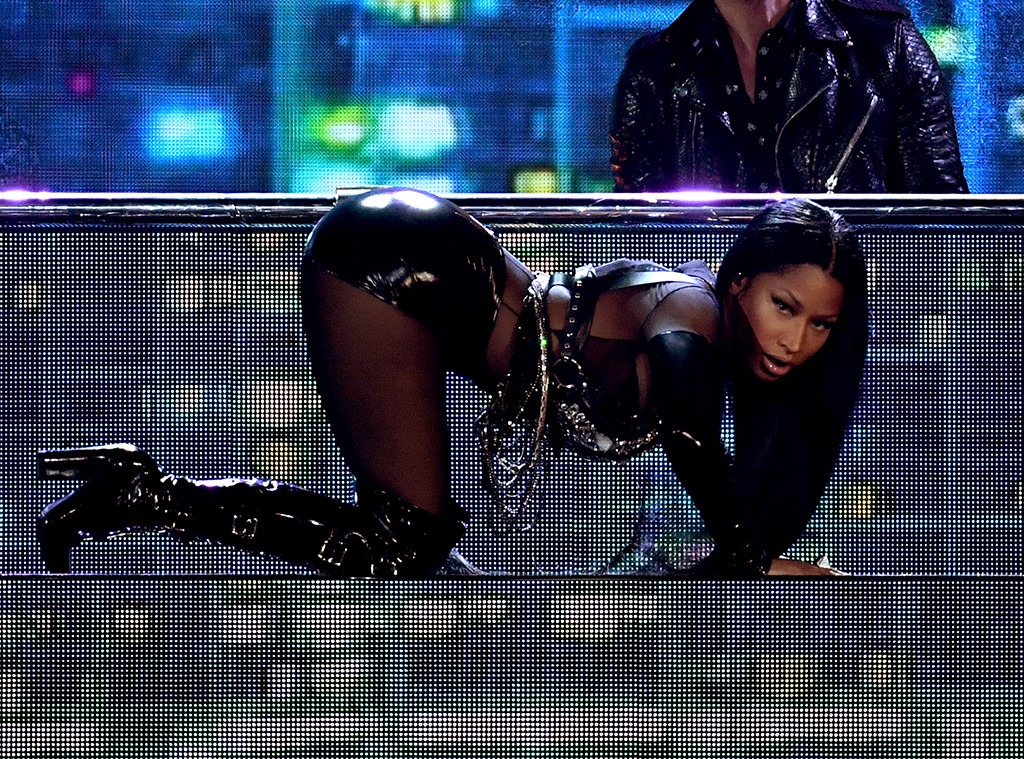 The 2017 Billboard Music Awards was a night of emotional moments and jaw-dropping performances. Drake's history-making night sort of took a back seat to what was happening onstage (like his shout out to Vanessa Hudgens), but what else can you expect when Miley Cyrus makes her return to the stage with an emotional "Malibu" performance, Bruno Mars is pure magic with his 24K moves and Cher makes us believe in life after love. 
Here's are biggest jaw-droppers from the 2016 Billboard Music Awards:
Ethan Miller/Getty Images
Bondage Babe: Nicki Minaj raised more than a few eyebrows with her 9-minute long opener that was chock full of BDSM imagery. From the face mask to the grinding and sexual costumes, the rapper wanted to make a statement with her performance—and she did. Hopefully there weren't any kids watching!
Winged Goddess: A chandelier rose from the floor and revealed the Grammy winner Celine Dion, who basically had wings on. Then the big-voiced diva made our spines tingle with her performance of her beloved, 20-year-old song "My Heart Will Go On." If your jaw wasn't on the floor, you may need to look at your life. Also: She's a French Canadian angel.
Biggie Stuff: Biggie Smalls' son C.J. Smalls made his adult debut in public and it floored us. The slain rapper would have been 45 years old today and those who were fans of the fallen star got a great reminder of the game-changing rapper—his son.
Ethan Miller/Getty Images
So Emotional: Miley got pretty emo when she took to the stage, ditched all the candy costumes and blow-up scenery and got country for her new single "Malibu." We got to see Miley for who she is, an unbelievable talent with pipes you'd die for.
Rap It Up: Host Vanessa showed she knew how to throw down a rhyme and belt out one of Celine's chart-topping hits. We're not sure if it was cringe-worthy or awesome, but we were impressed by her gusto.
Cher: The queen wore pasties, sang "Believe," her iconic comeback song from the '90s, and then danced it out in a glitter explosion. If that wasn't enough to get you going, she turned back time and she wore a scantily clad costume reminiscent of her 1989 music video where she danced on a battle ship. So yeah, Cher rocked the awards show—and then everyone in the world cheered.
For more exclusive coverage, watch E! News tonight at 7 and 11, plus Fashion Police: The 2017 Billboard Music Awards at 8, only on E!