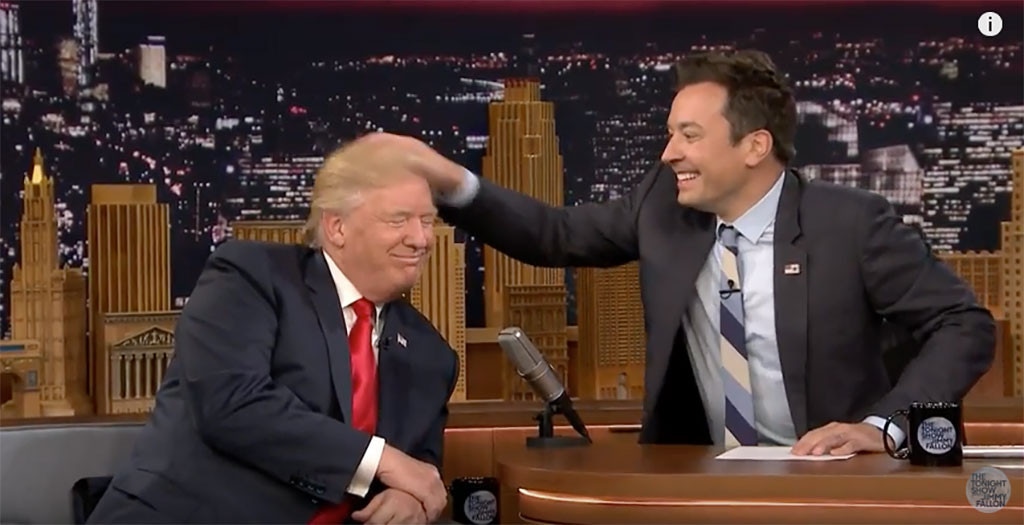 YouTube
Jimmy Fallon says he was "devastated" by negative responses to his now-famous Donald Trump interview on The Tonight Show, in what mark his first public comments about the backlash.
During the appearance, which took place in September, the host kept the conversation light and even playfully ran his fingers through the then-presidential candidate's hair, saying, "Donald, I want to ask you because the next time I see you, you could be the president of the United States. I just wanted to know if there's something we could do that's not presidential really or something that we can do now that we're both civilians."
Many people took to social media to criticize Fallon over the interview. In an interview with The New York Times, published Wednesday, Fallon said, "They have a right to be mad," adding, "If I let anyone down, it hurt my feelings that they didn't like it. I got it."
"I'm a people pleaser," he said. "If there's one bad thing on Twitter about me, it will make me upset. So, after this happened, I was devastated. I didn't mean anything by it. I was just trying to have fun."
Watch:
Jay Leno Is Ready For More Donald Trump Jokes
Fallon also specifically addressed the hair ruffle.
"I didn't do it to humanize him," Fallon added. "I almost did it to minimize him. I didn't think that would be a compliment: 'He did the thing that we all wanted to do.'"
The host said he regrets not addressing the backlash over the interview sooner.
"I didn't talk about it, and I should have talked about it," he said. "I regret that."
Fallon made his comments amid declining ratings for The Tonight Show and a surge in popularity for his main rival, Stephen Colbert, who has in recent months continuously slammed Trump on the air while hosting The Late Show.
"I shouldn't have started the hashtag #FireColbert. Looking back on it, I went too far," Fallon joked to the New York Times, referring to a hashtag that trended after Colbert made a particularly lewd joke about the president earlier this month, which spurred the U.S. leader to insult him publicly in return.