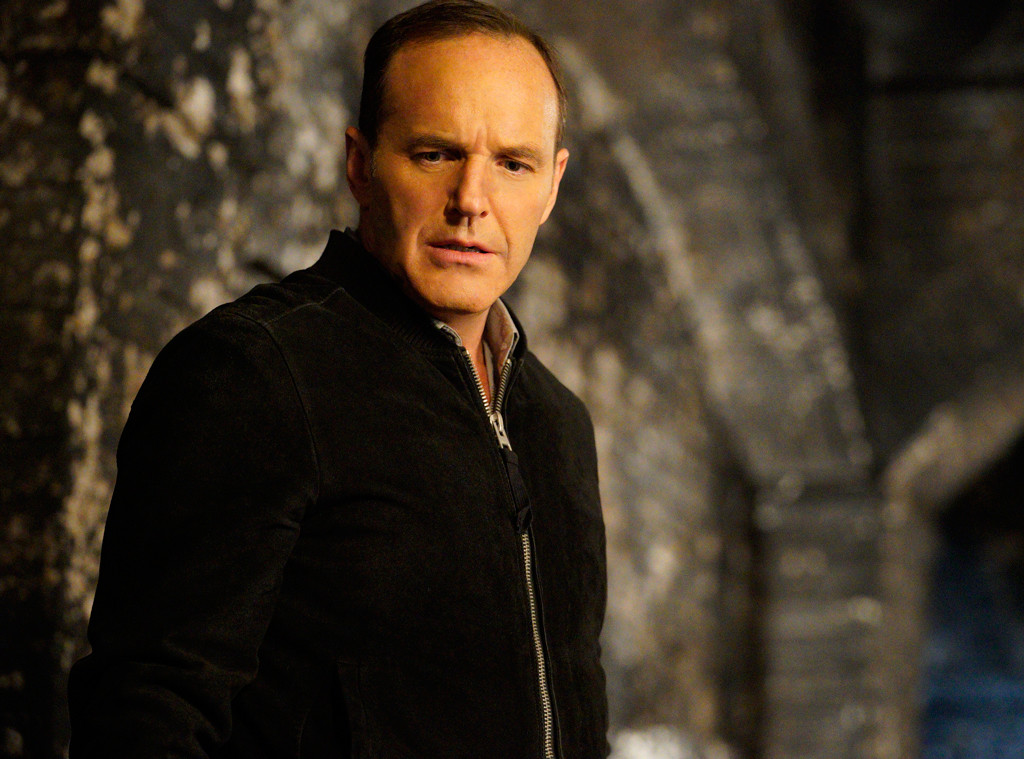 ABC
By the time the final credits roll on the season four finale of Agents of S.H.I.E.L.D., fans are going to be very relieved that ABC came to their senses and ordered a fifth season of the Marvel drama—regardless of how long they might have to wait for it. (The series was MIA from ABC's fall 2017 line-up, but will sub in on Friday nights once the network's new big bet Marvel's Inhumans wraps up its 10-episode run, network president Channing Dungey confirmed.)
Ahead of the big finale, E! News spoke with showrunner Jed Whedon and executive producer Jeff Bell, who made it clear it's a good thing the series will be returning.
"You would be left wanting another season. You would," Bell admitted. "But we hope that's always true. I'll be honest, we wrote a season finale, not a series finale. We hope to bring the season to a really satisfying conclusion and answer the questions about the season, but for us there's a lot of story to tell with the characters and the promise of more. So we've ended the season with that hope."
During our chat, we grilled the duo on a bevy of loose ends that the show has to address in the big finale. What follows are our best attempts to get answers.
E! News: Despite his announced return, it was still a shock to see Ghost Rider Robbie Reyes (Gabriel Luna) return in those final moments last week. What can you tease about why he's back? Is he a friend or foe to the team?
Bell: You know, he usually shows up when really, really bad things either have happened or are about to happen, and I would say a very, very powerful Aida seems to be a very bad thing for us. She was created using the Darkhold and dark matter, and he's all connected with that as well, so it seems to me that the calculus of that says, "Hey, look, here comes Ghost Rider."
Equally shocking in those final moments was Yo-Yo's (Natalia Cordova Buckley) decision to go into the Framework to rescue Mack (Henry Simmons), as well as where she found herself once inside. She appears to be in quite the pickle. How worried should we be?
Whedon: No reason to worry. It'll go fine. [Laughs]
Jeff: Hopefully very, very worried. I'd say she looks like she's in some serious trouble. [Laughs]
The wrench thrown into the FitzSimmons love story this season was probably the most gutting we've had to endure, what with Fitz's (Iain de Caestecker) ultimate betrayal of Jemma (Elizabeth Henstridge) and the team while under Aida's (Mallory Jansen) spell in the Framework. What does the future look like for them, should they survive Aida's fury in the finale?
Whedon: Well, I think it's safe to say that getting over this will not be easy, but I also think we confirmed in this last episode that they're never going to love anybody else. So if they can get over this hump, it seems like there might be a happy ending in their future. But there's still a lot in the mix, a lot of hurt feelings and a lot of pain. Whether or not they're the ones who can help each other is a question we'll have to answer next year when there is a next year.
Fitz, in particular, seems so broken, with the team having turned on him, it feels. Does the finale offer an opportunity for him to redeem himself?
Whedon: Um, it's a good question. I think that everybody on the team experienced something that they didn't want to in the Framework. I think that at this point in our show, about to be 88 episodes in, I think all of them have done things they regret and all of them have some sort of pain in their past. So how the team moves on and how they help him move on is something you'll have to wait and see, but they're definitely equipped to do it.
Moving on to Coulson (Clark Gregg) and May (Ming-Na Wen), he's still stepping around what exactly happened between him and LMD May. How is she going to handle knowing the truth, should she find out?
Bell: Well, May's about as stoic a character that you can have [laughs[ and happy and sad look a lot alike. But it doesn't mean she doesn't feel things deeply and I would expect them to have to get into it beyond the conversation they've had so far. And how she responds to that, I think you'll find is waiting to see how she does.
With Yo-Yo coming to find him, we're waiting to see how Mack handles that, knowing that he knows the world isn't real, and yet still contains hope. What sort of challenge is he going to face in this finale as he struggles with where he should be?
Whedon: "I think you just stated it pretty well. In the writer's room, we have a lot of daughters among all of us and this storyline hits pretty close to home because I can't imagine a world where I wouldn't choose her over anything. He has to face that and I'll say this—Henry himself has a daughter and what he brings to this storyline in the episodes we've seen and in the episode to come is truly brilliant work. We couldn't be more excited for people to see it and more proud of what he's done with what we've given him.
Agents of S.H.I.E.L.D.'s season four finale airs Tuesday, May 16 at 10 p.m. on ABC.