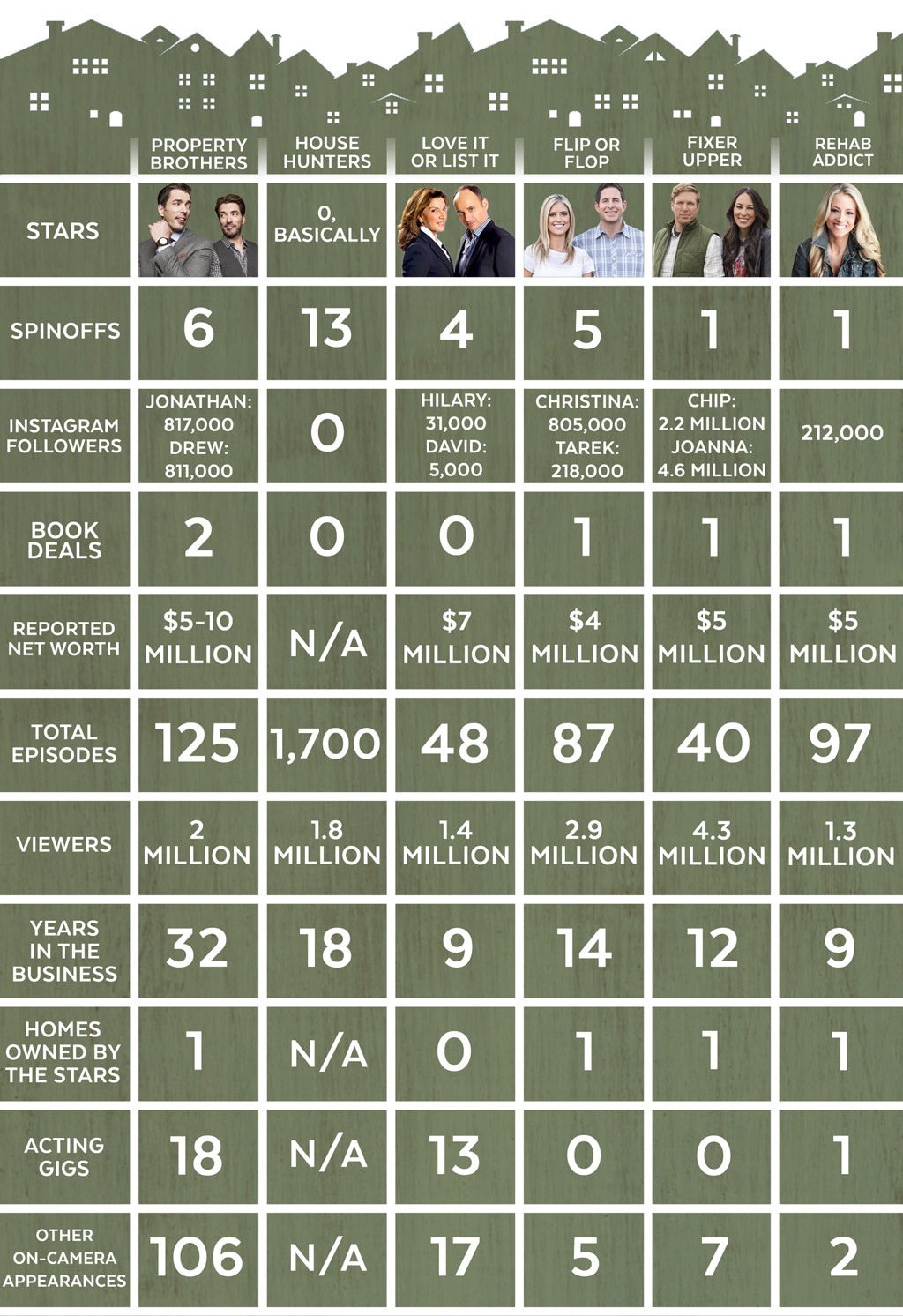 E! Illustration
Everyone has a favorite HGTV show. Some are partial to House Hunters and the desperate search for a man cave. Others prefer Fixer Upper's world of subway titles and backsplashes. And some are simply in it to watch the Property Brothers do, well, anything, so long as their jawlines are properly lit. 
But simply having a devoted fandom does not a giant superstar, or financially successful show, make. Not all HGTV shows are created equal. Sure, they're all doing better than most television programs these days (the term powerhouse comes to mind), but once a person does a little snooping they'll find that some shows have far different stats than others.
So snoop we did. 
Property Brothers
To a certain population, Drew and Johnathan Scott are the de facto mascots of HGTV. These two help buys find, purchase and renovate their dream homes, and they do it all while being very, very good looking. The original show has spawned a whopping six spin offs, featuring them At Home, On the Ranch and Buying and Selling, among others. 
Their popularity shows in their social media following, with both brothers racking in over 800,000 followers—at the time of publication, Jonathan had a slight edge over Drew, perhaps because the latter is officially off the market after proposing to his longtime girlfriend.
The original Property Brothers lands right in the middle of the HGTV landscape, in terms of its viewership and number of episodes, but the Scotts have everyone beat when it comes to their industry experience: They've been in the business for 32 years. And yes, that means they started in real estate when they were literal children. What else would you expect from HGTV's most famous twins?
House Hunters
For a show with no real star, House Hunters' popularity and longevity is worth a sociological study. Sure, the format doesn't really require one—viewers are really only interested in watching the week's featured couple search for (and often fight over) their next house, and the lack of a host allows the series to travel from city to city easily. 
The result is that the program doesn't have a real Instagram following and there are no lucrative book deals or tell-alls to be had, but what House Hunters can offer is the most spin offs in the HGTV lineup (13) and a jaw-dropping 1,700 episodes. That's a whole lot of man caves.
Love It or List It
To sell or not to sell? That is the question, answered weekly by interior designer Hilary Farr and real estate agent David Visentin. They compete against each other, Farr working her re-design magic to convince couples to keep their homes, and Visentin wooing them with all the beautiful new abodes they could choose instead. It's a wholly realistic situation that most viewers will never find themselves in, but that's why it works.
Farr and Visentin don't have the following of other HGTV stars, with relatively small Instagram accounts and no major book deals, but they clearly know how to negotiate a good deal for themselves—the show has spawned four spin offs and their net worth is quite impressive.
Flip or Flop
If you don't know the El Moussa's by now, well, what have you been doing? Following the geopolitical news and nothing else? Psshh. This couple might be making news for all things not related to home renovation, but before the divorce drama they were quite famous for their home flipping show. It's one of the most-viewed programs on HGTV's current slate and just earned five sure-to-be-huge spin off shows.
Christina seems to be the face of their public persona, at least when it comes to Instagram. But, they're equal stars of the show and will also both be profiting from the tell-all book that is still in the works. (There are rumors that it may be on hold indefinitely, but these two are savvy enough to figure out how to get it to market). 
Fixer Upper
HGTV, welcome to your cash cow. Chip and Joanna Gaines know how to bring in the money. The totally adorable couple from Waco, Texas, who specialize inn putting a rustic-chic spin on any home they get their hands on, have what can safely be described as the most popular show on the channel right now.
There is only one spin off in the works right now, but seeing as the show is also one of HGTV's newest, we can expect that to change. The same goes for their net worth, their book deals, the homes they own and basically everything else: It has nowhere to go but up. Joanna has over 4 million Instagram followers, which even though it isn't quite Jenner family numbers, is crazy for someone whose claim to fame is pasting a pine paneling on any wall she can get her hands on. 
Rehab Addict
Yes, this show sounds like something that should be on A&E instead of HGTV, but don't underestimate Nicole Curtis. Her show specializes in refurbishing historic houses in Michigan and Minnesota and the numbers clearly show that there is no such thing as too many shows with that premise. 
She has an impressive, if not quite Gaines-esque social media following, and a spinoff and book deal in her pocket. Her show is still relatively new (at least when compared to the House Hunters of the world), but she's already worth as much as most of the other HGTV stars. We'll chalk a lot of that up to the high flipping profit.