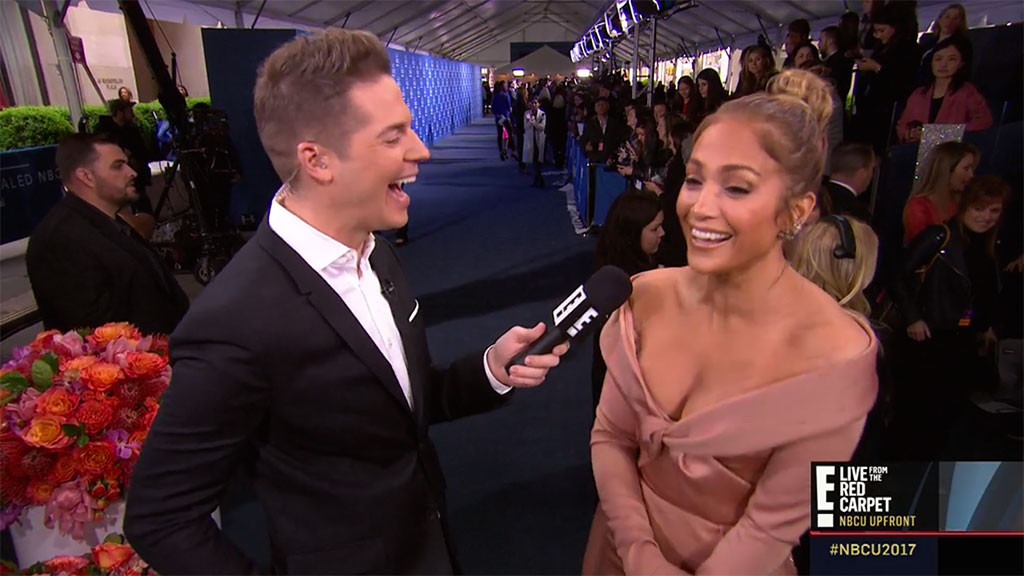 E! News
The biggest stars in Hollywood hit the blue carpet at the NBCUniversal 2017 Upfront in New York City Monday.
E! News' Jason Kennedy and Sibley Scoles interviewed the hottest stars on television, including Kristen Bell, Jessica Biel, John Cena, Andy Cohen, Jenna Dewan-Tatum, Mindy Kaling, Jennifer Lopez, Mandy Moore and Milo Ventimiglia. The actors won't just be appearing in front of the camera in the 2017-2018 season, as stars like Biel and Kaling are producing their shows, too.
In addition to starring in the police drama Shades of Blue, Lopez has a new competition series premiering May 30 on NBC: World of Dance. "It was the perfect fit for me," she told Kennedy. "I started as a dancer."
Of course, Kennedy also had to ask about her boyfriend, Alex Rodriguez. "We are very happy and just having a good time and don't put as much pressure I think as everyone else puts on it," she said with a laugh. "Look what you're doing to me right now!"
Biel, meanwhile, is excited for fans to watch USA's The Sinner. I's been 15 years since she was last on TV, playing Mary Camden in 7th Heaven. "It feels like just yesterday that we were still doing that," she admitted, "but also it feels like a whole lifetime has happened since that show."
Take a look at the rest of the blue carpet arrivals: