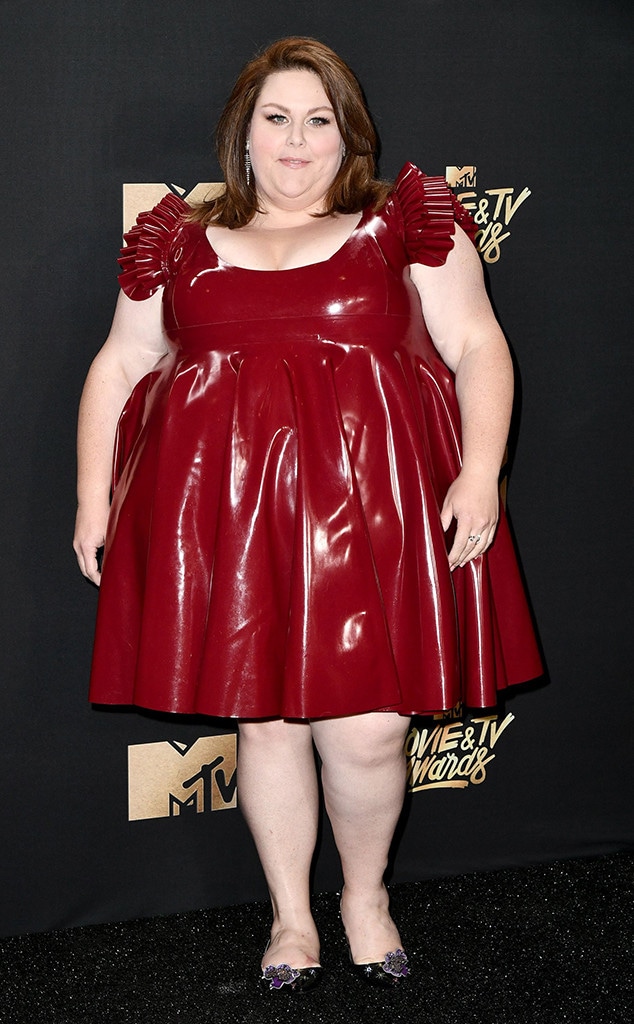 Rob Latour/REX/Shutterstock
Chrissy Metz has no time for negativity.
After walking the 2017 MTV Movie & TV Awards red carpet in a burgundy, custom Jane Doe Latex dress, body shamers started flooding the actress' inbox.
The star—who plays Kate, a character struggling with weight loss on NBC's hit drama This Is Us—promptly took to Twitter to put an end to the overwhelming amount of hate. "For the record, I wear what I want, when I want," Chrissy tweeted the night of the ceremony. "News flash it's MY body. #thankstho."
After posting the tweet, several fans came to Chrissy's aid to help drown out the negativity with words of encouragement and support. One follower tweeted, "People will always say negative things no matter what size you are. As long as u like it - all that matters."
The support touched the actress, who presented Best Duo and performed in the opening number that night.

On Thursday, Chrissy posted a photo from the red carpet on Instagram. "Remember that time folks got rowdy because I wore a dress? The outpouring of love and support from all of you lovely people has not gone unnoticed," ," she captioned the post. "I hope that in some small way an unconventional body wearing an unconventional material opened up discussion, hearts and minds."
"I truly had no idea it would make anyone feel uncomfortable, I just wanted to try something different," Chrissy continued. "All I'm saying, is do YOU, Boo! Wear what you want, love you love and treat people the way you want to be treated."
The Golden Globe nominee finished her heartfelt post by giving kudos to the winners of the night—especially to her This Is Us co-stars Milo Ventimiglia and Lonnie Chavis, who picked up the golden popcorn for Best Tearjerker.
"Lastly, thank you to the amazing humans who make this all possible!" Chrissy wrote. "Dress @janedoelatex Styled @jordan_grossman Makeup @makeupbymotoko Hair @davidgardnerla CC: @creativeprinc #nothingbutlove."
This isn't the first time Chrissy has spoken out about the importance of body positivity. She recently opened up to MarieClaire.com about celebrating her figure, saying, "Size doesn't equate to beauty. I don't understand why that's a thing."
In addition, Chrissy wrote a letter to her teenage self that was published in People's Most Beautiful issue. "You are just as important and beautiful as Amy, the most gorgeous cheerleader in your entire school, even if your hair isn't the perfect natural shade of honey blonde or because your clothes aren't from Guess or that your curves look VERY different from hers," she wrote. "Contrary to the bill of goods you've been sold, life is not a competition. Stop comparing yourself to anyone or anything.
"We are all on our own journey and YOU are the driver," Chrissy continued. "There will be bumps in the road, detours to be taken and pit stops will have to be made, but you've got to fill 'er up and keep going. You will lose your map, but never your intuition."