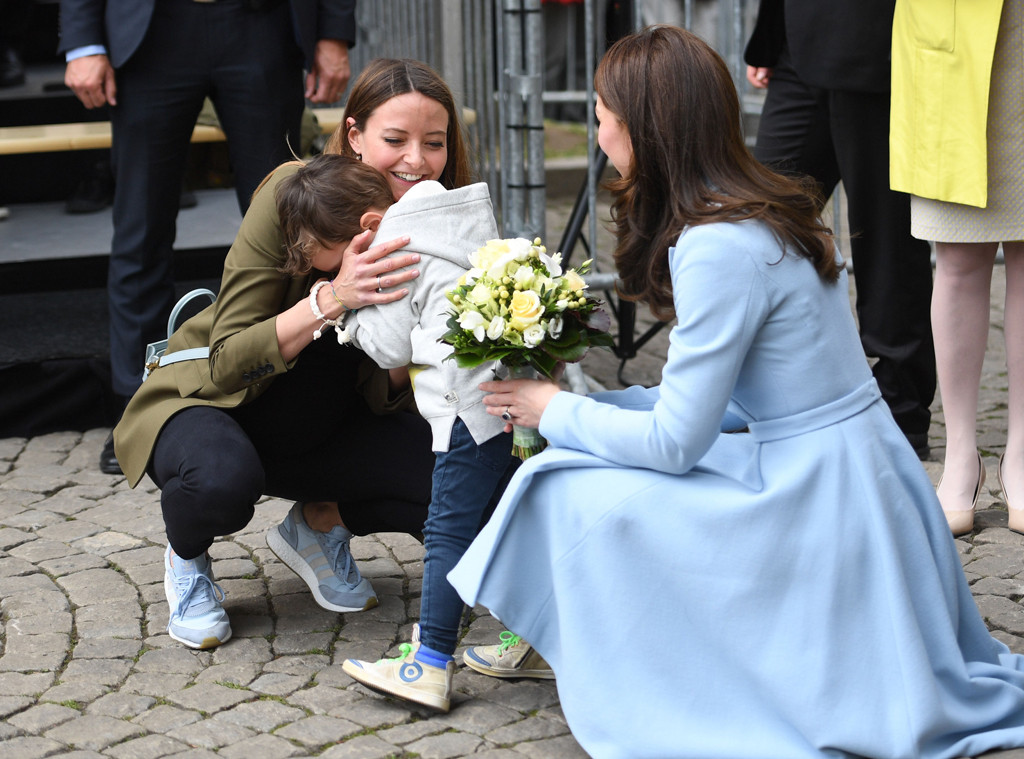 Jeff Spicer/Getty Images
Maybe this little guy just needed some cake. 
For Duchess of Cambridge Kate Middleton's most recent solo trip to Luxembourg Wednesday, dessert was definitely not in short supply as the royal mother of two was presented with a multi-tiered cake in celebration of the 150th anniversary of the treaty of London, which secured Luxembourg's independence and neutrality in 1867. 
Middleton arrived in the country in honor of the occasion, dressed elegantly as usual in a powder blue coat by one of her favorite designers, Emilia Wickstead. 
WARNAND/EPA/REX/Shutterstock
However, not everyone was so eager to greet the royal. 3-year-old Teo Schleck came prepared to meet Duchess Kate, but after gifting her with a bouquet, he immediately buried his face in his mother's shoulder while seeming to suffer from a case of the nerves. Being a mom herself, the Duchess of Cambridge understood how to handle such moments. 
"Kate asked if he was shy," Teo's mom told reporters. "She was very nice—you can see she's a mom."
Middleton had more to juggle during the packed day. The duchess enjoyed a visit to the capital city's museum of modern art, Mudam, alongside Luxembourg Prime Minister Xavier Bettel and Princess Stephanie. During the tour, Middleton took in exhibits by modern British artists and was particularly intrigued by a fountain filled with black ink—a unique creation by Luxembourg artist Su-Mei Tse.
Afterward, she helped unveil a series of murals of Luxembourg Tour de France legends at a cycling-themed festival at Place Clairefontaine. 
Before heading to the Grand Ducal Palace to meet and pose for photos with members of the the Grand Ducal family, the mother of two took some time to speak with a group of youngsters from St George's International School in Luxembourg. Fortunately, they could look Kate in the eye. 
As another mother noted to reporters, "She wanted to know how old [my son] was and what school year he was in," she said. "She was very natural and down to earth to talk to."
(Originally published May 11, 2017 at 7:48 a.m. PST)