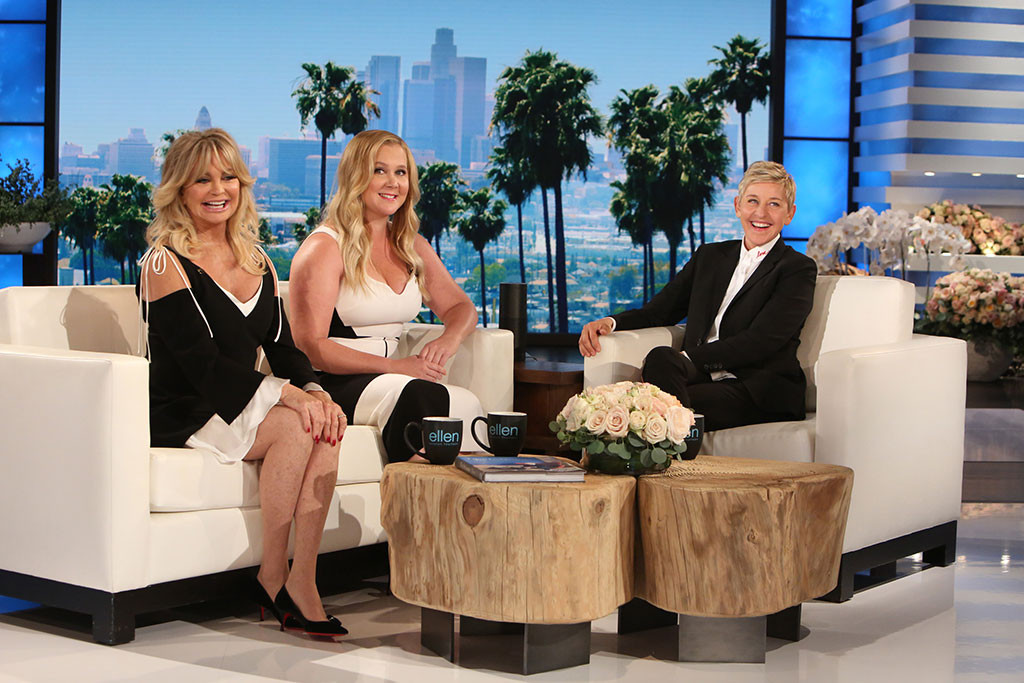 Michael Rozman/Warner Bros.
The Ellen DeGeneres Show got a little racy Thursday.
Goldie Hawn and Amy Schumer appeared on the show to promote their mother-daughter comedy Snatched (in theaters Friday) when Ellen DeGeneres asked if they'd like to play a game.
DeGeneres handed the actresses paddles with the words "I Have" and "I Haven't" written on either side. She then read a series of statements and said she would play along with her guests.
Here are the prompts DeGeneres read:
• Never have I ever taken a naked selfie.
• Never have I ever danced on tables for money.
• Never have I ever gotten a tattoo that I regret.
• Never have I ever been caught by the police having sex.
• Never have I ever helped Ellen with a giveaway on a show.
Hawn said "I Have" to quite a few—but she blamed Kurt Russell for most of them.
Speaking of Russell, Schumer joked about her first—and second—time meeting the Guardians of the Galaxy Vol. 2 actor. "You said you regretted it immediately, correct?" the comedian teased Hawn, who'd invited her to meet Russell over dinner. "So Kurt opens the door, and it's the most beautiful place I've ever seen. He says, 'Amy, it is so meaningful to meet you. I love Goldie so much and you're so important to her.' I'm looking at him just thinking, 'We sat next to each other through the whole Golden Globes. Umm…' I mean, just the warmest greeting! And again, today I posted a video of us all over drinking and dancing—and what did he ask you?"
"I showed it to him earlier this morning, and he said, 'Where was that?'" Hawn told Schumer and the host. "I said, 'That was our house, honey. Should I be scared?' He lives in the moment, you know? That's what I love about Kurt. And then he forgets about it a moment later, but..."