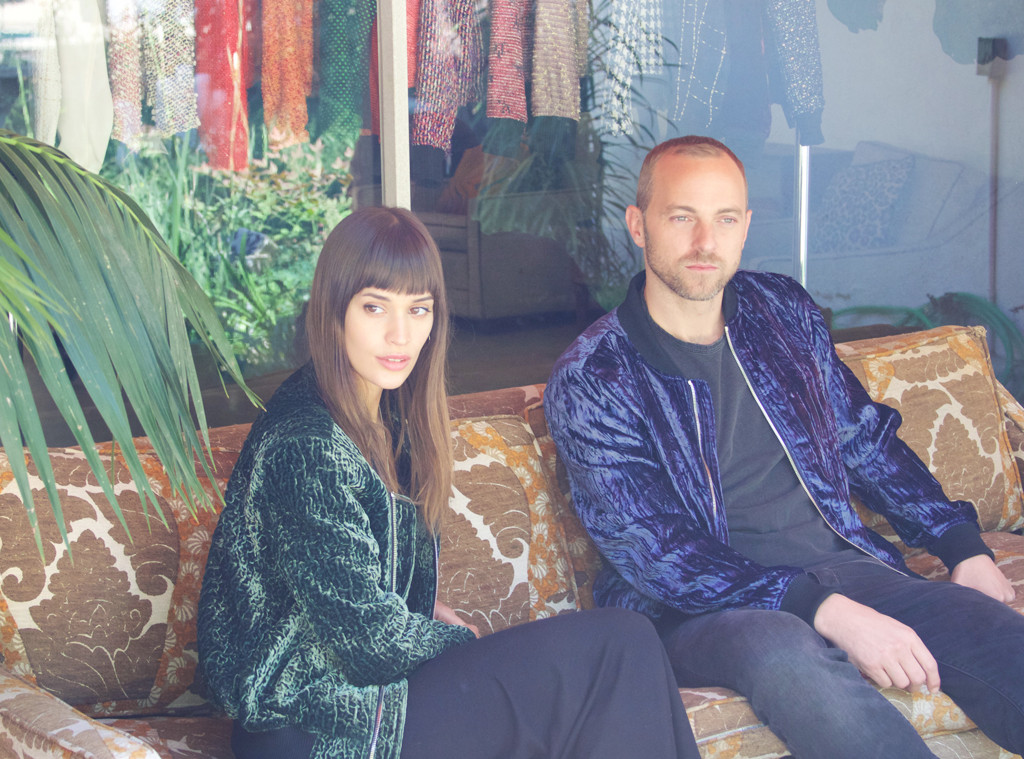 Jacqueline Lee/E!
Philip Ayler has a pretty huge celebrity fan club.
Lana Del Rey, Gigi Hadid, Kendall Jenner, Lady Gaga...we guess you could say the brand's worked up quite the A-list clientele. And that's thanks to its fearless leader, founder and creative director Ayler Young.
He's a musician, a bi-coastal barbershop owner and now a designer—who ethically sources his fabrics and repurposes incredible textiles from some of the biggest fashion houses in the world (think: Chanel, Balenciaga, etc.)—so what can't he do? Nothing, the answer is nothing. So to get a more in-depth perspective on what he can do (and more on his celeb fans), keep reading.
What was your initial career path?
I always believed I would have a career in music. My first job out of college was a musical director for a Broadway show called Café A Go-Go at age 22. We played almost 580 shows in just under 18 months in the heart of Times Square.
How did you find yourself designing?
It was one of those crazy moments when the universe takes you down an unexpected path and shows you the light. I literally had a dream about travelling the world in a burgundy bomber jacket and woke up that morning only to be gifted a burgundy bomber jacket from a stylist friend. I liked the jacket so much, I started making my own custom versions. Next thing I knew, I was designing tour jackets for the Guns N' Roses "Not In This Lifetime" Tour. Soon after that, I launched www.philipayler.com and started selling these one-off pieces made of rare fabrics from around the world.
Who were your first celeb fans?
Lana Del Rey was one of the first people to post a picture wearing one of my jackets (the Guns N' Roses tour jacket). Her fans freaked out because they thought she might be opening for the GNR Tour. She wasn't, but because she's been a long-time friend of the band's they asked me to make her a jacket. Kendall Jenner was the first to wear one of my jackets on television, which was fun to see. And Gigi Hadid was the first person to highlight the multi-functional use of jackets by wearing hers inside out while out in LA.
What's a typical day like for you?
I don't have a typical routine per se. I'm usually juggling different elements of the Philip Ayler operations in addition to owning a barbershop, Frank's Chop Shop in West Hollywood. I find myself spending a lot of time in Downtown Los Angeles checking in with my factories and suppliers or at The Chop Shop making sure things are running smoothly. It's great to have both businesses located in LA because I can have face-to-face interaction with my teams on a daily basis.
You have a crazy-cool process for souring fabrics. Tell us about it!
The majority of the textiles I select are vintage European fabrics. I'm usually drawn to selecting fabrics that naturally catch the eye, paying close attention to the way it interacts with light. I then move on to the texture and feel. When hunting for fabrics, I'm often limited by the amount of fabric I can buy as the majority of them are no longer in production or the factories have long since closed. When I find a fabric I love, I try to buy as much of it as possible because once it's gone, the odds of being able to find more of it are virtually slim to none. When designing custom jackets, I source fabrics based on the personality of the client or brand. I made DJ Ruckus the jacket he wore for Neon Carnival this year knowing that he would look great on stage in bright red satin.
How you ever found yourself "starstruck" over a certain yardage of fabric? 
I'm greatly inspired by Coco Chanel and the era of fashion she pioneered. While doing some research on her, I came across a story about how she would take long walks picking up flowers, moss and rocks and other items along to way that she would give to the factory production manager as inspiration for new fabrics. It was humbling to find myself looking at these beautiful vintage fabrics and knowing the story of how they were originally conceived. I enjoy bringing these incredible fabrics back to life with each jacket I make.
If you could dress anyone, who would it be?
Pharrell Williams.
Who are your career heroes?
Tom Ford, John Lennon, Muhammad Ali, Rick Ruben and Steve Jobs.
What's the best piece of advice you've ever received and from who?
"Be humble." – Kendrick Lamar
What's your go-to piece of style advice for young trendsetters?
Keep it simple. Less is more.
What fashion trends do you wish would go away?
The use of Gucci fur slippers outside of the house.

Finish the sentences below.
Today for lunch I had...breakfast.
The first website I log onto every day is…nytimes.com.
The last thing I Googled was…Hans Zimmer.
My usual coffee order is…to go.
If I wasn't doing this job, I'd be…on my way towards something like it.
List five things on your desk right now…Adam A77X speakers, my Leica SL Camera, iced coffee, strawberry licorice twists and a purple balloon.
Looking to get your hands on a Philip Ayler of your own? It's sold in stores at The Webster, What Goes Around Comes Around and online at PhilipAyler.com.