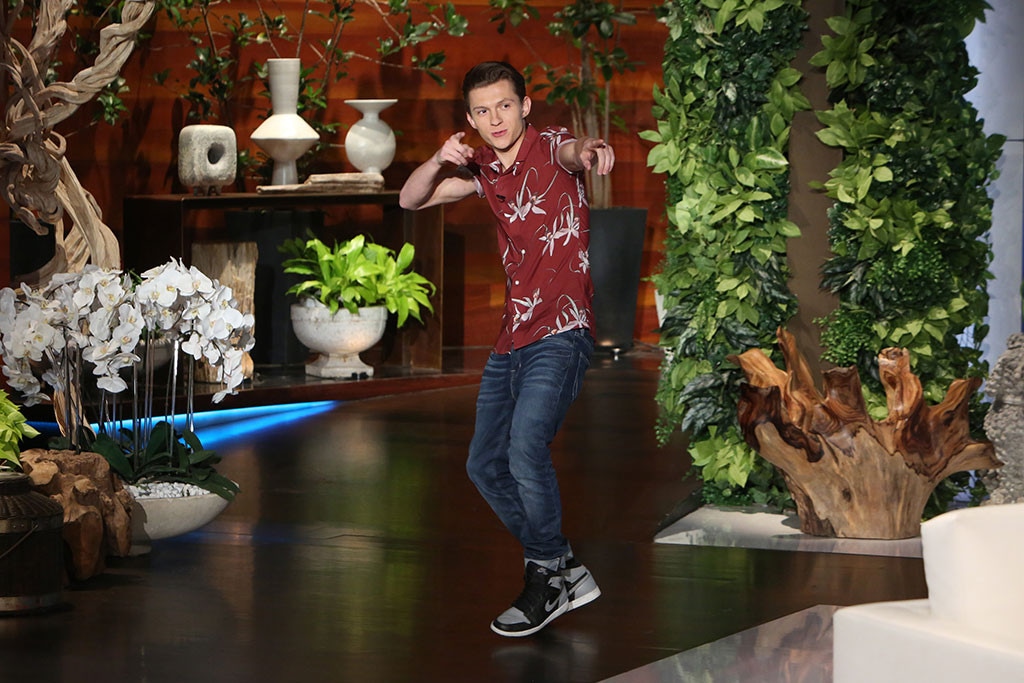 Michael Rozman/Warner Bros.
Who can blame Tom Holland's mom for wanting to keep him close to home?
The Spider-Man: Homecoming actor makes his American talk show debut on The Ellen DeGeneres Show Wednesday and opens up about learning to live on his own—well, sort of.
"I have just gone through the stressful process of buying my first apartment, which I am over the moon with. The funny story is I'd been looking for an apartment for nearly two years. My mom rang me up, actually, while I was shooting re-shoots here on this lot. She was like, 'Tom, I've found the most amazing apartment. It's two bedrooms. It's lovely. You'll love it. It's brilliant,'" Holland tells Ellen DeGeneres. "I was like, 'Mom, that sounds amazing. Where is it?'"
Closer than he ever imagined, it turns out. "You could literally throw a stone from my house is where it is," Holland says. "It's like down the street from where I live in London. I was kind of planning to move out here to L.A., but now I'm only just moving five minutes away from my mom. It sounded great. I was like, 'Mom, you should do it! Just put the offer in! It sounds great!' She was like, 'Oh, I've already done it.' Thanks mom. But I love it. I'm so happy she did."
Living on his own is a "big thing," Holland adds. "I can't believe how much you have to think about kitting out a house. Like, it's just an empty room. You don't think about buying beds and stuff. Like, I've always just had a bed because my parents got it for me. Now I'm like, 'Ugh, I have to go out and get this and that and all sorts.' It's a little stressful, but I'm happy doing it."
DeGeneres also asks Holland about the five-month audition process to play Spider-Man in 2016's Captain America: Civil War. The casting news was announced via Marvel's Instagram, much to his surprise. "I just found out online," he recalls. "They didn't call me up or anything."
Holland was "going ballistic"—so much so that he scared his dog. While his brother feared Marvel had been hacked, Holland called his agents to confirm the booking. "Then Kevin Feige finally called me and said, 'I've got some great news. You're going to be Spider-Man.' I was like, 'I know Kevin. You put it on Instagram.' Like, I'm 20. You really think I'm not going to find it?"
A little later, DeGeneres surprises Holland with some items from her home collection. "You don't have to worry about anything," she tells her guest. "Everything is going to come to you."
"No way! That's so cool!" Holland says. "That's amazing!"
Spider-Man: Homecoming swings into theaters July 5.