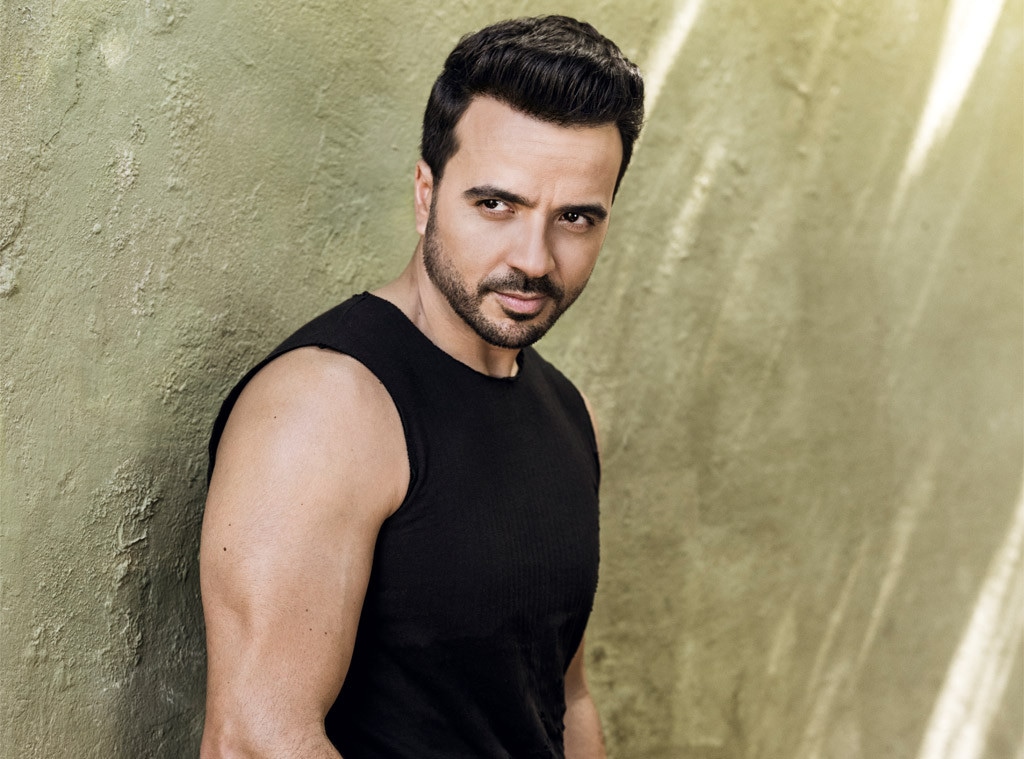 Omar Cruz
It took one evening for Luis Fonsi to write "Despacito," but he had no idea the sort of hit that he had on his hands. 
By now you probably have the infectious beat or the catchy lyrics of this song stuck in your head, and you're not alone, so do we! So we sat with the 39-year-old singer/songwriter and asked everything from the inception of this song down to the brilliant remix with Justin Bieber. 
So how does create a massive hit? Well, for Fonsi it happened in a matter of hours, and it all started with a word and melody that made its way into his head.
"I woke up one morning with this despacito in my head, and it was pretty much that chorus melody and obviously just the word despacito...that's all I had. So then I recorded it on my phone," Fonsi recalls to E! News. "Then we were at the studio in my house with Erika Ender, she's a great songwriter from Panama, and that's where I said, 'Maybe we can pick up from this idea that I had. It's a feel-good song and let's just mess around with the word despacito.' That was kind of where we started, and that afternoon we finished the song."
Fonsi explains he has a process of several months at a time where he solely focuses on songwriting.
"I block out a good amount of time, could be 6 or 8 months, and I just write. I do a lot of traveling and I do a lot of co-writing with different writers just to start getting ideas out and kind of get a little bit of direction as far as where I'm going to go with the album," the musician says. "'Despacito' came about half way through that writing process."
After composing the song with Ender, Fonsi called on his producers Andrés Torres and Mauricio Rengifo to put together his vision for the track. "In a matter of three hours, maybe even less, we had 80% of the production that you hear now. The main sound is there. That was it," the singer says. "That's what got the ball rolling. We put the cuatro, which is the Spanish guitar that you hear in the beginning. That's a very typical instrument from Puerto Rico. That's normally huge for very traditional music. We thought that it would be a very interesting sound to gel both the pop world and the urban world, but also for the song to have musicality and not just be another urban-pop song."
But even then, Fonsi felt that something was missing. That's when the thought of having someone featured on the track was born. And who did they call? Daddy Yankee, of course. 
As Fonsi explains, Yankee was more than just a feature, and he brought a lot to the table. 
"Daddy Yankee added his magic to it. The rap part was all him. He had some amazing ideas for the song as well," the star says. "His featuring was a special on because it was so much more than him just rapping his verse. He really added a creative layer on top of what I had."
After Yankee added his expertise and vocals, the song was complete. Fonsi admits that they knew they had something special, but they never imagined it to reach the level of success that it's currently reaching. 
"We just kept it very humble, all of us were obviously excited. I never like to get ahead of myself," Fonsi explains. "I'm not one of those people that do that. I am very optimistic, and I always think positive, but within reason and never getting too far ahead of the game."
Watch:
Luis Fonsi Tells All on "Despacito" Music Video
Fonsi recalls being on the set of the music video and seeing the reaction of the crew and dancers for the first time. He hadn't played the song to anyone outside of his immediate circle. 
"They just kept saying, 'Wow! This song!'"Fonsi says. 
And they were all right, that music video currently has over a billion views on YouTube. 
The song also caught the attention of a big superstar—Justin Bieber. Just a couple of weeks ago, we were surprised by the 23-year-old star when he released his remix of "Despacito."
But how exactly did that collaboration happen? Fonsi explains it's all thanks to Justin being at the right place at the right time. 
"Several weeks ago, I got a phone call from my record label saying that Justin Bieber heard the song at a night club in Colombia and he wanted to get on it," he says. "Justin had two days off and on one of the nights, he went to a nightclub in Colombia. There Justin saw how everybody reacted to the song. So the next day he wanted to go to the studio and record it. So I said, 'Yes, send him the track! Let's do this!'"
And we're glad they did because the song is currently holding the No. 3 spot on Hot 100.
Fonsi wasn't there when Bieber recorded the track, but he's tremendously grateful to the "Sorry" singer for taking the time to learn the pronunciation, and more importantly, to do the song as it was originally written.  
"It says a lot about where Latin music is nowadays and where our culture is. We're breaking barriers down," Fonsi says. "I think that's the biggest win out of all of this."
Now musician is focusing on touring next month throughout Europe and then Latin America. He's also got an entire album waiting to be dropped.
"It's very important for people to hear where my music is going in general, not just with one song," Fonsi said before continuing. "I want people to get where my head is at musically speaking, it's a great album with very talented musicians. I'm really excited to be able to share this with everyone."
Fonsi is expected to release the album before the end of 2017.
Fonsi tells us that his biggest fan is a very special person—his daughter, Mikaela. 
"My daughter loves it. My daughter is my number one fan. She has always been incredibly supportive, and she tells like it is and how it is," the father of two says. "She's very proud. She's at that age where she now understands what her dad does for a living, and I don't think she got it last year. It's cool. We're going through a very interesting transition. It's fun.
As for future collaborations, Fonsi says he's a huge fan of music in general whether it be in English or Spanish. He also admitted that he's a huge fan of Bruno Mars. Maybe these two could work together?
"Bruno and I would be badass, it'd be amazing!" Fonsi says. "He's also got Puerto Rican roots. That could be very interesting."
Bruno Mars + Luis Fonsi? Yes, please!