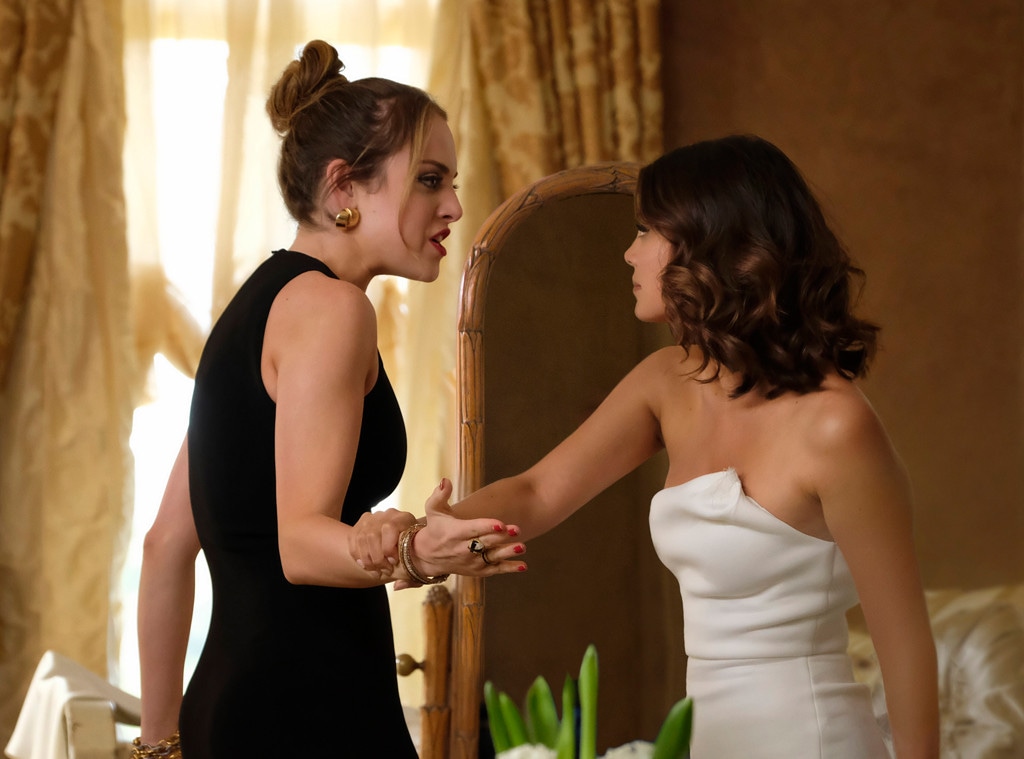 CW
It's the most wonderful time of the year, TV fanatics!
As the networks start presenting their 2017-18 schedules to advertisers this week, they're offering glimpses of what the season will have in store. Since your DVR is probably stuffed to the gills as it is, not only have we compiled a handy post with every new show trailer we could find, we also ranked them from the most promising to the least. You're welcome. (And while the highly-anticipated Will & Grace revival won't be found here because it's not a new show, per se, we're head over heels for the trailer and insist you watch it here.)
Note: The networks have not released trailers for all of their shows, either. Many midseason offerings were screened to press and advertisers, but not released wide.
They say never judge a book by its cover, but they didn't say anything about judging a TV show by its trailer. Here's our ranking...
1. The Mayor (ABC): Lea Michele's first post-Glee non-Hester TV role is cool and all, but in just three minutes, it's easy to fall in love with every character on this show. 
2. Ghosted (Fox): Adam Scott + Craig Robinson + supernatural buddy comedy = comedy gold? We're sold.
3. The Orville (Fox): Seth MacFarlane goes the live-action route in what looks like a hilarious take on Star Trek. We know, we never thought we'd type that sentence and mean it either.
4. Star Trek: Discovery (CBS All Access): The wait for this one has been long, but consider those phasers set to stun because this trailer is gorgeous and evocative and just what we wanted. Beam us up!
5. The Gifted (Fox): Prediction: this will be the most viewed TV trailer of the season. And you know what? It deserves all of them.
6. Dynasty (The CW): Oh, where to begin? It looks tawdry and campy enough to satisfy all your primetime soap needs. Hold onto your pearls, this looks fun.
7. Life Sentence (The CW): Lucy Hale, you so charming. This midseason drama looks Cute with a capital C. Bring on the character drama!
8. Young Sheldon (CBS): Big Little Lies breakout Iain Armitage is perfectly cast in this Wonder Years-esque Big Bang Theory prequel, centered on Sheldon Cooper's formative years in a small Texas town. 
9. Ten Days in the Valley (ABC): Kyra Sedgwick is returning to TV with what looks like one of the fall's slickest thrillers. A mystery involving producers on a TV show? Sign us up!
10. Black Lightning (The CW): This isn't an Arrowverse series and it shows. A more grounded superhero with the family of powers slant looks good for The CW.
11. The Resident (Fox): Here for Matt Czuchry's angelic face and his determination to stand up against the evil surgeon with his face on a bus with help from Emily Van Camp, though there's almost too much going on here to figure out what this show's actually about.
12. S.W.A.T. (CBS): Shemar Moore is a freaking star and this is the exact sort of show that CBS does so very well. 
13. The Gospel of Kevin (ABC): The power of Jason Ritter's charm is strong with this one. Bummer that Cristela Alonzo won't be returning for the series as Yvette, the celestial being sent to Earth to guide Kevin on his mission, though! Her role will be recast before the fall.
14. Deception (ABC): A magician joins the FBI and that sounds like a bad joke of a TV show, but this splashy trailer excites some of us on the TV Scoop team and if that's wrong, we don't want to be right.
15. Splitting Up Together (ABC): Jenna Fischer and Oliver Hudson are a delightful duo. Not sure how long this show can go on, but we're willing to give it a shot. 
16. Me, Myself & I (CBS): Bobby Moynihan is leaving Saturday Night Live for this comedy, so we're already miffed that it's taking our Drunk Uncle away from us. But points for this inventiveness of the set-up, in which we follow one man's life as it unfolds at three important ages. 
17. Law & Order True Crime: The Menendez Murders (NBC): We're going to need a bit more footage to judge how we feel about this anthology series about the 1996 Menendez murders, but we can't say we don't love Edie Falco's insane "defense attorney Leslie Abramson" wig. (Shades of Sarah Paulson's Marcia Clark, no?)
18. Valor (The CW): While it appears slightly out of place for The CW, we're here for another female-fronted action and military drama, especially when you compare it to some other network's very male-heavy dramas of the same nature.
19. Seal Team (CBS): This looks like a perfectly fine CBS military drama, starring the reliable David Boreanaz. That's all.
20. For the People (ABC): Another Shondaland show about hot young lawyers. It looks perfectly fine, but at this point, we're going to need more to go off of.  
21. The Good Doctor (ABC): Visibility and representation of disabilities is important, but we're wary of both Freddie Highmore portraying someone on the autism spectrum and of yet another show about a magical genius doctor surrounded by doubtful non-geniuses.  
22. LA to Vegas (Fox): Love the idea of a workplace comedy on a Vegas-themed plane, but we're going to be honest here: Dylan McDermott's magnificent 'stache distracted us throughout this entire trailer.
23. Wisdom of the Crowd (CBS): Remember Pure Genius or APB? Yeah, neither do we. This is just like those. Chances are in a year's time, you won't remember this one either.
24. The Crossing (ABC): The trailer's just as confusing as the (admittedly intriguing) premise of American refugees showing up in America after a war that hasn't happened yet. Is it a time travel show? Is it a superhero show? And haven't we already seen it before? 
25. The Brave (NBC): Um, didn't we try to do this show already...a few times? And we're not sure we'll ever keep a straight face when Anne Heche utters the villainous Baghdadi's name. (Did they just take the city and turn it into a name?)
26. Alex, Inc (ABC): We love Zach Braff, we really do. But there's a reason that there are a whole lot of jokes about dudes and their start-ups and not a lot of shows about dudes and their start-ups.
27. 9JKL (CBS): Sitcom legends Linda Lavin and Elliot Gould deserve better than this.
Which trailer is your favorite so far? Sound off in the comments below!
(E! and NBC are members of the NBCUniversal family.)