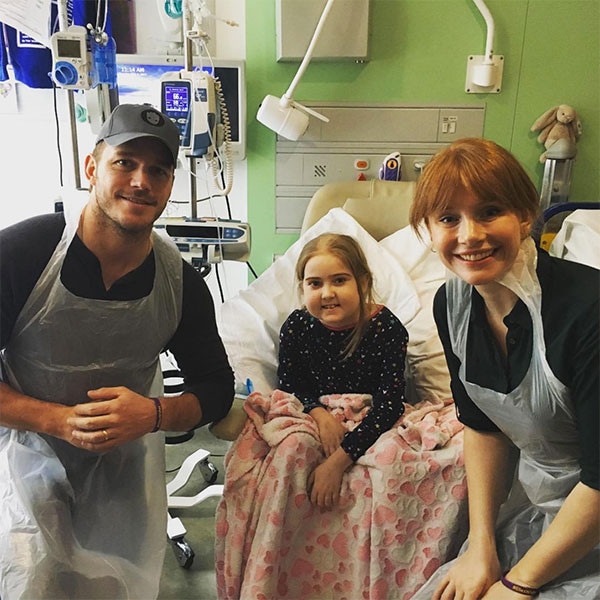 Instagram
Chris Pratt and Bryce Dallas Howard are never too busy to bring a smile to a child's face.
The actors took a break from filming Universal Pictures' upcoming Jurassic World sequel in London Tuesday to stop by the Great Ormond Street Hospital and Children's Charity. After saying goodbye, Pratt, 37, and Howard, 36, published pictures from the visit via social media.
"Bryce and I had the tremendous pleasure of spending some time with our new buddy Elle and a few other patients at Great Ormand Street Children's Hospital in London," said Pratt, who wore a Marvel cap. "I'll never fail to be moved by the unbreakable spirit of a child. #godisgood."
Pratt, a non-denominational Christian, shared Psalm 107:8-9 with his Facebook and Instagram followers. "Let them praise the LORD for his loving kindness, for his wonderful deeds to the children of men! For he satisfies the longing soul," he said. "He fills the hungry soul with good."
"No doubt," Pratt wrote. "Today my longing and hungry soul is filled."
Like Pratt, Howard re-grammed Becky Whitfield's photo of 11-year-old Elle and wrote, "So great meeting this sweet soul and many other strong, little warriors today at @greatormondst." In Whitefield's original Instagram caption, she wrote that Pratt and Howard's surprise hospital visit was "just what Elle needed"—or, more simply, "a lovely visit from some very nice people!!"
Pratt also posed for a picture with the "loving staff," writing, "Thank you for all that you do!!!"
E! News' spoke to Whitfield after the visit was over and expressed just how much the actors' visit meant to her daughter. "Elle has had a lung transplant and she has cystic fibrosis. She is 11 years old. She has been in hospital now two months recovering," she said. "It was a surprise visit, but a very nice one at that! She had no idea they were coming—huge surprise. They were very nice and Elle gave them wristbands #ellewishes to help with organ donation and CF Trust."
(The Cystic Fibrosis Trust, founded in 1964, funds research to treat and cure the genetic disorder. It aims to provide appropriate medial care and support for those with cystic fibrosis.)
"Elle has met a few celebrities on her journey waiting for the transplant to happen," Whitfield added. "She is also a huge fan of the Ellen show and would love to appear on her show as well!"
Pratt has also been promoting a charitable contest benefitting the Seattle Children's Hospital. Each $10 donation counts as a new entry. The winner will receive four round-trip coach tickets from Canada or the United States on Delta Airlines; a four-night stay at the Marriott in Oahu; a Jurassic World set visit; one-on-one time with Pratt; and a sneak peak of the film in production.
Last year, Pratt raised nearly a $500,000 for the Boys and Girls Club of Snohomish County, Wa.
Pratt and Howard aren't the only celebrities to visit children's hospitals, of course: