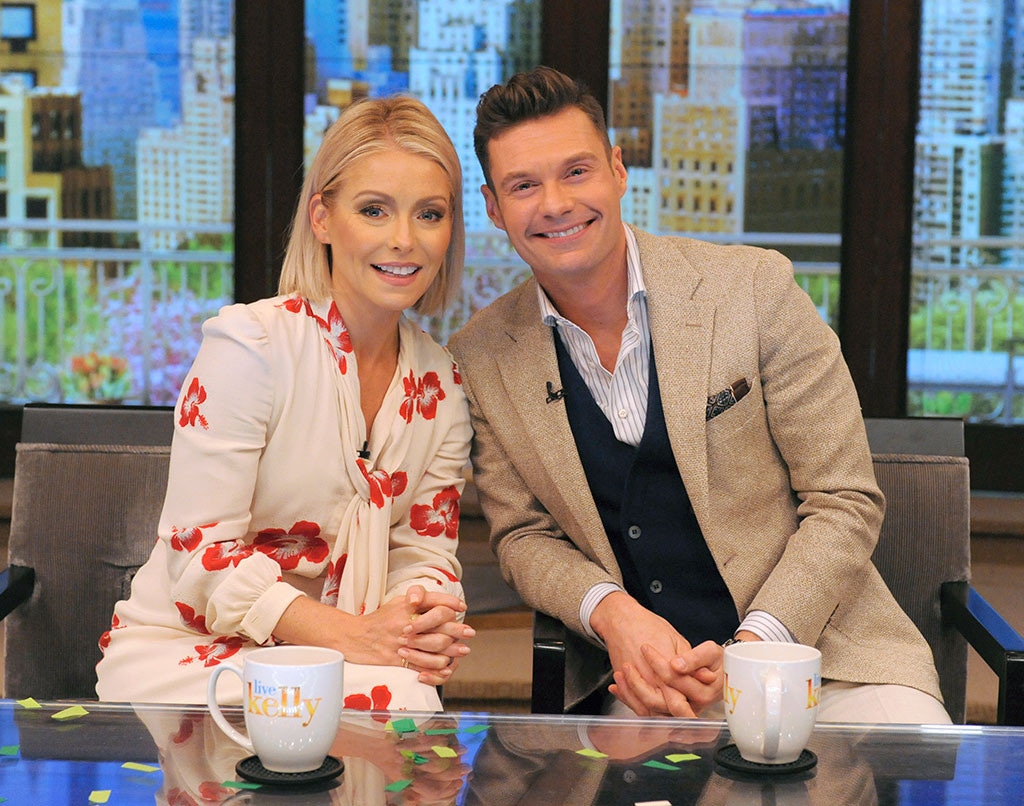 Disney/ABC Home Entertainment and TV Distribution/Pawel Kaminski
After a year of flying solo, Kelly Ripa announced Monday that Ryan Seacrest would be her new co-host on the long-running morning show.
The two personalities, who have talked about the potential opportunity for the past decade, were finally able to get their schedules on the same page and get down to business. While Monday's reveal show received increased ratings, there have been many moments to celebrate throughout the entire week.
Here are the top five moments from Ryan's first week at his new gig:
5. Trying New Things…Like Pickle Juice Soda
This week was all about firsts. On Thursday, Ryan and Kelly were prompted to try pickle juice soda during the morning rundown. Ryan started with an immediate, "Noooo," while Kelly made an interesting suggestion on what "specimen" she thinks the product looks like. Overall, the hosts did not enjoy the salty, bubbly concoction, which led Ryan to give his very first spit take. "It's not great," Ryan said as he spit the soda into his water cup.
4. Introducing America's New Super Couple: Chewy and Georgia
While you might have thought America's new super couple was announced during the unveiling of Live!'s new co-host, you were wrong. On Friday, Kelly and Ryan took a special moment to bring out the real new it couple: Kelly's shih tzu Chewy and Ryan's black lab Georgia. While the idea was to get the two to sit on the co-hosts' laps while they finished the morning rundown, Ryan's precious pup had other plans and started running around the set. "This show has gone to the dogs," said Kelly.
Disney/ABC Home Entertainment and TV Distribution/Lorenzo Bevilaqua
3. Getting a Gracious Gift from Chris Pratt
What's sweeter than getting a dozen long stem roses and a colorful balloon bouquet? Getting them from Chris Pratt just moments after announcing one of the biggest career moments of your life on live television. Chris was the duo's first guest after the unveiling, and the Guardians of the Galaxy Vol. 2 star did not come empty-handed. Chris joked there was no better way to celebrate the announcement than to give the gifts he was just handed by the production assistant backstage. While it may have been a producer-inspired gift, it was a nice gesture to honor Ryan's big moment.
Disney/ABC Home Entertainment and TV Distribution
2. Building a Lasting Bond
"Ryan, sometimes in this job you'll find it involves a lot of twists and turns and flexibility," Kelly said to Ryan on Wednesday's show. While it's great co-host advice, Kelly had something else in mind: partner yoga. At one point in the hilarious segment, Ryan's feet ended up by Kelly's face. "Ryan, your feet are so soft," said Kelly—a sure sign of a lasting companionship.
1. Giving a Champagne Toast—Salud!
Of course, no celebration would be complete without a proper champagne toast. Ryan's first day on the show wrapped with some bubbly from executive producer Michael Gelman and a two heartfelt toasts. "Let me say, thank you very much. This is such a pleasure to be with you every morning. This is going to be the most fun I've ever had," said Ryan. Kelly concluded the toast, saying, "Welcome to the family. You fit right in."
Cheers!