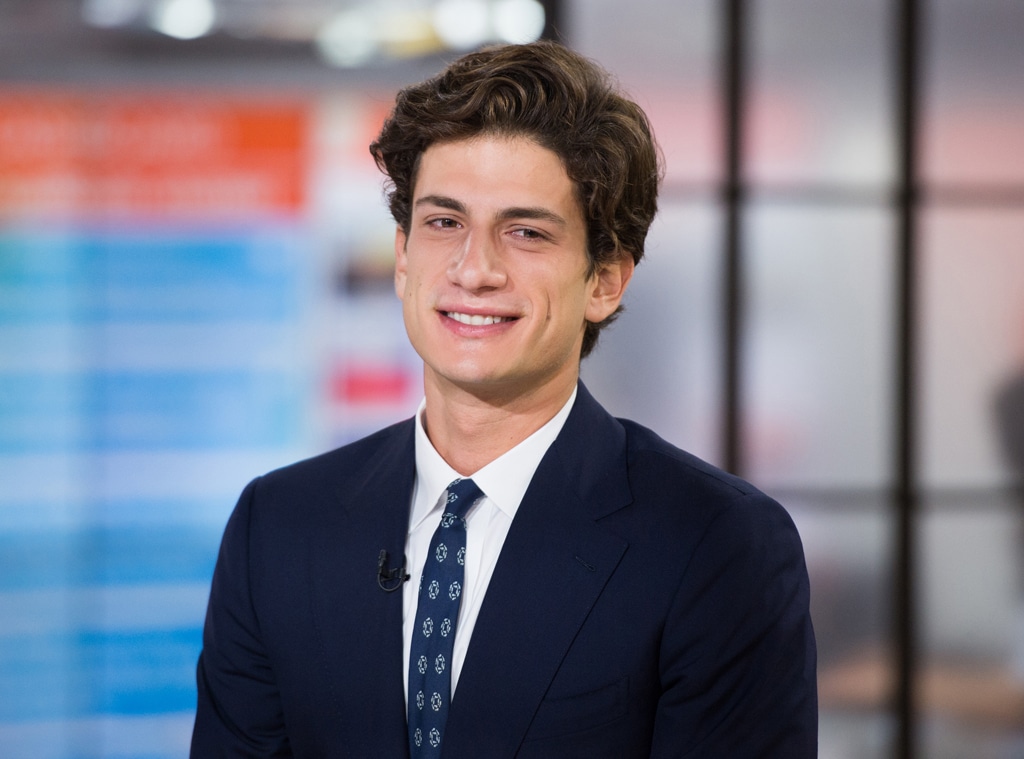 Nathan Congleton/NBCU Photo Bank/NBCUniversal via Getty Images via Getty Images
UPDATE: Jack Schlossberg's remote appearance at the Democratic National Convention on Tuesday, Aug. 18, alongside his mother, Caroline Kennedy, had some people eagerly Google searching his name—and photo. "Why has no one told me how insanely hot Jack Schlossberg is? Is he single? Asking for me," one viewer questioned in a tweet. 
While the jury is out on his relationship status, we've answered some other burning questions about the Kennedy descendent below. 
____________________________________
Meet Jack Schlossberg, JFK's only grandson.
The 27-year-old descendent of the late 35th president, John F. Kennedy, has once again popped up in public life, thanks to his brief speech alongside mom Caroline Kennedy during the Democratic National Convention on Tuesday, Aug. 18. Referencing his famed grandfather's remarks as he accepted the Democratic nomination for president 60 years ago, Schlossberg told viewers, "Times have changed, but the themes of my grandfather's speech—courage, unity and patriotism—are as important today as they were in 1960."
The Schlossberg sighting sparked curiosity online over the Kennedy descendent, considering he does not often make public appearances. However, he has stepped out in the limelight over the years to help give out the Profile in Courage Award as a member of the committee. 
The annual honor, which is given in the former president's memory, is not only a celebration of the honoree's dedication to public service and leading with their conscience, but has also given Schlossberg the opportunity to help carry on his grandfather's legacy. 
"I'm inspired by my family's legacy of public service," he said in his first live interview on Today in 2017. "It's something that I'm very proud of."
As John Bouvier Kennedy Schlossberg—nicknamed Jack—ventures into the limelight of his iconic American family, there's a few things to know about the last living male descendant of JFK. 
1.He carries his uncle and grandfather's name, but that's not the only similarity. 
His famous grandfather and uncle, John F. Kennedy Jr., were both named John, but there's no denying the 27-year-old bears a physical resemblance to the two men, particularly the latter.
While he told NBC's Savannah Guthrie and Matt Lauer that he's inspired by his grandfather's speeches, he is also reminiscent of JFK Jr. with his interest in media. Like his late uncle, who created the monthly magazine, George, Schlossberg wrote for the Yale Daily News and The Yale Herald while he was in college and has also penned pieces for Politico, The Washington Post and The New York Times.
2. He's an Ivy League graduate. 
He got his diploma from Yale University in 2015 with a degree in history and a concentration on Japanese history. In 2017, he started at Harvard Law School.
3. His career is a work in progress. 
While many would suspect he'll head straight into politics after obtaining his law degree, he's not ready to make that declaration. "I'm still trying to make my own way, figure things out, so stay tuned. I don't know what I'm going to do," he said on Today.
4. He's close to his mom, Caroline Kennedy. 
Jack has appeared in Japan to visit and help his mother, the former ambassador to the country. In 2017, he suited up as her date to the Met Gala. He is also the youngest sibling and only brother to his older sisters, Tatiana and Rose. 
5. He's a major fan of Dwayne "The Rock" Johnson. 
According to his social media, he is quite enthralled by the wrestler. When the Fast & Furious star taped a message for him on his birthday, Jack called it "the greatest day of my life."
"Thank you @therock for all that you do for your fans," he wrote online. However, Schlossberg is not only interested in The Rock on social media. He has dedicated much of his Instagram feed to clarifying the differences between similar words and phrases, such as piano and grand piano or signature and autograph. The answers you always needed! 
(E! and NBC are both part of the NBCUniversal family.)
(Originally published May 5, 2017 at 9:51 a.m. PST.)