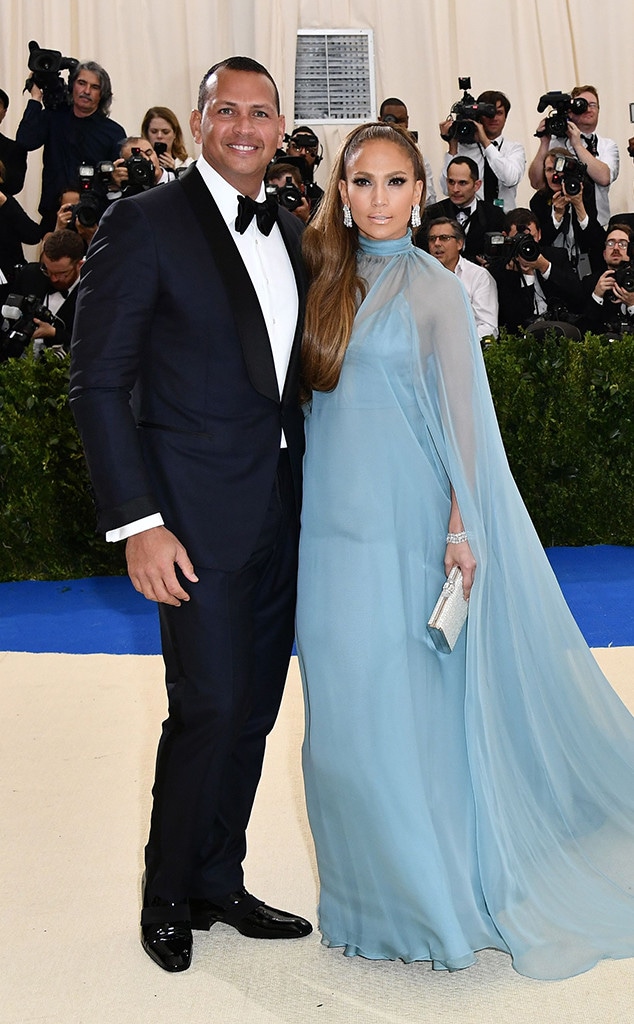 Rob Latour/REX/Shutterstock
Jennifer Lopez and Alex Rodriguez took a big step in their relationship last night.
The famous duo made their red carpet debut as a couple at the 2017 Met Gala, stunning as they posed for photographers all the while intertwined in one another's arms...but that wasn't just a view for the cameras.
In fact, insiders tell E! News the couple stayed arm-in-arm all night long.
One onlooker said they were "tied by the hip the entire night," holding hands and even sharing a few kisses. "You can tell they are really digging each other," the source added, noting the couple seemed "serious" by the way the were interacting with each other and everyone else.
The source also noticed how Lopez had a "constant grin" on her face, and everyone could tell "they were having fun."
A second insider couldn't help but notice similar characteristics among the couple.
"They were really sweet with each other," the source said. "He was holding her hand and really taking a backseat to her. She was introducing him to people around the room, not other celebrities but industry-type people, agents and executives. She appeared to be making a lot of entertainment industry introductions for him. He seemed very proud to be there with her."
Lopez—who stunned in a baby blue Valentino gown—made sure to document the special evening, taking photos with her "macho bello" before the couple even arrived at the gala.
Once inside the event, lots of other people were immersed in their hotness, too.
For example, when Migos took the stage to perform "Bad and Boujee," Giancarlo Giammetti snapped a video of the performer singing along. "When a dancer always a dancer," the Italian businessman captioned the post.
Though Rodriguez stayed seated, he was caught smiling and bobbing alongside his hot date.
Even with some exes in the room, the couple didn't let anything affect their fun night out together. Two of A-Rod's prior flings, including Kate Hudson (who he dated in 2009) and Madonna (who he dated in 2008) were there. In fact, we're told Rodriguez walked "right past" Hudson, but they "did not interact."
Lopez's ex, Sean "Diddy" Combs was also at the event with his longtime lady, Cassie. J.Lo attended her very first Met Gala beside the rapper in 1999, but after their split, the former couple have remained friends.
The only real awkwardness was when Rodriguez was asked about his night at the Met Gala on CNBC Tuesday morning. 
In an interview to talk about charity work with Derek Jeter, CNBC's Bob Pisani uncomfortably included a question about Rodriguez's evening with Lopez the night before.
"This interview is going all kinds of places," A.Rod laughed. "We had a great time last night. It was an awesome night in celebration of art and fashion. I was looking for my boy, Derek, but he wasn't there."
When asked about Lopez, Rodriguez continued laughing, "Wow! What channel is this? The E! channel?" (Thanks for the shoutout A.Rod).
The conversation moved on for several minutes before Pisani went back to the topic of the gala.
"E! Channel," Rodriguez responded again. "I did [enjoy it]. Katy Perry put on a great show. It was to highlight fashion and art, and it was a great night."