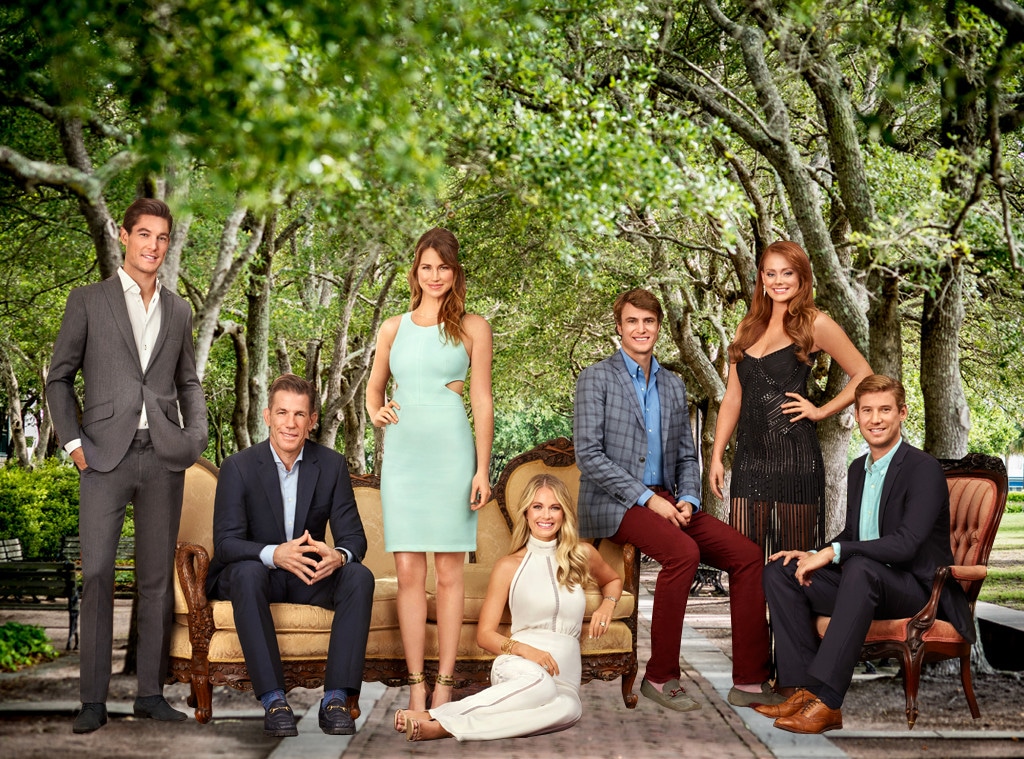 Bravo/E! Illustration
Bless its heart, no one knows quite what to think of Southern Charm, Bravo's reality series which premiered in 2014 and brought viewers into the super-private world of the old South. Especially in Charleston.
"Rich people who can't handle their alcohol," your Uber driver will tell you when you dare mention the show as he navigates the streets of the city. But turn to the group of college co-eds at Beech, a local eatery on King Street, and they tell you that prospective students will ask where they can see the cast while giving college tours and that one of their friends recently took a photo with "T-Rav" at the bar. (T-Rav would be the former State Treasurer of South Carolina.)
And when you end up sitting with cast member Whitney Sudler-Smith at Stars Restaurant's Rooftop bar on a Friday afternoon, no less than three people ask him to pose for pictures, including one particularly inebriated man who is part of a rambunctious bachelor party.
After happily taking the photo, Whitney noted that it's a common occurrence. "You get a lot of bachelor and bachelorette parties and they come down here," he said. "The weekends it can get pretty bad."

All fans of the show know Whitney as the alt-rock Southern gent who splits his time between his home in Los Angeles and his mother's Charleston estate. But many viewers don't know he was actually the creative force behind Southern Charm, bringing it to Bravo after partnering with Haymaker Productions. What would follow—three spinoffs (and counting), two children and one failed political campaign—no one could've predicted. But we'll get to that later.
"I think the idea was a little Downton Abbey, a little bit of Gone With the Wind, a little bit of The Bachelor and a little bit of Animal House," Whitney told E! News of his original concept for the series.
THE ORIGIN
It all began when Whitney was told he had to meet Thomas Ravenel, who would visit his mother, Patricia Altschul, around the holidays. Hailing from one of the state's most influential families, Thomas found himself at the center of a political scandal after he plead guilty to "conspiring to buy and distribute less than 100 grams of cocaine" in September 2007 and was sentenced to serve 10 months in federal prison. 
"Basically, he was totally ostracized and a lightning rod," Whitney said. "I found him incredibly amusing, I just thought, something should be done with this person."
That something became a "proper reel" for a show called Southern Gentlemen, which featured Thomas, Shep Rose, a "hilarious" thirty-something bachelor Whitney met at a party shortly after meeting Thomas, and a few other men, who didn't make the transition from Gentlemen to Charm.
Aaron Rothman, the co-founder Haymaker Productions, quickly knew he wanted in after seeing the footage. "It was great. It was just interviews and things with some of the guys. And I really liked it, and I thought we should sign this thing up immediately. It doesn't take a rocket scientist to figure out that Thomas Ravenel was one of a kind." 
AN UNLIKELY HOME
Originally, given the male-oriented focus of the show, Whitney was envisioning AMC as a potential home, thinking it could be a Mad Men of the modern South. "And then met with a lot of networks, Bravo was kind of the gold standard."
 A network known primarily for its female-oriented programming (aka Housewives), Southern Charm was "a fresh take on a Bravo show," according to Leslie Farrell, the vice president of current production at the network.
"What's interesting about it is because Whitney, these really were his friends and it was his eye to producing, the group that came along with him really are male-oriented, and that was new for Bravo," she said. "Obviously, we're a very female-oriented network and our main characters are female and Southern Charm turned that on its head by bringing men to the forefront. They're not there because the main characters are their wives or girlfriends, they are actually main characters themselves."
CASTING CHARLESTON
The only current cast members who were part of Whitney's original reel? Thomas and Shep, which lead to a search to fill out the rest of the Charleston cast. "It's a small community, so we poked around and met their friends and hung out there," Rothman said of the search.
Looking for a younger male, Craig Conover, a recent College of Charleston graduate who knew the other guys socially, was brought in as the outsider who "really wanted to be part of the in crowd."
As for Cameran Eubanks, an aspiring real estate agent, she was hesitant to sign up for another reality series after appearing as a cast member on MTV's The Real World in 2004. Rothman said, "It's a tough request, especially when you've done it before and you know what it is. It was a hard decision for her." 
Eventually, with "some convincing," Cameran agreed, becoming the narrator and voice of reason, the Wendy to the many Peter Pans. 
Fans were a bit surprised when it was revealed after season one that Cameran married Jason Wimberly, whom she never mentioned on-camera and has yet to appear on Southern Charm. (Yes, producers are still trying to get him to appear. "I bug her about it every year," Rothman said. "But at this point I'm saying it as a laugh. I don't know if Bravo agrees with me, but it's OK!" And they don't agree, with Farrell saying, "We ask him only every season, and every season, he says, 'No, but thank you.'")
Then, of course, there was Whitney. "Very last, they wanted me on."
READY FOR HIS CLOSE-UP
Whitney knows what people think when they learn he created the show, only to then become one of the cast members. "People have a misconception that because I'm an executive producer that I put myself in the show, when in fact, it was the complete opposite,"he said.
Rothman confirmed Whitney's resistance, saying, "He didn't want to be on the show. I said, 'I want you to be on the show,' and then I interviewed him, and I convinced him to interview his mom. If we've had conflicts over the years, that is the primary nature of those conflicts."
Eventually, Whitney had a change of heart, also bringing his mother, Patricia Altschul, who quickly became a fan-favorite thanks to her colorful caftans, five o'clock martinis and hosting skills, on as well. "It took me a while to get my sea legs. I'm happy to show up and make a couple of smart-ass comments, be snarky," Whitney said. 
But when he made the on-screen jump, Whitney had to give up any control a producer would have, becoming a cast member only.
"You have to treat him as such in order to make the show because you need the objectivity to be a producer standing out the outside of it, to make sure we are following the stories that need to be followed," Farrell said. "So there's a real division there."
This season, Whitney is no longer credited as a series regular, with Austen Kroll joining the cast, though Whitney has still appeared in every season four episode so far. And it was a transition that felt "natural" to all parties involved, given Whitney's life in Los Angeles and various projects.
"I feel like it put him at ease ultimately," Rothman said. "It feels like this is the right fit. He's still a super important part to this cast, there's no doubt about it.
Of his reduced onscreen role, Whitney simply said, "I'm happier." 
A FORCE OF NATURE
Throughout season one, it was clear cast member Jenna King wasn't exactly the right fit, despite her history with some of the cast. (She'd later leave the show, with Shep's friend Landon Clements, who had just moved back to town from Los Angeles, joining the cast in season two.)
 
While Jenna failed to make an impact, another young Southern woman made quite the debut, despite not originally being a series regular: Kathryn Dennis, the beautiful and brash Southern belle, whose fiery personality perfectly matched her fire-red hair.
 
Hailing from a prominent South Carolina family, Kathryn was originally considered for the cast in the early stages. "We had originally Skype interviewed her and we thought she was too young," Whitney said.
 
Still, the process introduced her to the rest of the cast, and she soon started appearing at events where filming was happening. "She came on as someone to fill up a party," Whitney said. "She was very nice, very pretty, and I think she was in school at the time, and then when we were shooting, we figured, hey, she'd be a good extra. "
Three years and two kids later (with Andy Cohen once joking their youngest, St. Julien, was conceived after filming a reunion), Kathryn and Thomas' tumultuous on-and-off again romance, despite their 29-year age difference, has become one of the main storylines of the show. "We had no idea it was in her!" Whitney said.
 
"She's a force of nature, there's no doubt about it," Farrell said. "I think it's a matter of the producers really always being on top of what's actually happening and not being in their heads about what they thought the direction of the show…they started to follow that, she was involved with a few of the guys, and she and Thomas clearly had this magnetism, and so they followed it. It's turned out to be incredible, it's been quite the journey."
A journey that has gone through an ill-fated political campaign (with Thomas running for Senate in season two to disastrous results, landing only 3.9 percent of the vote), and an ongoing custody battle between the former couple after Kathryn failed a drug test after filming for season three had ended.  
"I think the hardest part in the campaign was [Senator] Lindsey Graham sat back and said he is only running for Senate because he wants better ratings for his TV show, and nothing was farther from the truth," Rothman said. "I don't think we had anything to do with the win or loss of it to be honest, but I think we were super careful and he himself was very careful about that whole thing."
When it came to the custody battle, Farrell acknowledged it's a more "delicate situation," because the courts were involved, there were some things they could talk about, some things they couldn't talk about… they were looking to go to mediation, they had a lot of restrictions on them and we needed to respect those because there are children involved. What we did was find out what is it that you can talk about and then asked them to talk about that. It's really finding what the story is, what the truth is and asking them to speak to that truth."
For Rothman, he's not interested in the political and child custody battles from a storytelling perspective, saying, "It's not really the show we're doing."
LOCALS ONLY
With any reality show that films in an exclusive, tight-knit community, the Charleston locals' reaction to Southern Charm was less than favorable. (Remember our Uber driver's reaction? He grew up in Charleston.)
"At first, the reception was horror," Whitney said. "I think locals, they were thinking Honey Boo Boo and Jersey Shore, and unfortunately, it doesn't stray far from that in some aspects, but I think now, despite some of the boorish behavior of the cast, I think they've come to begrudgingly accept it. The show, it showcases the city in a beautiful light…it's a positive portrayal of the city and we've heard it helps the tourism."
Doug Warner, the director of media relations for the Charleston Area Convention & Visitors Bureau, said he has found no data that supports any impact Southern Charm has had on tourism, citing history, culinary experiences, the beaches and art and culture as the main reasons. 
FRANCHISING CHARM
After seeing its highest ratings its third season (with an average of 1.7 million viewers), it was obvious Southern Charm's success wasn't a fluke. So Bravo did what it did best, according to Farrell. "Once it was clear that we had something really new and fresh, really unique, this idea of bringing in these male characters and making them such a focal point, and then that it works, yes, we started thinking about, can we spin this off? Where would it be? So the search began."
And led them to Savannah, an equally "exclusive" community, affectionately described by Shep as the "ugly stepchild of Charleston" in its first trailer.
"We looked at a couple of cities," Rothman said. "We met this Savannah cast and found something distinctly special that we didn't necessarily have in Charleston: they grew up together. When we found these group of people who have grown up together, many of them who are very, very old Southern lineage, we fell for them a little bit. " 
Virginia Sherwood/Bravo Media
The new show will eventually see a bit of a crossover with the original series as Shep is friends with some of the cast.
"I'm calling it more of a worlds-colliding than a crossover," Farrell said, shooting down a Vanderpump Rules-Summer House style crossover. "You will see some of the Charleston cast with some of the Savannah cast at some point in the season."
Even before seeing how Savannah performed after its May 8 premiere, Bravo has shown its confidence in the franchise's potential. 
On April 27, two more Southern Charm spinoffs were announced: Southern Charm New Orleans and Relationshep. The first spinoff centered on one of the original cast members, Relationshep will follow Shep as he goes on a cross-country dating adventure. 
Despite all the on-screen drama, attention, and spinoffs that have happened in the last three years, the charm has yet to wear off for Whitney. 
"We have a good time," he said. "For us, it's like theater of the absurd."
Southern Charm airs Monday nights at 9 p.m. and Southern Charm Savannah premieres tonight at 10 p.m. on Bravo.
(E! and Bravo are both part of the NBCUniversal family.)