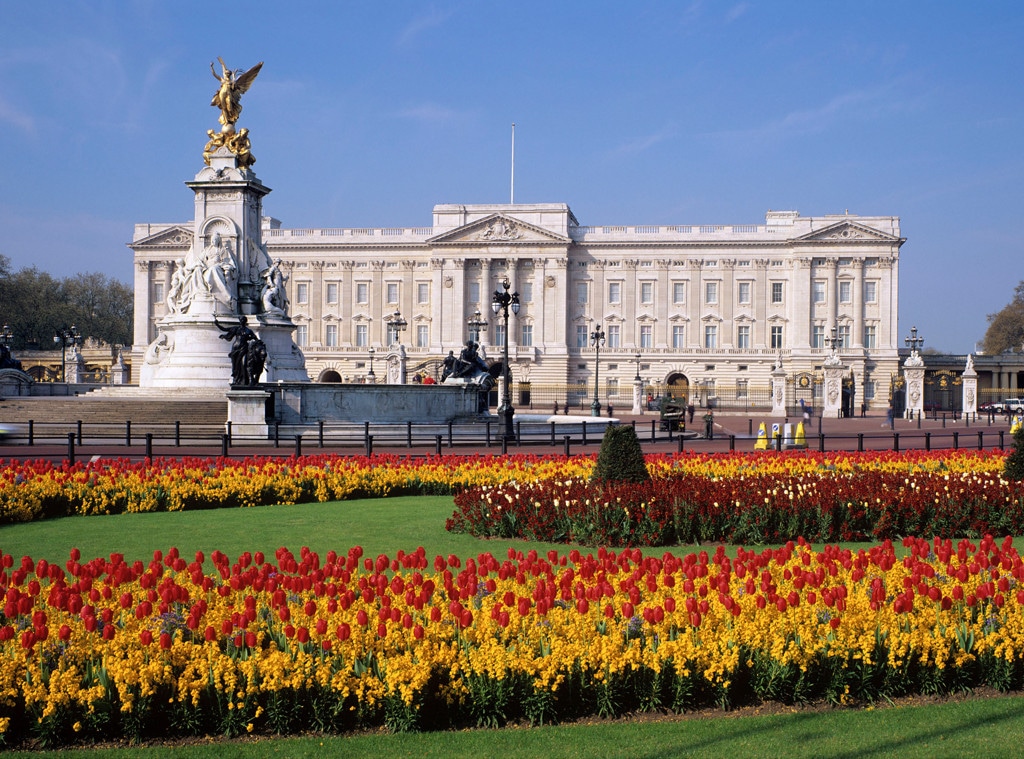 Britain on View/ZUMA Press
At last count, there are 775 rooms inside Buckingham Palace—and, barring the knocking out of any walls to comply with the HGTV-approved open concept trend, it will continue to have 775 rooms for the foreseeable future.
Queen Elizabeth II, who turned 93 in April (and was officially feted in June), has lived there for the majority of her life and though her residential quarters are in a more condensed wing of the palace, if anyone's going to have the run of the place, it's the United Kingdom's reigning monarch for the last 67 years and her remaining dorgis (Pembroke Welsh Corgi meets Dachshund), Vulcan and Candy.
Anyone, meanwhile, can go to England and gawk at Buckingham Palace through the gates—just take the tube to Victoria Station—or take a tour of the state rooms (19 altogether) where the queen entertains or holds official events, like knighting ceremonies and receptions for world leaders.
STEVE PARSONS/AFP/Getty Images
Luminaries ranging from a 7-year-old Mozart and Charles Dickens to Benedict Cumberbatch and David Beckham have been received at Buckingham Palace over the years, proof it's been a hotbed of pop culture throughout its existence, and more than 50,000 people visit each year for state banquets, lunches, dinners, receptions and garden parties.
But the majority of the vast palace, comprising four wings built around an open courtyard, is obviously off limits to everyone who doesn't need to be there for work, play or everyday living.
And even if you spent a couple of hours there rambling around, you'd only be scratching a tiny fraction of the surface of a building that first started to take shape in 1703, was steadily expanded and renovated over the centuries and has been the principal state residence of the queen of England since Victoria was that queen. In fact, Queen Victoria moved in as a bachelorette (two months before she got married) before it was even finished, ready to assert her independence as soon as possible. She put her husband, Prince Albert, in charge of putting the finishing touches on Buckingham Palace.
If only those walls could talk…and luckily they do, a little…
The latest documentary series to take a peek behind palace walls, Secrets of the Royal Palaces, premiering Sept. 25 on the U.K.'s Channel 5, features all new interviews, including one with Kevin Andrews, the Queen Mother's upholsterer of choice, who says a friend of his was once dismantling a desk at Buckingham Palace and accepted the offer for a cup of tea coming from a lady's voice behind him—only he wanted a "builder's tea," in a mug with two sugars. When she returned, she told him, "'I've put your tea on the table here.'"
Finally he turned around and saw that Her Majesty herself had brought him his mug of tea.
So sit back, perhaps with a cuppa, and enjoy finding out more about what goes on inside the queen's storied residence:
Royal Collection Trust/ Her Majesty Queen Elizabeth II 2015
"The Headquarters of Taste": Albert apparently had quite the knack for design, because that's what people were calling the palace once the new ballroom he commissioned was done and the legendary costume balls had begun. The ceiling is said to equal the height of three double-decker buses.
Fixer Upper: Albert and Victoria commissioned the building of a fourth wing, financed by proceeds from the sale of King George IV's Royal Pavilion at Brighton, because there were simply too few bedrooms to accommodate visitors. They also installed the palace's first nurseries once they started having children—nine in all.
Game of Thrones: In the Throne Room, there are two grand monogrammed chairs designated for the queen and her consort—her husband of 69 years, Prince Philip—that would seemingly serve as frequent reception perches for the royals. But in reality, the queen has only sat in the chair once, during her coronation in 1953.
AP Photo/Lefteris Pitarakis
Catching Zzz's: There are 52 royal and guest bedrooms and 188 staff bedrooms. Elizabeth and Philip reportedly keep separate bedrooms, but mainly because the Duke of Edinburgh likes to sleep with the windows open, even in the dead of winter.
Royal Flush: There are 78 bathrooms. We wonder how many still have toilets that you flush by pulling a chain.
Baby Boom: While the queen herself was born at her grandfather's home in Mayfair, she gave birth to sons Prince Charles, Prince Andrew and Prince Edward at the palace. Princess Anne was born at Clarence House, which was the Queen Mother's home at the time, while BP was undergoing renovations.
One Eye Open: Before the palace was built, there was a monastery on the once-remote land—and a monk who died in his cell is said to frequent the palace's rear terrace at night, cloaked in his brown cowl. (Alternately, he was serving out a punishment when he died, and he appears on Christmas Day, moaning and rattling his chain.) There's also a first-floor office said to be haunted by the former private secretary of King Edward VII, Major John Gwynne, who, as the story goes, shot himself in the office after causing a scandal by divorcing his wife. Staffers over the years have claimed to hear the sound of a single gun shot coming from that room.
Pawel Libera/Getty Images
The Great Outdoors: You could fit four Wembley Stadiums, or 30 American football fields, into the queen's 39-acre garden—the largest private garden in London. It's divided into three main areas: a rose garden which abuts Hyde Park, and where sits the 15-foot Waterloo Vase, spoils from the Napoleonic Wars; Harrisons, which includes the massive lawn; and a less manicured area called the Yard. A bevy of bees are housed in four wooden palaces that sit on an island in a 3-acre man-made lake in the Yard, so rest assured the honey served at the palace is organic. There are 25 different varieties of roses planted in the rose garden, including one created in honor of the Duke of Cambridge called the Royal William.
One Stop Shop: The queen regularly spends Christmas at Sandringham and Easter at Windsor Castle, plus she takes a summer vacation at Balmoral and spends a week entertaining at the Palace of Holyroodhouse, both in Scotland. But if she didn't want to leave Buckingham Palace, she doesn't have to—nor does her staff, unless they need fast cash.
Really more like a village unto itself, BP has a swimming pool, a chapel, a post office, a doctor's office, a movie theater, a staff cafeteria and, since 2001, an ATM in the basement (reportedly provided by Coutts, a private banking firm) that's reserved for the royals, though the queen herself doesn't ever carry cash. .If she wants to see her own face, she can just look in the mirror, after all.
Royal Collection Trust/ Her Majesty Queen Elizabeth II 2015
An Unlimited Larder:  Lady leaders and their hot sauce. The queen is said to be a big fan of the condiment and always has Tabasco on hand in her pantry. She's said to start her day off with a bowl of Special K (which makes us wonder if that's why cornflakes are always an option at the B&Bs around town…) and Her Majesty prefers Darjeeling tea. As for nibbles, she's partial to Walkers shortbread, Coca-Cola, luxury chocolates such as Prestat and Charbonnel et Walker, a daily piece of homemade (by her chefs, that is) chocolate biscuit cake, and we know she likes to keep bowls of nuts throughout her residence for insta-snacking at her leisure.
Yui Mok - WPA Pool/Getty Images
It's Always 5 o'clock Somewhere: The queen's favorite cocktail is gin and vermouth (Dubonnet is her brand) on the rocks with a twist of lemon, and she at least used to enjoy one daily before lunch, then take wine with her meal, but her former chef Darren McGrady told Channel 5 that she prefers her daily drink at night (followed by a sweet German wine at dinner). Champagne (Bollinger was the first brand to receive the Royal Warrant, in 1884) comes out for celebratory toasts—and on a nightly basis before she goes to bed, according to the queen's cousin Margaret Rhodes.
Watering Hole: BP used to have its own bar, the queen's former press secretary Dickie Arbiter reveals, but they had to close it because the staff was getting soused. Arbiter also noted that he regularly used the pool when he was employed by the palace.
Royal Collection Trust/ Her Majesty Queen Elizabeth II 2015
Bargain Basement Finds: All the hot art in the 1700s was being made in Venice and, when the art collector Joseph Smith (the British Consul at Venice, not the founder of Mormonism) came upon hard times, he sold off a trove of masterworks (paintings as well as musical instruments, coins, antiques, etc.), to King George III for a song. The queen still has the largest private collection of works by the Venetian artist Canaletto, as well as thousands of other pieces, acquired in that sale. The public Queen's Gallery was installed in an unused chapel in the 1950s, and displays about 450 pieces at a time.
Swinging From the Chandeliers: How do those magnificent light fixtures get cleaned? In a BBC documentary about the queen's palaces, it's revealed that the chandeliers can be lowered from great heights by remote control, allowing for much easier dusting than if the cleaners had to climb a ladder. But back in the day, George IV used to employ 30 people just to keep the candles lit in the years before electricity was installed.
Royal Collection Trust/ Her Majesty Queen Elizabeth II 2015
That Sinking Feeling: The Westminster land the palace was ultimately built on used to be boggy, marshy swampland—and the River Tyburn still flows below the south wing. An underground tunnel system also connects the palace to Clarence House, where Prince Charles lives, and the House of Parliament. Back in the 19th century, when the waters in the sewer would rise, it would flood what was then a windowless kitchen and make the entire palace stink—until Prince Albert and his plans came along. In addition to making the rooms scream elegance, he also oversaw the installation of new lighting and a heating system. 
PDA Central: The famous balcony where Prince William and Kate Middleton shared a newlyweds' kiss that thrilled the world (minus that one girl) wasn't there until Victoria and Albert had a wing built front and center to greet the people. Its first public use was in 1853, when the couple went out to wave farewell to the troops headed off to fight in the Crimean War.
The front of the building that Victoria established as the heart of the monarchy was later resurfaced with white porcelain stone early in the 20th century to brighten up a facade that had, ironically, been dimmed by Victorian-era smog. The price of industrial progress and whatnot.
A few decades later, Buckingham Palace was hit nine times by German bombers during the Blitz (the chapel was destroyed just hours after King George VI and his wife had been inside worshiping), but the historic residence was quickly restored to its reassuring glory.
And when it was time for Prime Minister Winston Churchill and George VI and his family, including then-Princess Elizabeth, to greet the people to mark the Allies'a victory, out to the balcony they went.
(Originally published April 28, 2017, at 4 a.m. PT)