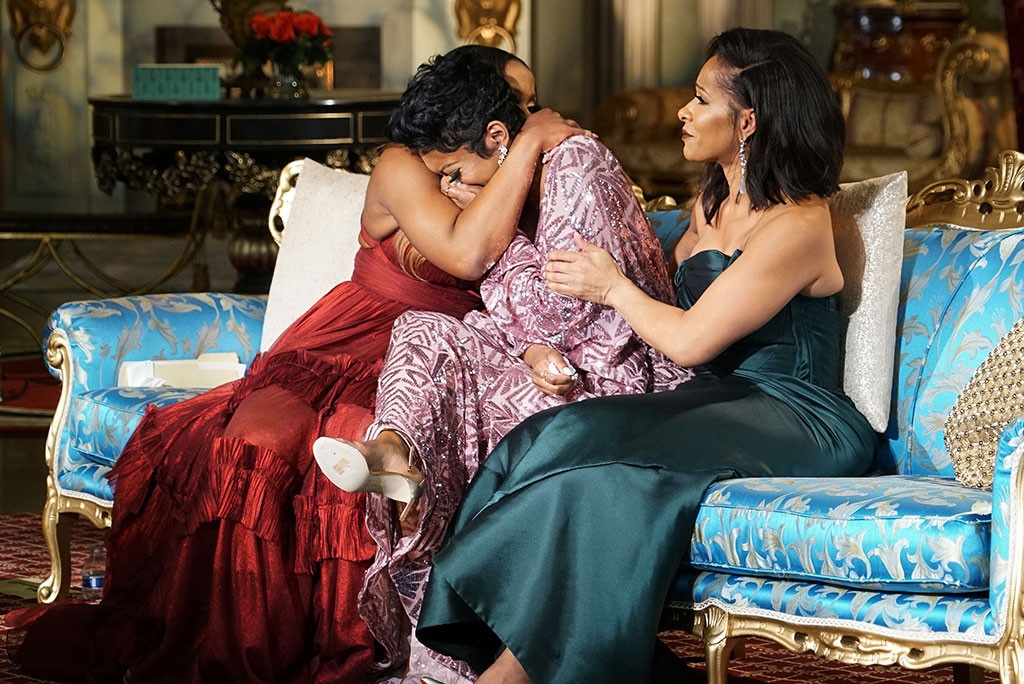 Annette Brown/Bravo
With the emotional hangover from the three-part Real Housewives of Beverly Hills reunion still lingering, and the anticipation of the second half of Real Housewives of Atlanta, let me give you an insight to one of TV's most anticipated showdowns! Here is all the inside scoop you need to know on what it's really like to be in the ring with your favorite housewives! Get your pen and paper ready as I break down how to survive a Real Housewives reunion!
Courtesy of Justin Sylvester
You're in It for the Long Haul
It's a marathon, people; you cannot sprint during this race! In most cases, audiences see a two- to three-part one-hour special at the end of each city's season. What you don't know is that it is actually a 10-12 hour day for the First Ladies of Bravo. First, they are picked up at their homes and carted off to an undisclosed location by driver (so no one has a getaway car if things get heated). Next is hair and makeup, which can be a two- to three-hour ordeal, making sure every hair and lash is perfectly placed. Finally, it's game time! The gloves are off and the ladies are in gauntlet for a grueling 10 hours of laughs, cries and a lot of CRAY! If you were to step in the ring with a veteran, I'd suggest a nice bottle of pinot and some patience!
Take Notes—and Come Prepared
You film a season for months, then it airs and finally, you have to answer for ALL the tea you were spilling in your interviews?! Yes, it is a scary to imagine you have to come face to face with every side-eye and all the shade you threw all season. So, you have to be ready to explain any and everything you said! My advice: Re-watch every episode before going in and plan for the worst... then multiply that times 5! (All T. No Shade)
Play It Cool and Comfortable
The thought of sitting in Spanx, a body-con dress and torture grade stilettos for over 10 hours sounds like a scene out of Hostel! Pick your best feature and let it do the talking! If you know you have killer legs, choose a dress with a high slit and angle your body to accentuate your gams. Pair that with a sick heel and you are ready to roll. If your arms are fierce, choose a dress that's strapless and tight at the bust and more comfortable at the core. Pair it with an ornate necklace or chandelier earrings to bring the audiences attention to your sweet spot. And if it's your décolletage that commands the room, choose an off the shoulder number that can hold court without a sparkle around the neck. Throw on some "bitch-where-you-get-them-from" diamond studs and watch your enemies melt! In the words of Kyle Richards: "Pick a lane!"
April 15 Isn't the Only Day for Accounting
The best thing you can bring to the reunion—besides a rosary and machete—is receipts! No, no, no...not grocery receipts. Texts, e-mails, tweets—anything that can help your case, you bring! The Atlanta housewives are notorious for their "impeccable accounting" at these reunion specials. Maybe they should take over for PriceWaterhouseCoopers at the Oscars. No?
And If You Are Sitting Next to Andy Cohen…
...Say 10 Hail Mary prayers and repent, because you are not getting out of this one alive! I've notice from the past decade of Housewives that the two women that are sitting directly next to Andy on those couches are the ones in the hot seat! While it may have been fun to stir the pot over the season, it isn't fun to answer for the drama you've been cooking up for the past few months. I don't have any advice for you on this one. The best I can do is to tell you to "just run!"
(E! and Bravo are both members of the NBCUniversal family.)