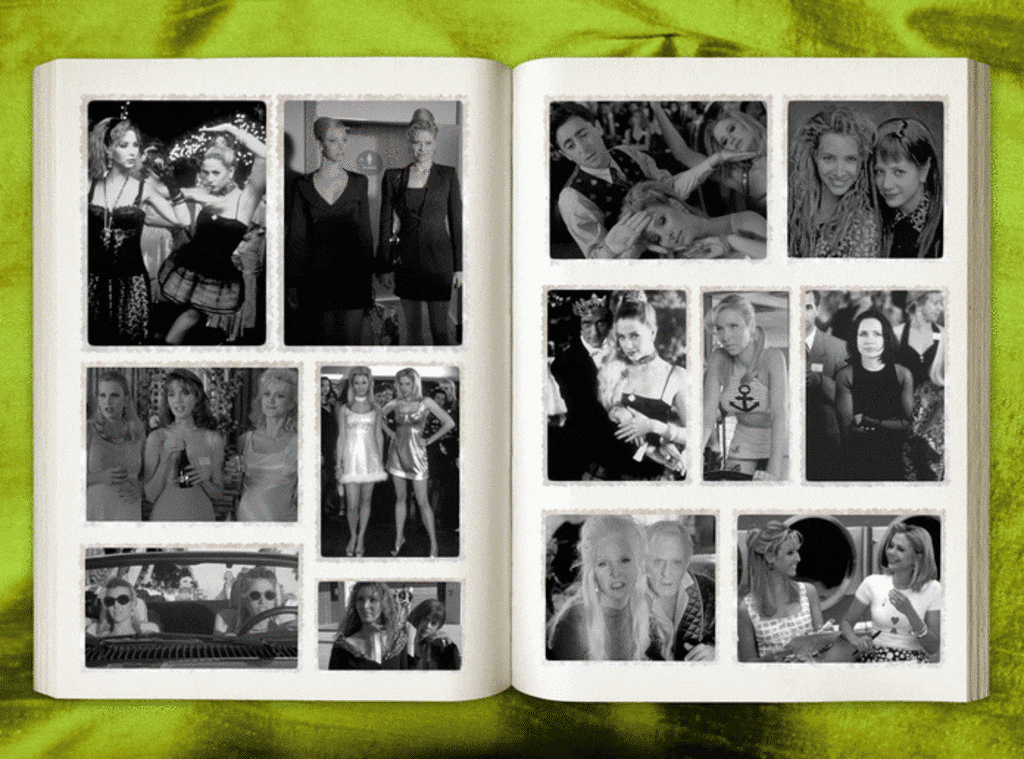 Melissa Hebeler / E! Illustration
Twenty years after Romy and Michele's High School Reunion, we're still not sure who's the Mary and who's the Rhoda. 
At this point, though, that doesn't really matter, because Romy White and Michele Weinberger are an iconic best friend duo all their own. The 1997 cult hit starring Lisa Kudrow and Mira Sorvino is as relevant today as it was when platform heels reigned supreme (and not least because platforms are totally back). In fact, there's a musical based on the movie premiering this summer and even rumblings of a Romy and Michele sequel.
"I would be very exited for [a sequel]," Sorvino, who played Romy, tells E! News exclusively. "I've wanted one for years! There's been a lot of fan clamor for it—maybe it will finally happen now with all the different venues you can make movies for."
So would Kudrow, who played Michele, be up for another bout of the blonde leading the blonde?
"Well, sure," the Friends alum tells E! News. "Yeah, why not? I mean…if it makes sense for those two people to be around my age and see what's going on."
Robin Schiff—who wrote the screenplay; Ladies Room, the play the movie's based on; and the book for the upcoming musical—has a few reservations about bringing the beloved BFFs back to the big screen, however.
"I really wasn't even thinking of doing a sequel," she tells us. "But I thought, at least I should put some thought into it because of all this love coming the way of the movie…I would be an interesting challenge to try and solve."
Kudrow, meanwhile, has thought about what the besties might be up to circa 2017. "Hopefully Michele is still with Sandy Frink [played by Alan Cumming]!" she says. "And Romy's on husband number two or three, you know, because no relationship's gonna be as good as Romy and Michele!"
Sorvino doubts "they would've changed that much," musing, "They'd be kind of the same, just a little older, but still thinking they were younger and still thinking they were cool."
As far as we're concerned, Romy and Michele really were cool—even in their dream sequences. But it's not just a flair for fashion or comic lack of self-awareness that's endeared these characters to multiple generations.
The importance of feeling comfortable enough to be who you are and let your unique flag fly is a message for the ages, after all.
"There's a lot of heart [in the movie]," says Sorvino. "I think it's kind of moving, actually, and empowering—it's sort of like geek girl antiheroes, and not that they're representing anything except just being yourself in the end…It's not that they're particularly brave or strong or tough, but they ultimately just kind of fit together again and believe in each other and did what they wanna do, and that's good enough for them. I think that's kind of like a life lesson for everybody."
Funnily enough, not everybody wanted Sorvino to play Michele when she was offered the part. In fact, Schiff recalls how Sorvino's representatives "begged her not to do it."
"Well, she was nominated for an Oscar [and ultimately won Best Supporting Actress for her role in 1995's Mighty Aphrodite], and can you imagine being the agents and reading that?" she asks with a laugh. "Because if you picture it on the page, it's hard to picture how some of those things are going to be funny…because it's so much the characters and how they were saying things…and I think they were looking at the script going, 'I don't get it.'"
Sorvino, however, totally got it.
"I started laughing as I was reading it—that's very unusual," she recalls. "And then, you know, I was a fan of Lisa Kudrow's, and I really liked the idea of a female buddy comedy where they think they're smart, but they're stupid, but they love each other, and I really related to the being teased in high school thing, because I was once."
As for Kudrow playing the role of Michele? Well, she went way back with her character.
"My first audition ever was for the backers audition [a primitive, early production of a play put on for potential investors] of Robin's play," she says. "I was auditioning for—I think at the time, it was like Airhead 1, Airhead 2 or something, and then they became Romy and Michele. I auditioned for Michele, and I got to be in the backers audition, and then they decided to do they play, and I had to audition for the play. But I got it, so, yeah."
In Schiff's original play, Romy and Michele were very minor characters whose conversations are humorous but irrelevant to the main story line. Kudrow says this "was fun, because, you know, the responsibility of the play wasn't resting on my shoulders or Christie Mellor's, who was Romy in the play."
"We just ran in and out—we were only on stage a total of like seven minutes or something," she adds. "We always got laughs, and that's why we did the pilot."
The pilot, Just Temporary, was shot in 1989 but didn't get picked up to series. Kudrow moved on and found major success—starting with Friends in 1994—but she later jumped at the chance to reprise her role as Michele for the movie.
And so, somehow it all came together—with Kudrow, Sorvino, Cumming, Janeane Garofalo and even a bit part as a chain-smoking cowboy for Justin Theroux. (Kudrow didn't have any scenes with her Friend's future husband at the time, but she describes a funny moment years later hanging out with Theroux, "through Jennifer [Aniston]—you know, we're all together, and it's like, 'Oh my god, wait—you were in Romy and Michele? And he's like, 'Yes! We worked together. We were in the same movie!'"
We might have forgotten about Theroux's cameo at the end of Romy and Michele's High School Reunion, but we definitely remember the ladies opening up their very own clothing boutique on Rodeo Drive (take that, Pretty Woman!)
Schiff is confident that Romy and Michele have "stayed really successful in their stores," she says, "and I think they're designing clothes—and they're good at it."
Which means they won't be trying to pull off another "We invented Post-Its" lie.
"They've matured," says Kudrow. "They learned their lesson after the movie. They are a success, and they're having a fun, happy life."
Schiff says she thinks Romy and Michele "are still in touch with Heather [Garofalo]," but she doubts they'd care about seeing the rest of their former classmates at another reunion. "It's hard to picture them wanting to go to their 30th, because I think their experience was very complete," she notes. "It's like, they got what they wanted—they didn't even like anybody there!"
So if another reunion is out, what angle could work for a potential Romy and Michele sequel?
"Maybe they'd get divorced and have to move in with each other," muses Schiff. "You could go—Romy and Michele go back to college…But you know, I think the basis of it has to be something recognizable or it's just gonna be like some s--tty ripoff."
David Mirkin, the film's director, feels the same way about a sequel. "You know, if it's the right idea and the right tone, I would be there in a second," he tells E! News. "[Romy and Michele] are probably getting back together and rediscovering themselves—maybe after some troubled relationships with men, and we'd have to see where they are and if there's a story there…We would never want to do anything that wasn't up to the terrific fun we had on the first one."
Like Mirkin, Schiff would never do anything to damage the integrity of Kudrow and Sorvino's delightfully campy characters. And while she might not know exactly what Romy and Michele's lives look like today, Schiff says one thing is for sure: "They're the success they didn't know they wanted to be."
So maybe now they can get some sort of business woman special after all. Have a Romy and Michele day!