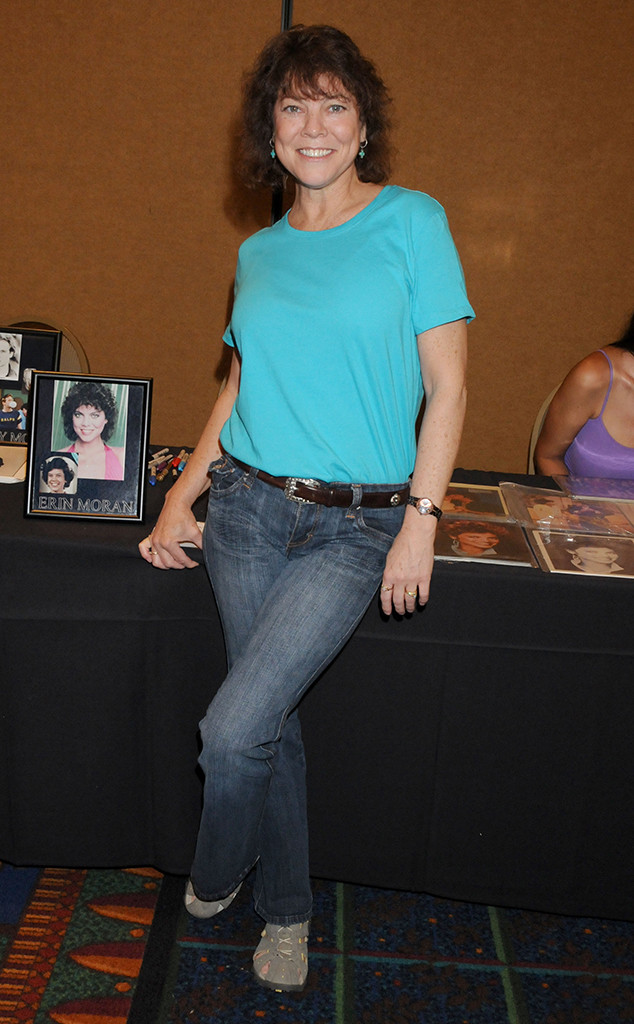 Gregg DeGuire/FilmMagic
Former Happy Days star Erin Moran passed away from unknown causes earlier today at the age of 56. 
Moran became a household name in 1974 when she landed the role of Ron Howard's outspoken younger sister, Joanie Cunningham, on Garry Marshall's iconic sitcom, Happy Days, which ran for 10 years.
The actress is also widely remembered for the playing the same role in Happy Days' short-lived spin-off Joanie Loves Chachie, alongside Scott Baio.
Despite her initial fame, Moran's time in the limelight has waned; she hasn't starred in anything since 2010. However, she will still be missed by fans and friends alike for her childhood roles on Gunsmoke, her sitcom days and her time aboard the Love Boat. Some of her former co-stars have taken to social media to pay tribute to the former teen star by remembering some happier days...
ABC Photo Archives/ABC via Getty Images
OH Erin... now you will finally have the peace you wanted so badly here on earth ...Rest In It serenely now.. too soon

— Henry Winkler (@hwinkler4real) April 23, 2017
Henry Winkler starred alongside Moran as motorcycle-riding Arthur "Fonzie" Fonzarelli on Happy Days from 1974-1984.
Baio shared his own to tribute to Facebook, writing, "May people remember Erin for her contagious smile, warm heart, and animal loving soul. I always hoped she could find peace in her life. God has you now, Erin."
Such sad sad news. RIP Erin. I'll always choose to remember you on our show making scenes better, getting laughs and lighting up tv screens. https://t.co/8HmdL0JKlf

— Ron Howard (@RealRonHoward) April 23, 2017
The Academy Award-winning director played Moran's squeaky-clean older brother, Richie Cunningham, for a decade on Happy Days.
I've known Erin Moran since childhood doing "GunSmoke". More recently as a troubled soul. So saddened to hear of her passing. RIP ERIN xo pic.twitter.com/R3CQyFdlz8

— Willie Aames (@WAames) April 23, 2017
Willie Ames and Moran were childhood stars on Gunsmoke in 1971. Ames later went on to star in Charles in Charge with Moran's former TV husband, also played by Baio.
Erin Murphy is a fellow child actress and a contemporary of Moran's. She starred as Tabitha in TV's Bewitched from 1966-1972.
"I am so incredibly sad," Don Most, who played Ralph on Happy Days, said in a statement to E! News. "Erin was a wonderful, sweet, caring, talented woman. As I write this I can't really comprehend it. A very painful loss. It gives me some comfort to know that she's with Tom, Al, Pat and Garry. Rest In Peace, sweet Erin."
Marion Ross tells E! News, "I'm just heartbroken about Erin. She was a wonderful smart young girl on Happy Days...so talented! My heart aches for this loss."