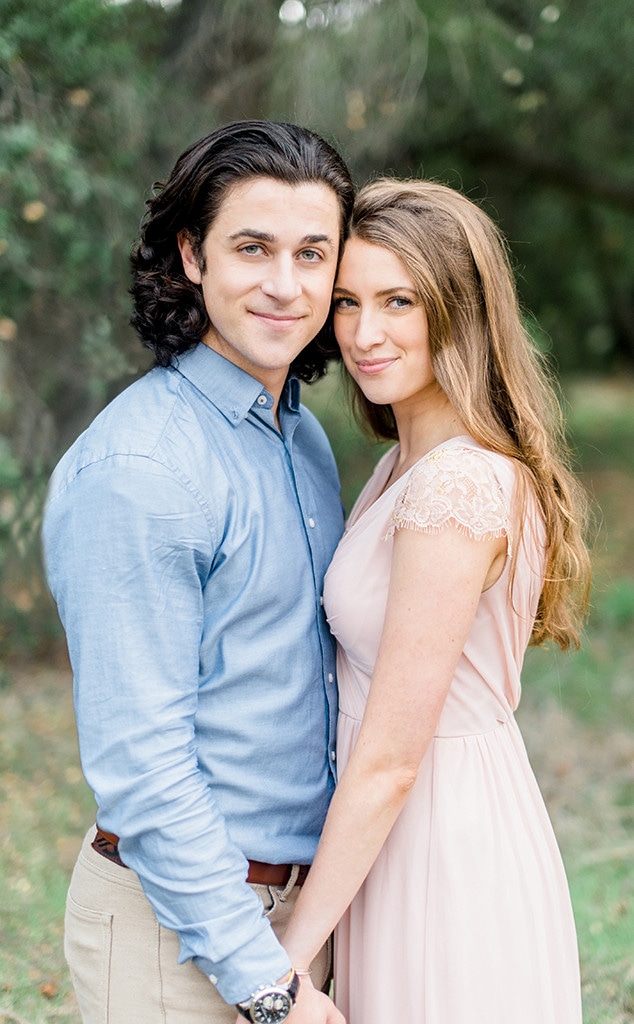 Christine Skari
David Henrie is a married man!
The former Wizards of Waverly Place star tied the knot with longtime love and former Miss Delaware, Maria Cahill in an intimate ceremony on Friday at St. Peter and Paul's Church in Wilmington, California, E! News has learned. The event was attended by family and friends, including actors such as Kevin James and his former co-stars, such as Selena Gomez!
In a statement to E! News, the groom gushed about his very special day: "I knew Maria was special from the moment I saw her. Now, almost three years later, it's almost surreal that we're finally getting married. We're so blessed to be surrounded by our family and friends to celebrate this special day and I can't wait to start this next adventure with my best friend and soulmate."
People reported that the bride wore a stunning gown by Enzoani, her handsome groom donned a custom tux by Indochino. The two are said to have shared their very first dance as husband and wife to Michael Bublé's "Hold On".
"The ceremony was a full Latin mass and lasted almost two hours," the eyewitness told E! News. "The color theme was lavender and her bouquet had lavender roses, while the bridesmaids wore lavender dresses. At the end of the ceremony, the newlyweds walked out of the church and guests threw white rose petals on them in celebration."
Selena was one of the first guests to arrive and was not accompanied by her boyfriend, The Weeknd, an eyewitness told E! News. Selena looked beautiful in a long wine-colored dress with an open back and her hair in a crown braid. She was sipping a tea and as she got out of the car and seemed excited to see old friends. She and the cast also reunited with some crew members and other people who worked for the Disney Channel when the show was on the air between 2007 and 2012.
Selena and fellow Wizards of Waverly Place alum Jake T. Austin posted pics on social media.
"Very much in my feelings about my big brother getting married. Even though we for sure knew it would be him first," the singer wrote on Instagram. "May God bless you and your beautiful wife Henrie!
"A special day with some amazing people," Austin tweeted.
"When Selena walked out of the church, she was recognized by a few of the younger guests at the wedding," the eyewitness said. "They asked her for a picture and she happily obliged and took a selfie for them. As the bride and groom posed for formal photos, Selena left for the reception at the Trump Golf Course in Palos Verdes. As soon as she arrived, she took selfies with her friends overlooking the ocean."
"Selena was in a great mood and seemed so happy and excited to see her friends," the eyewitness continued. "They had a lot of catching up to do and were laughing and enjoying the beautiful weather. Selena also spent several minutes talking with Maria and David and congratulating them."
"She looked genuinely happy for them and excited to be able to celebrate their big day," the eyewitness said. "She was very emotional as she hugged them both over and over saying how happy she was for them. It was a really special day and nice for her to be back with so many people she hadn't seen in awhile. She stayed at the reception for several hours chatting with friends and catching up before heading home."
David, who also starred on How I Met Your Mother, kept his engagement a secret until late January, nearly four months after he popped the question during one grand, romantic gesture.
After chartering a  private helicopter to Catalina Island off the coast of Southern California last October, the lovebirds were surprised by Maria's extended family, who traveled from the east coast to celebrate David getting down one knee and asking Maria to be his wife.
"We have the same foundations, share the same beliefs, same morals," Henrie gushed to Blog De Los Angeles about his now-bride. "We both come from good, big families that taught us about unconditional love, about always loving each other."
He continued, "Every time I see her, I'm taken aback. And she knows, because every time I see her I give her such a hug, like I haven't seen her in a year!"
Too. Cute. 
So what's next for the newlyweds? Well, after what is sure to be a gorgeous honeymoon, Henrie is the first to admit they've both got babies on the brain. He teased to the outlet, "You know what they say, children are like flowers, you can't have too many of them…"
Congratulations, David and Maria!