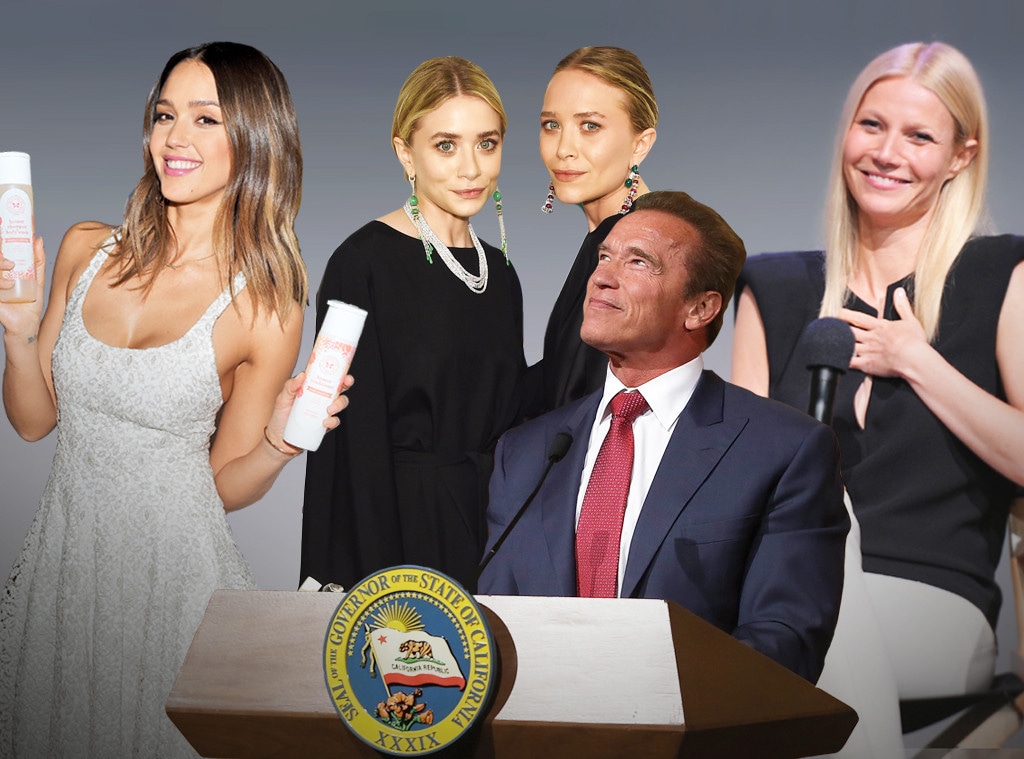 Getty Images/E! Illustration
Winning an Oscar used to be the end-all and be-all of an actor's career. Nowadays, Hollywood may just be the launching pad to something much, much bigger.
It's been 18 years since Gwyneth Paltrow won her Best Actress Oscar for Shakespeare in Love, a crowning achievement at only 26 years old—one that usually ensures the descriptor "Oscar winner" precedes an actor's name at some point in every story about her forever after.
But for at least the last several years, Paltrow is more likely to be referred to (putting aside all interest in her personal life for a moment) as the founder of goop. Goop goddess. Goop guru. Lifestyle maven. The second coming of Martha Stewart.
Martha Stewart even tweeted, in 2011, "Is Gwyneth the next Martha?" (Martha wasn't quite as supportive as goop started to grow...)
Paltrow hasn't officially given up acting, appearing most recently opposite Johnny Depp in the dud detective comedy Mortdecai in 2015 and, per IMDb, she's also attached to a TV movie called One Hit Wonders being directed by Ryan Murphy and co-written by his creative partner (and Gwyneth's real-life boyfriend) Brad Falchuck.
And Paltrow is certainly still a mega-star, planted firmly on the A-list, a go-to cover girl for magazines and a big get in the interview department.
But it's goop that has turned her into more than just an actress—one whom kids today may not even know on first reference as an Oscar winner. When The New Yorker is writing bemused Talk of the Town pieces about you...
You're not just a celebrity. You're culture.
D Dipasupil/Getty Images for Frederique Constant
"I (basically) walked away from a career where people kissed my ass to being grilled by a [venture capitalist] or my board," Paltrow wrote last year in an essay for LinkedIn. "These days I spend every waking hour trying to execute on a strategy I created with my team to make goop the number one global lifestyle brand (a girl can dream).
It's certainly one of the most talked-about, parodied and, at times, controversial lifestyle brand. But every cultural touchstone—especially the ones some people don't quite understand, be it Facebook or Girls—has its critics.
Gwyneth wrote that she's all ears when it comes to business critiques, but "when something is criticism that is not well researched, it doesn't mean anything to me."
She said that "business was unaffected" by rumors that she was going to be leaving the company, or otherwise distancing herself from the goop, but she found that to be a validation of the entire enterprise.
"Even though I am solidly in the trenches every day, goop is on its way to being much bigger than I am," Paltrow concluded. "A solidly un-Hollywood dream."
And yet the countless imitators she's inspired, from Reese Witherspoon's Draper James to Blake Lively's now-shuttered Preserve, prove that Gwyneth's vision is becoming a very Hollywood dream—one that is just as prone to failure as an acting career.
Meaning, on the flip side, that when lightning strikes, it doesn't mess around.
Jessica Alba ventured into the lifestyle business—clean, green products being a way of life, of course—with the Honest Company in 2012. By 2015, it had expanded to include beauty and personal care products, and was valued at $1.7 billion. (Even owning "only" a rumored 20 percent stake makes Alba quite the business mogul.)
The 35-year-old hasn't quit acting, co-starring just last year in Mechanic: Resurrection with Jason Statham, but you don't follow her Snapchat or Instagram to get the inside scoop on a movie set. You follow to see what her latest Honest move is, what sort of workout she's doing, where she's having lunch or how she's setting her table.
The mother of two has gone full lifestyle.
Done playing strippers and damsels in distress, Alba now has the luxury of not having to accept every role coming her way, and instead can wait for strong, kickass characters, like her role in Mechanic.
"My latest film is a popcorn movie. I don't think I've ever had a good review, and you know what? I don't really care," she told The Sun last year. "If people walk away smiling and enjoying themselves after watching something I'm in, that's all I care about."
Moreover, it's even more fun because it's no longer her day job.
"I'm in the office every single day and run every facet of the business, so acting feels like a vacation," she said.
Alba continued, "When you're acting, you have to be open and vulnerable and tap into a humanity. But in business, it's very strategic and logical, so it's a totally different mindset. I feel like Honest is my purpose."
It is also what more and more people think of when they think of Jessica Alba. So long as they haven't confused her with the maker of the cutest, most pleasantly affordable shoes, Jessica Simpson.
Speaking of entertainers turned entrepreneurs, Simpson may set the Internet on fire every time she wears a pair of Daisy Duke shorts thanks to her leggy Dukes of Hazzard role, but it's the fashion world she's upended to the tune of $1 billion.
"My business is the heart of who I am," Simpson—once best known for a few pop hits and questioning the provenance of canned tuna on her reality show—told Forbes in 2014. 
"I want to make every woman feel confident in what they're wearing," she added. "I do feel like we're very fashion-forward, but we also listen to the consumer."
And the consumers have appreciated it, tenfold.
Fashion has also most notably proved a winning second act for Mary-Kate and Ashley Olsen—though by the time the mini moguls launched their luxury fashion line The Row in 2007, it could have been considered a third or fourth act, they had already expanded the Olsen twin brand in so many directions. Which isn't to say they didn't have to spend time proving that they weren't just former child stars with money to burn on a gimmick—but it didn't take long.
The 30-year-old sisters' personal style is the stuff of layering legend, and their fashion empire—which now encompasses their super-nice, theoretically more affordable Elizabeth and James line, which as of February 2016 was reportedly moving between $40 million and $50 million worth of product—is here to stay.
Doing business hasn't made the Olsen twins any less of a packaged deal to the outside world than when they were acting in tandem on Full House, but they wouldn't have it any other way. And now, they're "three-time CFDA winners the Olsen twins."
"We've always worked together so it feels natural to us," Mary-Kate told British Vogue in 2015. "To be able to have a sounding board and to trust the person who is your partner, is beneficial across all aspects of running a business."
Partnering up with the right people is indeed essential—and it's something that Ashton Kutcher figured out while his fans were busy watching No Strings Attached and Valentine's Day.
Jordan Strauss/Invision/AP
He cut a sweet, $24 million per season deal replacing Charlie Sheen on Two and a Half Men and last year he reunited with That '70s Show co-star Danny Masterson for the Netflix comedy The Ranch. But you're just as likely to see him at a tech symposium or hear from him via A Plus, the multimedia company he co-founded in 2014 to give a platform to activist storytelling, the actor having already launched his own venture capital firm with billionaire Ron Burkle and mega-manager Guy Oseary in 2010.
Dude, where's all this business acumen coming from?
It turned out, playing a dopey teenager was quite the cover for the shrewd, tech-savvy visionary Kutcher actually was—and now, the other M-word associated with the man, other than Mila, is "millions," thanks to early (and quiet) investments in the likes of Foursquare, Skype and Airbnb.
"I have a bunch of interesting and really smart people that I sit with and talk to quite frequently because of the investments I've made, and between their networks and mine, I get to see things really early," Kutcher explained to The New York Times in 2011.
In this day and age, someone like Kutcher—who is also a human rights activist, having, among other pursuits, co-founded a foundation to combat sex trafficking when he was married to Demi Moore—may be able to do more to help the world from a conference room in Silicon Valley than in Washington. (Which is probably one of the same reasons why Mark Zuckerberg has denied rumors he's mulling a presidential run in 2020.)
But not too long ago, government was where it was at if you wanted to wield real power, and movie star Arnold Schwarzenegger shocked the world (or so we thought, then) when he was elected governor of California in 2003 after Gov. Gray Davis was booted from office in a recall. Arnold—a moderate Republican quickly dubbed "The Governator"—isn't exactly known for having been a great governor, but he was reelected while he was there in 2006, and he'll forever be a larger-than-life figure in Cahl-i-for-nee-ah.
The aging action star's biggest box office days are most likely behind him (not that he didn't try with Terminator Genisys and won't still try with another Conan film and a Twins sequel in development); but he's reinvented himself as a serious actor of sorts, meriting pretty good reviews from the zombie drama Maggie and the revenge drama Aftermath, as well as a been-there, I-know-how-tough-it-is needler of President Trump.
Meanwhile, lifestyle brands are all well and good, but Schwarzenegger was following in the footsteps of one of the biggest former-actor success stories of all time—former California Governor turned POTUS Ronald Reagan.
Never in danger of winning an Oscar, Reagan started in Hollywood and vaulted all the way into the history books.
And considering Reagan wasn't elected president until he was 70, Gwyneth's still got plenty of time.