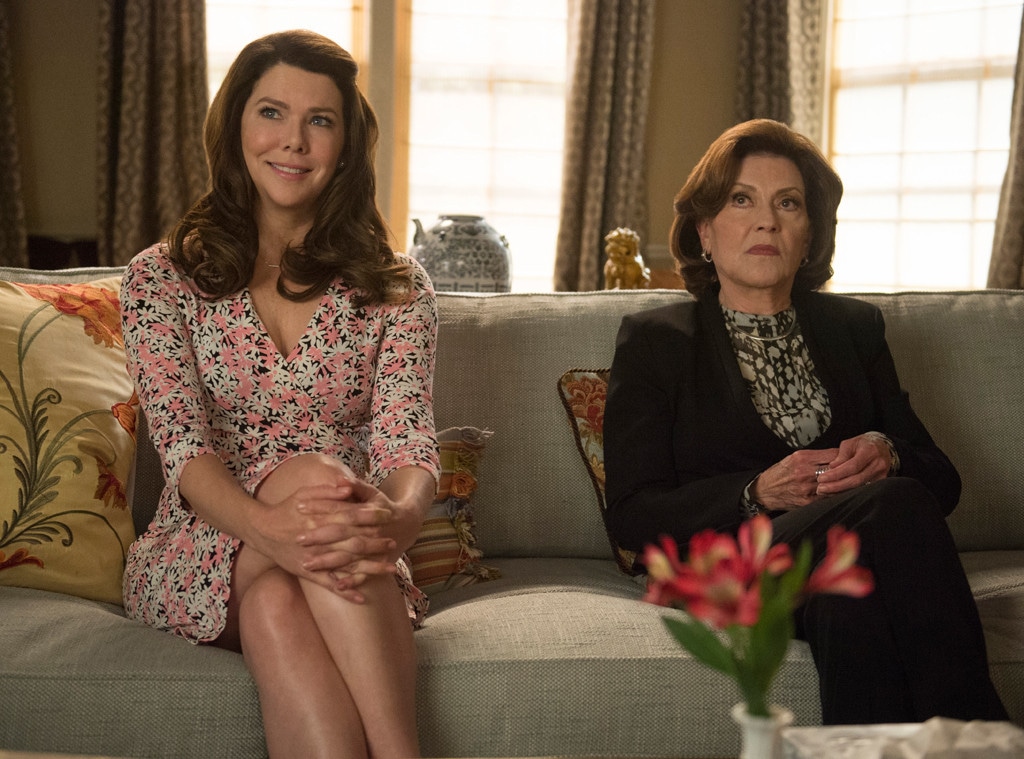 Netflix
We need to talk about the 2017 Emmys race. Yes, it's only April and the awards are a good five months away, but it's time. Why? Because the Outstanding Limited Series race—mainly the Outstanding Actress in a Limited Series or TV Movie race—is already set to be the most stacked competition…ever.
Thanks to a Television Academy ruling, Netflix's Gilmore Girls: A Year in the Life is now in direct competition with the likes of Big Little Lies and Feud: Bette and Joan. Nicole Kidman vs. Reese Witherspoon vs. Jessica Lange vs. Susan Sarandon vs. Lauren Graham—and those are just the ladies from the aforementioned shows. It gets even more nerve-racking.
The return of Gilmore Girls with the four-part A Year in the Life was a heralded event. Lauren Graham and Kelly Bishop specifically turned in career-defining performances as Lorelai and Emily Gilmore, two women dealing with the loss of Richard Gilmore (the late Edward Herrmann) in their own ways. Emmy rules stated Gilmore Girls, since it was already on television for seven years before returning to life, would continue in the competitive Drama category. But Gilmore Girls producers lobbied and were successful in getting the TV Academy to place them in Limited Series category.
Hilary Bronwyn Gayle/courtesy of HBO
This places Gilmore Girls: A Year in the Life in direct competition with Big Little Lies, the HBO miniseries everybody you know talked about. Witherspoon and Kidman are submitting as lead actresses with Laura Dern, Shailene Woodley and Zoe Kravitz going Supporting Actress in a Limited Series or TV Movie. And then there's Feud: Bette and Joan, which will have Lange and Sarandon in the Lead Actress categories.
If you're reading this, you love TV. You know this is going to be a nail-biter. But it gets even more stacked.
The third season of Fargo, which premieres on Wednesday, April 19, will have The Leftovers standout Carrie Coon front and center. She's yet to be nominated for an Emmy, but Fargo is a TV Academy favorite. Now don't forget the TV movies: Oprah Winfrey is throwing her hat into the ring for The Immortal Life of Henrietta Lacks, her upcoming HBO movie opposite Emmy favorite Rose Byrne. We also shouldn't forget Emmy favorite ABC's American Crime. Regina King took home the Supporting Actress in a Limited Series or TV Movie category last year. Kathy Bates and Sarah Paulson will likely enter supporting for American Horror Story: Roanoke alongside Feud's Judy Davis and Michelle Pfeiffer for The Wizard of Lies.
Kidman quickly garnered rave reviews for her role of Celeste Wright, an abused wife and mother, in Big Little Lies. But that shouldn't count at Witherspoon, who was perfectly messy (while holding it all together) as Madeleine Martha MacKenzie. The two will also be eligible for Emmys for their work as executive producers on the series. Over on FX's Feud, Lange is knocking it out of the park as Joan Crawford with Sarandon expertly playing Bette Davis in a retelling of the famous Old Hollywood feud between the What Ever Happened to Baby Jane? costars.
Limited series are attracting top-tier talent because of the workload (see seven episodes of Big Little Lies, eight of Feud: Bette and Joan and compare that to the 24 of Grey's Anatomy season 13) and ability to tell less broad and more finite stories. While there is buzz about continuing stories with a second season of Big Little Lies and fan demand for more Gilmore Girls, nothing has come to fruition just yet.
Have you already picked your Emmys "teams" yet? Who are you rooting for to get a nomination?