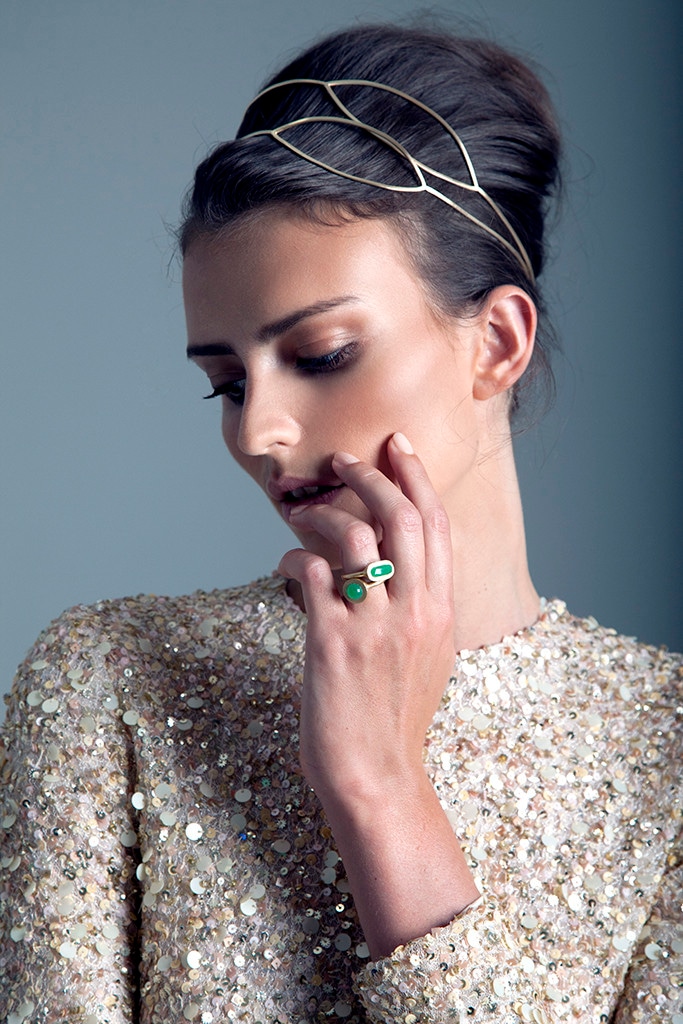 Courtesy Lia Terni
Imagine if every time you bought a product you knew exactly where it came from, who made it, but even more importantly you'd know that it's making a positive difference in the world. We don't always have this luxury, but there are many labels that not only create trendsetting, eco-friendly accessories—they also give back in more ways than one. 
These brands prove that you don't have to sacrifice style to be eco-friendly and environmentally responsible. 
Here are our top 7 labels:
1. Lia Terni: This jewelry line respects the environment while architecture and art inspire their pieces. The label's signature metal accessories are organic and minimal.
"All of our pieces are handmade with passion," designer Lia Terni tells E! News. "The brand is founded on upholding the highest quality, beginning with the ethical sourcing of materials through finishing each piece by hand at my new Miami atelier." 
Terni, who was born in Brazil to an Italian family, credits the refreshing look of the line to the exposure she experienced while living in many cities like Madrid, London, and Sao Paulo. 
2. Liberti: Founder Pamela Norton-Shelpuk believed that jewelry could be both beautiful and meaningful. Every purchase made supports apprenticeship opportunities and empowering resettled refugees through trade training.
https://www.libertiusa.com/products/libertifreedomring
3. beyondBeanie: "We take pride in providing our clients with the highest quality of artisan-made products which empower the artisans who make them while also giving back to help children in need," the label says. 
Items are made from 100% alpaca wool, which is not chemically processed. The fleece of the alpaca is entirely renewable. This beanie gives back five meals to children in need. 
4. Boutique Mexico: "We're devoted to delivering fashionistas with stylish apparel that is ethically made, eco-friendly while also providing artisan women with a dignified job, livable income and an opportunity to continue to practice an ancient cultural art," the label says. "Every purchase from Boutique Mexico will help impoverished women rise out of poverty and ensure a better future for them and their loved ones."
All of the brand's apparel and accessories are 100% artisan made and celebrate the native crafts of Mexico. 
5. Pachacuti: With its name meaning "world upside down" in Quechua, Pachacuti, this label works with artisans and textile producers throughout the Andean region. It also improves the lives of those living in these areas while still celebrating and preserving its rich heritage and traditions. 
6. Beyond Skin: "We work closely with our factories in Spain so we are confident that no-one is exploited in the creation of your lovely shoes and endeavor to source our components and fabrics as locally to our factories as we possibly can to try and reduce our carbon footprint," the label says. 
All of their components are sourced from Spain and locally to their Spanish factories. 
7. Veja: This Parisian brand works with small producers throughout Brazil. Their sneakers are not only stylish but also focus on respecting the environment. 
"Workers' rights are respected and extra hours are paid. The factories have become real partners for us over the past years that we've been working with them," the brand says. "Our continuously evolving standards push them to adapt and constantly improve the fabrication conditions."
8. MARIA'S: Was founded by Alida Boer, former Miss Guatemala, who dreamt of bringing to the world some of the most refined textiles from her country. 
"Our bags are individually handcrafted, taking up to three months to make one bag and blend the tradition, originality, and creativity of Guatemalan women with modern, trendsetting designs," the brand says.