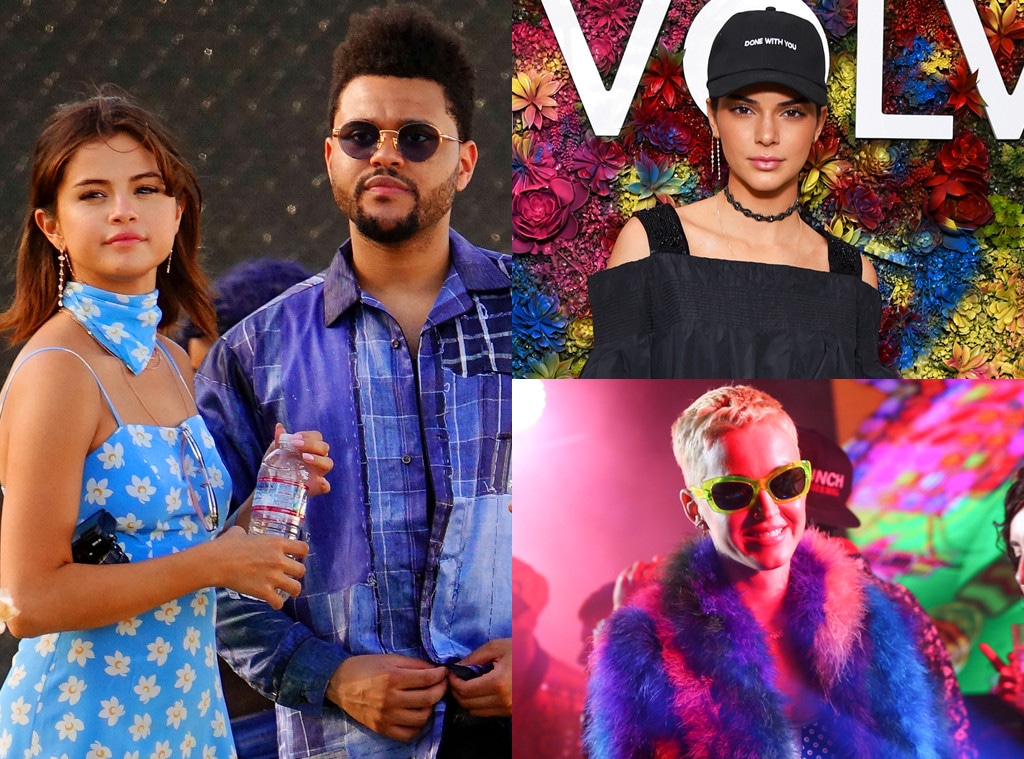 Lee /Prahl / Splash News; Getty Images
Bust out the flower crowns and inflatable swans: Coachella 2017 is finally here!
Thousands upon thousands of music lovers are headed to Indio, Calif., to experience two weekends of nonstop tunes from a variety of artists.
Lady Gaga, Radiohead, Kendrick Lamar, Lorde and Future are just some of the famous faces performing live to a sea full of people.
For those who are unable to head out and experience the fun in person, there's always the Coachella livesteam. In addition, E! News is hooking you up with all the surprise guests, A-list parties and star sightings.
Take a look at our All-Access guide updating throughout both weekends below.
Neilson Barnard/Getty Images for Coachella
Weekend 2, Day 2: Saturday, April 22
Lady Gaga performed a medley of her hits, including an acoustic version of "Edge of Glory," which she dedicated to a friend battling cancer.
Jamie Chung, husband Bryan Greenberg, Michael B. Jordan, Sofia Boutella and other celebs were spotted at the fifth annual Bootsy Bellows pool party, sponsored by McDonalds. Guests enjoyed taking pics at a "sip-n-slide"—a giant soda surrounded by a wall of balloon "bubbles."
Jordan was seen taking selfies with fans, while Chung and Greenberg looked smitten and were inseparable as they hung out with friends at a poolside cabana, a source told E! News.
Weekend 2, Day 1: Friday, April 21, 2017
Chung and Chanel Iman were spotted the at Belvedere x Noisey: Behind the Scene party, sponsored by Belvedere Vodka, at the Ace Hotel in Palm Springs 
Weekend 1, Day 3: Sunday, April 16, 2017 
Louis Tomlinson and girlfriend Eleanor Calder were spotted hanging out at the Revolve Festival party at the Merv Griffin estate in Indio, Calif. An insider told us they sat at a cabana by the pool, pouring themselves a CIROC and Red Bull drink. The former One Direction singer donned green flannel pants and a black shirt, while his on-again, off-again girlfriend opted for a plaid black and white button down and denim shorts. Though the couple didn't show too much PDA, they did spend a bit of time chatting together by themselves.
Sofia Richie, Nick Jonas, Joe Jonas, Sophie Turner, and DNCE also attended the event. Nick was spotted smoking a cigar and holding a goblet of Moët champagne in his private cabana beside Tomlinson. He donned a head-to-toe army fatigue outfit and a tan baseball cap. Joe and Sophie sipped on fruity drinks and chatted with friends.
Michael Kovac/Getty Images for Moet
Kendall Jenner also just attended the Revolve Festival party, sitting in a private cabana with Hailey Baldwin and a group of friends. We're told they stayed for about an hour, eating popsicles and playing with the mini squirt guns at the table. Kendall dressed casual in a statement sleeve shirt with jean shorts and a hat.
They stayed for Migos' performance before heading out.
Katy Perry and her stylist Johnny Wujek hosted the Katy Perry Footwear Collection Easter Day "Recovery Brunch" on Sunday, which came complete with a fluid IV drip station, neck massages and a make-your-own Bloody Mary bar. The singer hosted this party to promote her new shoe line, which she designed with Wujek. Katy looked ethereal in a white mesh midi-dress and a white two-piece bathing suit underneath, rocking her bleached blonde pixie cut and accessorizing with a stuffed, white Easter bunny purse.
A source told us she arrived to the party around 3 p.m. and was surprised by a "drunk" Easter bunny who was stumbling around the party holding a bottle of Jack Daniels. She spent a majority of the time mingling with guests and taking photos.
Kevin Winter/Getty Images for Coachella
Stars like DJ Khaled, Kehlani, G-Eazy and Lorde all performed before Kendrick Lamar took the stage late Sunday night. The rapper brought out Future as a surprise guest to perform their collaboration "Mask Off." 
During the performance, many stars were spotted in the crowd jiving to the music. Selena Gomez and The Weeknd watched the show together in the front of the artist guest viewing section. The "Starboy" singer wore a mask around his mouth, likely to protect his vocal chords from the dust, but at one point an onlooker tells us he moved it down to give SelGo some kisses. They kept their arms around each other all night, staying "very affectionate" as they sang along to Kendrick's songs.
Lana Del Rey and G-Eazy—who spent the entire weekend together, a source told E! News—were also spotted in the same area as SelGo and The Weeknd during Kendrick's show. We're told they came in the same group, but stood a couple yards apart as the rapper performed. An onlooker explained how Del Rey "danced like no one was watching" and sang every one of Kendrick's songs. We're also told she would occasionally look back and smile at G-Eazy before turning her attention back to the stage.
Aaron Paul and his wife Lauren Paul also attended the concert with friends, "slowly trudging" out of the festival grounds after it ended. It was, indeed, a long weekend!
Earlier in the evening, Katy Perry attended Lorde's performance and sat in the artist guest section. She was spotted "going crazy" during the "Royal" singer's final song.
Kevin Winter/Getty Images for Coachella
Weekend 1, Day 2: Saturday, April 15, 2017
Lady Gaga debuted a new song, "The Cure," during her headlining set.
Katy Perry arrived about 10 minutes before the show started, with two friends. The singer watched the show while standing on a railing and was seen singing and dancing to all the songs.
Wiz Khalifa was also in the special artist guest section and had his arm around a woman. They attended the show with friends.
Arrow star Stephen Amell and his wife stopped by Rachel Zoe's Zoeasis party, where Casamigos Tequila was enjoyed by festival-goers. "They are super cute together and said this was their first music festival," a source shared with E! News. "He's so in love with her, it's cute." 
Victoria Justice, Olivia Culpo, Yara Shahidi and more stars were spotted at POPSUGAR's CFDA brunch and cabana club pool party. Guests enjoyed a performance from Daya and swag provided by Nordstrom, Ulta Beauty and Three Olives Vodka. 
Leonardo DiCaprio, Orlando Bloom, Tobey MaGuire and 50 of their closest friends arrived to the Revolve Festival party at the Merv Griffin Estate after 5:30 pm. The A-listers snuck in through the back, fooling the crowd of partygoers in the front. They were all smiles while sipping on CÎROC, Moet and Heineken with Russell Simmons at their private poolside cabana.
Pac Sun and Chevy put on a Coachella party at the Bootsy Bellows Estate that featured Kendall Jenner, Hailey Baldwin and Ryan Phillippe. Ariel Winter, who also stopped by H&M's Coachella party, and Levi Meaden were also in attendance and displayed plenty of PDA. 
During Future's set, the rapper decided to surprise the audience by bringing Drake on to the stage. According to an eyewitness, Orlando was super excited with the surprise and couldn't stop dancing and hugging his guy friends. 
Katy, Orlando's ex, also watched Future's performance but the two did not appear together, a source told E! News. Both Rihanna and Lana Del Rey were also seen near Katy Perry in the same artist guest viewing section. Wiz and the same woman were also present, as was his ex Amber Rose, who stood behind them with friends, E! News has learned.
Chris Pine was spotted ordering a whole pizza at a VIP food area. Also spotted there: Josh Hutcherson and a guy friend.
Lee /Prahl / Splash News .
Leonardo, Orlando, Toby, Drake, Selena Gomez and The Weeknd, Amber Rose and French Montana were all spotted at the Neon Carnival party presented by Levi's Brand and Don Julio late Saturday night.
Selena and The Weeknd walked hand-in-hand on their way to the portable toilets and he was extremely protective of her when a photographer tried to take a photo of them. The two were later spotted in a booth by the dance floor and left the bash around 4 a.m. Holding hands again, they made their way into an SUV, where The Weeknd helped Selena inside.
Leonardo, who wore a baseball cap pulled low over his eyes, as well as a hoodie, hung out with Orlando, who sported sunglasses and a hoodie, and Toby at a VIP booth and danced with fellow guests. Both Leonardo and Orlando was also seen talking to blond women. Chantel Jeffries and Alessandra Ambrosio were also spotted in the area.
James Franco was seen walking with a tall bleached blond woman to one of the carnival rides. They were also accompanied by a group of people.
Drake arrived with an entourage of at least 15 people and partied until just before 4 a.m. Amber, who wore a colorful body suit, also attended the bash with a large group.
According to a source, Rihanna, Katy Perry, Kristen Stewart and Stella Maxwell (among others) hit up the Jeremy Scott Moschino party on Saturday night following the festival.  
After the party, the bad gal headed to Neon Carnival where she avoided both Drake and Leonardo. Earlier in the day, also was spotted watching Gucci Mane in a special viewing section at the Sahara tent and dressed in a head-to-toe glittery Gucci bodysuit—so, yes, Rih wore Gucci to Gucci Mane (because she's that bad).
Weekend 1, Day 1: Friday April 14, 2017
After traveling through private planes, Uber rides and even a helicopter (we see you Sofia Richie), dozens of celebrities kicked off a jam-packed weekend.
Tyga partied separately from Kylie Jenner throughout the weekend. On Friday, he hit up one of the parties put on by Velocity Black x 1 OAK, which kicked off its annual Coachella soirees with an epic mega-day bash called the Up & Down Desert Beach Party featuring cocktails by Absolut Elyx, D'usse, Red Bull and Budweiser. Paris Hilton, Rita Ora, Chanel Iman and Shay Mitchell were just some of the "curated" crowd that was treated to Zeel App massages, beats spun by Odd Future's DJ Taco and food by Catch LA. Poppy Delevingne, Jordyn Woods, Brooklyn Beckham and Russell Simmons made sure to stop by the day party as well.
Selena and The Weeknd couldn't seem to keep their hands off each other throughout the day. The two watched performances by The Head and The Heart and Travis Scott. 
Nicole Richie was able to enjoy brunch early in the afternoon while also celebrating the House of Harlow 1960 X REVOVLE Spring 2017 collection.
Instead of hanging out with Tyga, Kylie hit up the PrettyLittleThing x Paper Magazine's party sporting a neon green hairstyle. 
Later that night, Kendall played part-time DJ with Daniel Chetrit when the duo spun a set as Pizza Boys at Velocity Black x 1 OAK's second bash, this one being a late-night party
Supermodels Jourdan Dunn, Hailey Baldwin, Jasmine Tookes and Georgia Fowler danced it out under the stars. Muse's Matt Bellamy, Jayden Smith, Odell Beckham, Nav and French Montana were also treated to Kendall's DJ set. The vibe was so hot even exes Rihanna and Drake both attended. However, a party-goer tells E! News they did not run into each other. "Rihanna arrived a little after midnight with a few friends. She and Drake arrived about an hour or so apart and did not chat at all," the source said.
The Weeknd and Selena continued their PDA-filled Day 1 at the jam-packed party, too.
Jerod Harris/Getty Images for Republic Records
Before the sun went down, Hailee Steinfeld performed three songs at the Republic Records Hyde Away party including a cover of Ed Sheeran's smash-hit single "Shape of You." An eyewitness told E! News that the singer's rumored boyfriend Cameron Smoller was standing up front the entire time and singing along during the show.
After the sun set on the first night at the NYLON Midnight Garden Party, an inseparable Joe Jonas and Sophie Turner looked very affectionate and had their hands all over each other, according to an eyewitness. The happy couple stood by the bar for a while waiting for their drinks yet block the way while they held each other and talked closely, sneaking in kisses. Nick Jonas, Shay Mitchell, Richie and Amber also attended.
Courtesy of Casamigos Tequila
More to come all weekend long! 
For complete coverage of Coachella 2017, watch E! News Monday at 7 p.m. and 11 p.m. 
(Originally published Friday, April 14, 2017 at 8:45 p.m. PST)