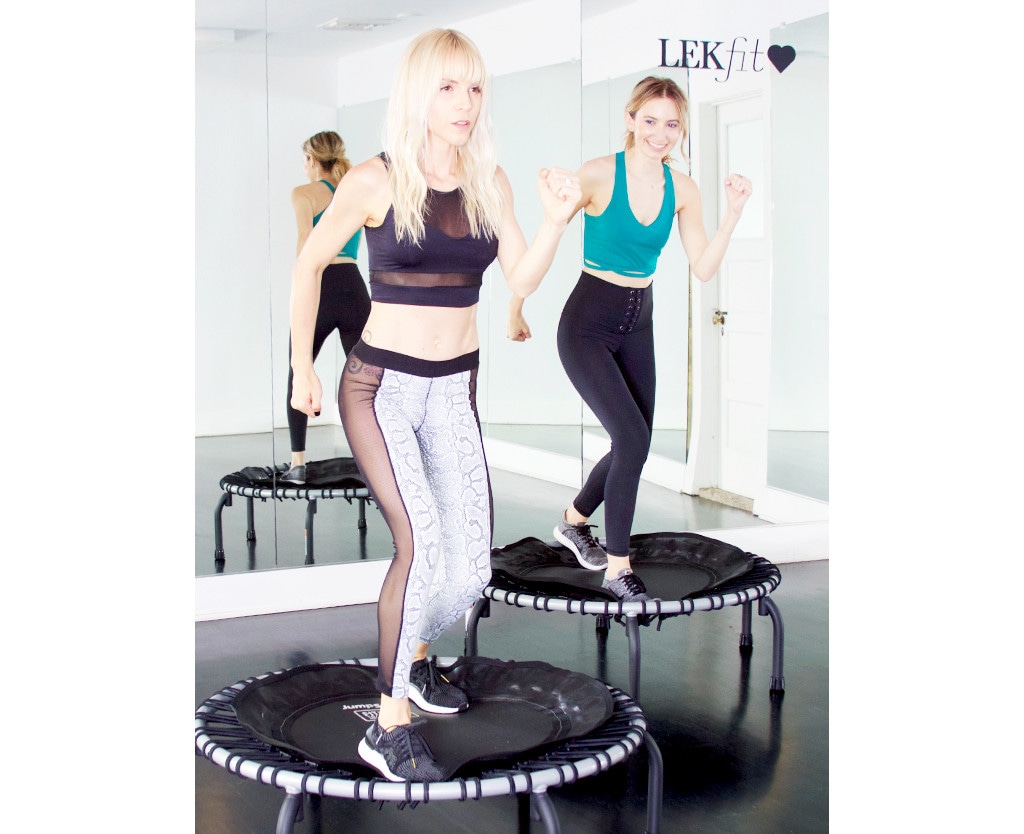 Jacqueline Lee/E!
I love fitness more than most things and I'll be damned if there's a celeb workout I haven't tried.
That's not to say it doesn't get boring sometimes. Enter: LEKfit, the part-cardio, part-sculpting workoutcreated by former Tracy Anderson trainer Lauren E. Kleban. All I knew going in was that Busy Phillips does it daily and got extra toned in the process. Not to mention, Michelle Williams frequents the $25 class, too. That was enough to pique my interest.
I also found out that there were mini trampolines, or rebounders, involved. I can't even remember the last time I was on a trampoline—it had to have been back in high school in the heyday of my cheerleading hobby. I also had an inkling that this class was a dance cardio scenario, which made me extremely nervous. I'm more of a Pilates, walk-on-the-treadmill type of girl.
Needless to say, I was eager to see what it was all about.
I arrived to the studio with one of my coworkers in tow (pro tip: Workouts are more fun with a friend who's equally as new to it). When we arrived to the minimalistic white studio, which you might recognize from Busy's Instagram stories), the environment was cozy, welcoming and I felt oddly at home.
Before we began, I'll admit: I had some pre-workout butterflies. I'm in shape, but not Lauren status. She's a former dancer and looked the part—all smiles in her mesh, snakeskin workout wear. She's the quintessential LA girl: blonde, fit, with a contagious can-do attitude. Don't let that fool you: She's got edge, which was immediately evident when I spotted her hip tattoos peeking through the cutouts of her leggings. I wasn't that worried, though. Everyone else seemed to be in the same boat as me (a.k.a. brand-spanking new to the workout).
When she dialed up the music, the bouncing commenced. I immediately felt like a fish out of water. Trying to land within the small circumference of the rebounder felt like a joke. I was sure I was going to fall off mid-jump or break an ankle. Thank god I maintained my balance, but it did take all of my focus—and core engagement—to do so. It's work, but being on a trampoline doesn't just add novelty to an oftentimes mundane workout—it was fun, too. I felt like a kid again. 
Just don't even ask me about trying to stay on beat. And forget looking as good doing it as she did. (Her form was insanely perfect, by the way.) Regardless, Lauren weaved between trampolines and instructed us on what move to do when. First up: Knee highs. Then hip shakes, sidekicks and other variations of coordinated bouncing. We were not all in unison. In between sets we jumped off to perform arm exercises with light hand weights, then we were back to the cardio.
Just as I was (in my mind) getting the rhythm down, we moved on to the next section: legs and booty. Fine by me, since I was sweaty and out of breath. For this part, we flipped our trampolines on their sides and did what felt very similar to barre workouts I've done. Tiny pulses here and there—only this time using the trampoline as balance beams. That was followed up with some floor work, specifically targeting our abs. It burned so good, but, full transparency: I was still catching my breath from the first part.
Lastly, was what seemed to be everyone's favorite part: the cool-down (but this was not your typical stretching exercises). Lauren started freestyle dancing, encouraging us to jump in. At first, I was so self-conscious, but I played along. Even though I was far from mimicking her rhythm, I got into it. Lauren's energy was so contagious that letting go and having fun just felt easy. 
All in all, I will say this: Unlike other trendy workouts, I felt extra energized and not at all drained after the fact.
Dare I say: I actually had a blast working out.