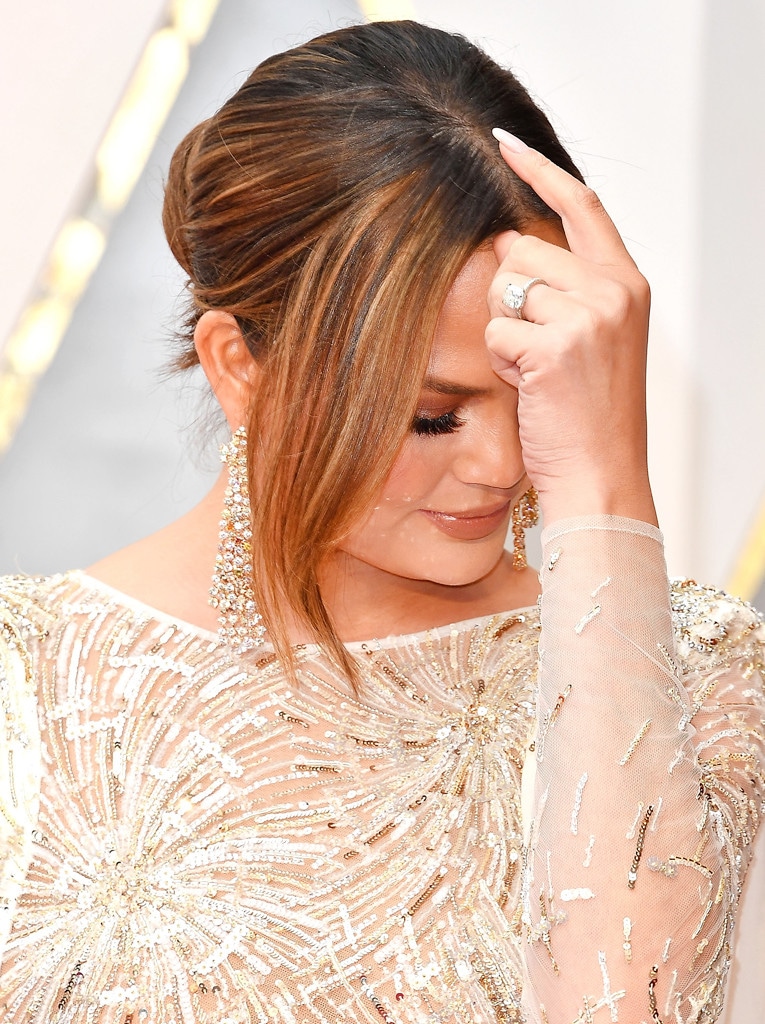 Steve Granitz/WireImage
Are you more "It Girl" like Chrissy Teigen or more of "The Hopeless Romantic" like Rosie Huntington-Whiteley?
That is the question (well, one of many questions you probably have when it comes to engagement rings). So when celeb jeweler Nicole Wegman of Ring Concierge (notorious on IG for her feed of expertly-curated fistfuls of gems, and also followed by stars like Kacey Musgraves) said she'd give us her guide we jumped at the opportunity.
Engagement ring shopping really isn't what it used to be (on top of the endless options, now you have the whole hand to consider), so in lieu of that, Nicole's here to introduce you to your perfect cut—depending on your celeb style personality—then walk you through everything you need to know about decking out the rest of your hand like an A-list.
It really is the ultimate engagement ring guide.
Old Mine Cut in an Antique-Style Setting
"This ring is inspired by my personal engagement ring, and is by far our most requested design. Antique stones have tons of charm and their large flashes of light give them a very romantic feel. What also draws people to this design are the proportions of the large center stone to the super-thin band," said Nicole.
How to Style It: "In order to prevent antique rings from feeling "grandma," style them with fashion-forward jewelry in a mix of gold colors. My go-to wedding band stack is a plain 1.5mm wide rose gold band (for contrast) and a diamond pave eternity band (for added sparkle). I love mixing rose and platinum for a softer feminine look, which complements this antique ring design perfectly."
Celeb Style Matches: Bella Hadid, Alicia Vikander and Rosie Huntington-Whiteley
Ring Concierge Old Mine Cut Antique Engagement Ring, Price Upon Request
Emerald Cut with Trapezoid Side Stones
"Emeralds are step cuts (as opposed to most other diamond shapes which are brilliant cut) making them glassier and more geometric in appearance," she explained. "Because of this, women are drawn to them for their cleaner, more modern look and understated sparkle."
How to Style It: "Jewelry with clean lines and a modern feel style best with this ring. We especially love simple yellow gold jewelry worn with an emerald. However, this ring design also looks great stacked with an emerald cut eternity band!"
Celeb Style Matches: Amal Clooney and Emma Watson
Ring Concierge Emerald Cut Trapezoid Side Stone Engagement Ring, Price Upon Request
Pear Shape in a Rose Gold and Pavé Setting
"Pears are making a major comeback," noted the jewelry expert. "They're sought-after by the glam girl who wants something super sparkly and elongated, but more unique than an oval. And what better than setting it in rose gold for that feminine flair? Because they're so elongated, pears appear larger than other shapes of the same carat weight, making them perfect for the girl who lives by "more is more." Additionally, because they're elongated, pears give the illusion of more slender looking fingers."
How to Style It: "Style this ring shape with rose gold pavé covered pieces for tons of sparkle. Everything is super thin and delicate, to complement the femininity of the engagement ring design."
Celeb Style Matches: Rihanna and Vanessa Hudgens
Ring Concierge Pear with Pavé Band Engagement Ring, Price Upon Request
Radiant Cut Eternity Band
"It's become a really popular trend for women to opt for a diamond eternity band instead of a more traditional engagement ring. This is the perfect ring for those who are always on the go and active (since it's more durable and comfortable than a solitaire ring). This is a ring I'd recommend for girls who want to make a statement, but don't like to wear a lot of jewelry. The radiant cut of diamonds in this particular band offer an incredible amount of sparkle and are a lot more unique than the classic round cut shape."
How to Style It: "Eternity bands look great alone, stacked with different style rings or even with two or three larger eternity bands—they look amazing stacked on the same finger! I style this ring with a high-polished yellow gold jewelry, accented with diamonds for a sporty yet trendy look."
Celeb Style Matches: Kendall Jenner and Ciara
Ring Concierge Round Diamond Eternity Band, Price Upon Request
Elongated Cushion with a Platinum Band
"Cushions are pillowy and soft, but have a tons of sparkle," said Nicole. "Perfect for those who want something more unique than a round, but don't want to lose the brilliance! They're available in a variety of proportions, from more square to very elongated, making it a great shape for the women who want to customize everything about their ring!"
How to Style It: "This ring is best stacked. The simple platinum band is so thin you can easily wear up to three bands on the same finger. Also, because the setting is so neutral, absolutely any style of jewelry looks great with it. In this particular case (the below photo), I styled it with our Starry Night and Shooting Star rings, since constellation rings are one of the biggest trends this year."
Celeb Style Matches: Chrissy Teigen, Hailey Baldwin and Kim Kardashian 
Ring Concierge Elongated Cushion Solitaire Engagement Ring, Price Upon Request
Which engagement style's your favorite?
Let us know in the comments below!