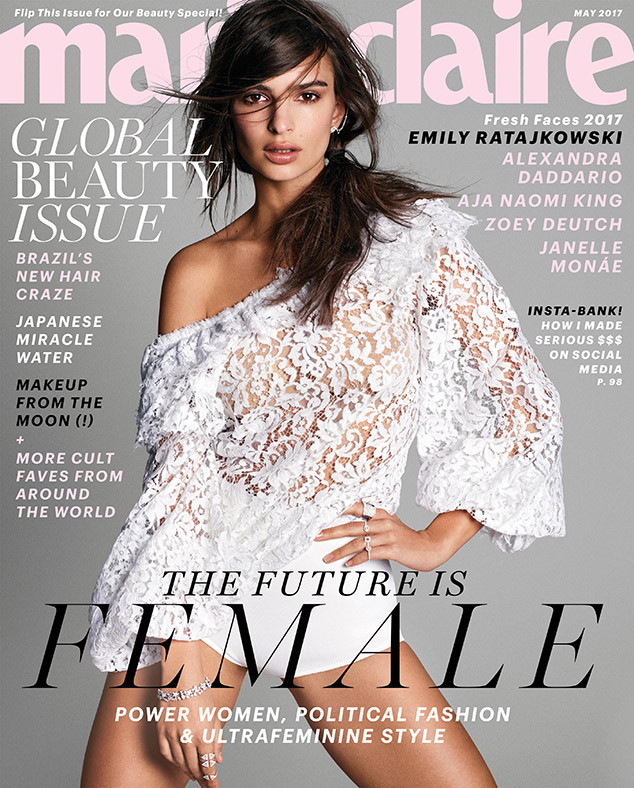 Nicolas Moore for Marie Claire
Emily Ratajkowski garnered fame when she danced nude in Robin Thicke's 2013 "Blurred Lines" music video, but as time has gone on, we've learned that being a sex symbol is just one of her many characteristics.
In fact, something she's most proud of is breaking the assumptions surrounding her sex symbol status and standing up for feminism.
The 25-year-old made the cover for one of Marie Claire's seven "Fresh Face" issues, which also include: Aja Naomi King, Alexandra Daddario, Janelle Monáe and Zoey Deutch. In it, Ratajkwoski opens up about why she's proud to be equal parts sexy and politically savvy.
"In every profile written about me, there is, 'She's so sexual and she's such a sex symbol,' paired with, 'But, wow, she knows about politics,'" Ratajkowski told the publication. "And that in itself is sexist. Why does it have to be one or the other?"
The model has continued to use her platform to emanate both. On some occasions she'll proudly pose nude on Instagram, and on others, she'll express her political views and statements. She's trying to do the same in her career.
Nicolas Moore for Marie Claire
"I am way more interested in working with unexpected and cool directors on interesting projects than being in this big studio movie where you're in a bikini," she told Marie Claire of stepping away from the roles she's usually asked to take. "I turn down a lot of movies, but I have to fight for the ones that I really want."
Speaking of women taking control and breaking glass ceilings, Janelle Monáe also opened up in the magazine about her hopes for women.
"It is important to redefine what sexy is. To redefine style… It is important for women to be [in control], especially when gender norms and conformity are pushed upon us," the actress explained. "Women automatically are told that this is how you should look. This is how you should get a man. This is how you should get a woman. You need to fit into all these boxes to be accepted."
She continued, "I don't subscribe to that way of thinking. I don't think we all have to take the same coordinates to reach the same destination. I believe in embracing what makes you unique even if it makes others uncomfortable. I have learned there is power in saying no. I have agency. I get to decide."
That's another major message she wants to spread in the world: "People have to start respecting the vagina."
Monáe explained, "Until every man is fighting for our rights, we should consider stopping having sex. I love men. But evil men? I will not tolerate that. You don't deserve to be in my presence. If you're going to own this world and this is how you're going to rule this world, I am not going to contribute anymore until you change it. We have to realize our power and our magic. Because I am all about black-girl magic, even though I'm standing with all women. But this year? This year, I am so carefree black girl."
Read all seven ladies' "Fresh Face" cover stories on Marie Claire here.