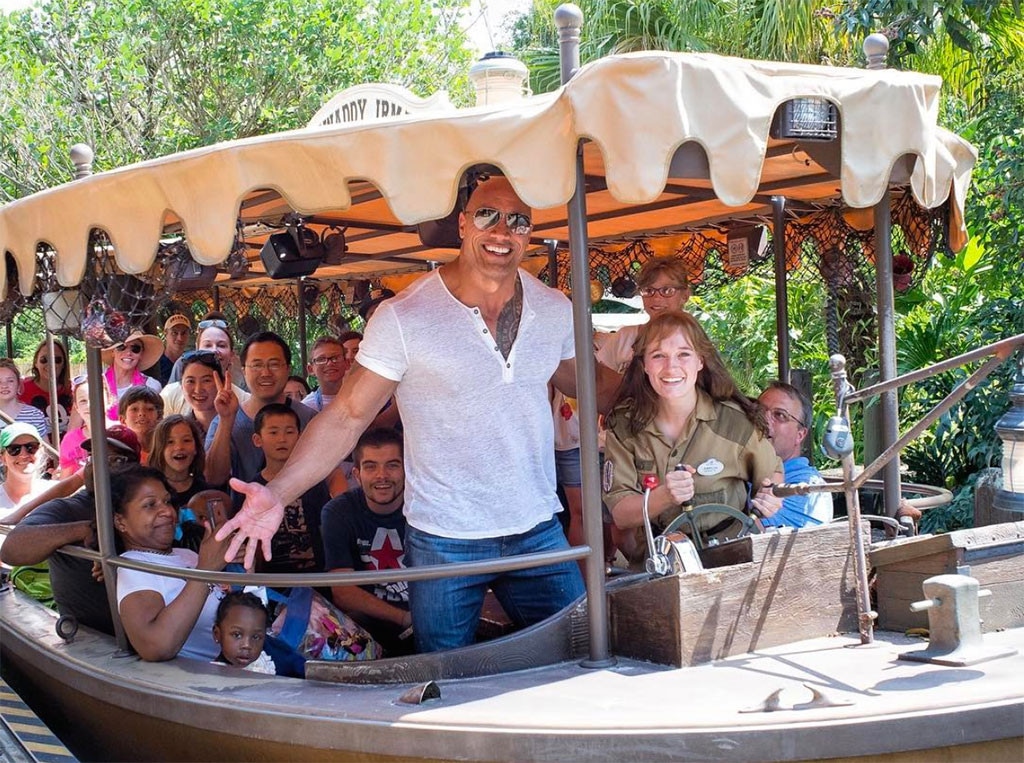 Instagram
It's a jungle out there, all right.
Amid his global press tour for Universal Pictures' The Fate of The Furious, Dwayne "The Rock" Johnson managed to find the time to plug another project that's close to his heart. "Surprise! Once I committed to our Disney partners to make JUNGLE CRUISE, I wanted to dive head first into the research," the 44-year-old actor wrote in an Instagram caption Monday. "So I headed to Walt Disney World and surprised tourists by commandeering the JUNGLE CRUISE ride."
Johnson, whose visit took place in early April, had a "GREAT day on the river." He "learned a lot," too. "For example, it takes approximately 12.6 minutes for all the passengers to get over the shock of me jumping on the boat and thinking I'm a DJ look-a-like. One passenger even said, 'Oh, the real Rock is much smaller than this guy,'" the actor wrote. "I threw his ass off the boat."
"Jokes aside (and yes, with me as the Cruise Skipper there will be plenty of puns) this is such an amazing, fantastical and cool world to build out. Best part about this surprise research day was knowing how FUN of an experience we're gonna work hard to create for families around the world," Johnson told his 82.5 million followers. "That's the part that gets my excited the most."
Johnson has been attached to star in the theme park-inspired film since 2015. Production is scheduled to begin in the spring of 2018, with a wide release tentatively slated for 2019.
"Next step, is finding our visionary director to help build this world. The movie. The ride. The experience. It's the cruise of a lifetime. And trust me, you'll want me as your Skipper," said Johnson, who voiced Maui in the studio's megahit Moana. "Just don't forget to bring my beer."
Before Johnson begins production on Jungle Cruise, he'll shoot New Line's video game adaptation of Rampage later this spring—around the same time Paramount's Baywatch reboot surfs into theaters. Later this summer, Johnson will begin filming Skyscraper in China, which will wrap in the fall. His next film, Columbia Pictures' Jumanji: Welcome to the Jungle, is out Dec. 22.