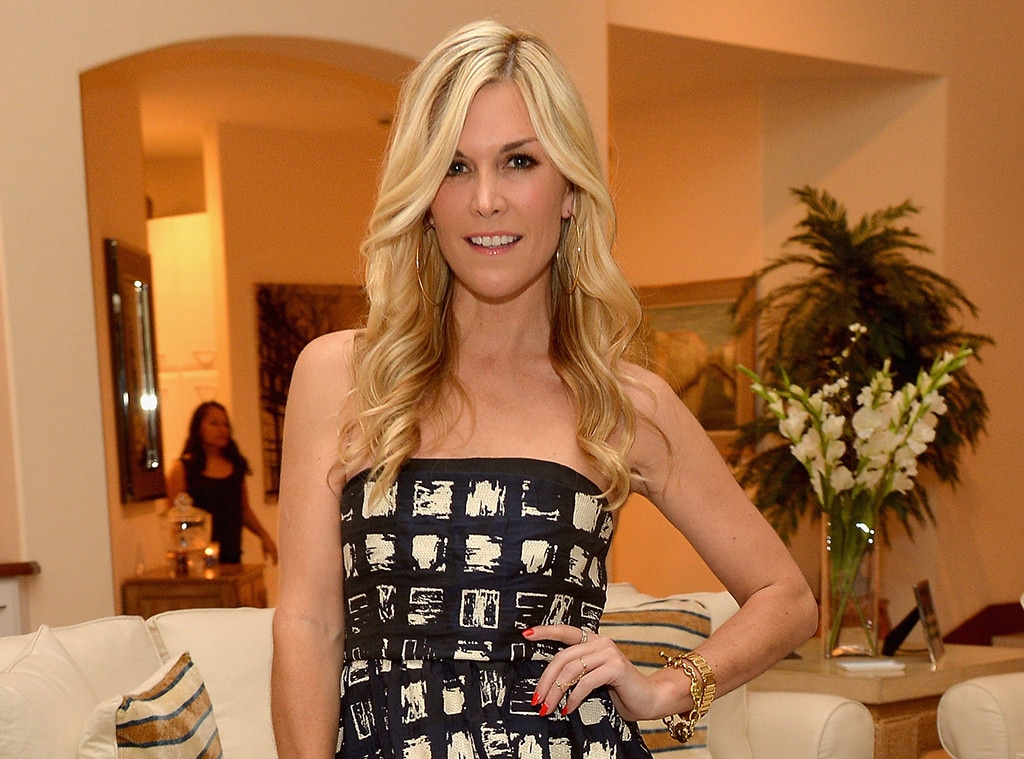 Gustavo Caballero/Getty Images
After what she's been through, Tinsley Mortimer can likely handle the drama on The Real Housewives of New York City just fine.
It was revealed last month that the 41-year-old Manhattan socialite has joined the cast of the Bravo reality show's upcoming ninth season. 
The daughter of a real estate mogul, Mortimer grew up in Richmond, Virginia and attended boarding school in New Jersey, where she met her first husband, Topper Mortimer. The two eloped after graduation and moved to New York City, where she attended and graduated from Columbia University.
She worked as a beauty assistant at Vogue and then went into PR and became a known socialite. She was a Dior beauty ambassador. She launched her own branded apparel. She was often dubbed NYC's next "It Girl." Tinsley even made a cameo on Gossip Girl and got her own CW reality show, High Society.
And speaking of Gossip Girl, in 2006, a Wordpress website titled Socialite Rank, often dubbed the original "Gossp Girl" report, ranked Tinsley the No. 1 socialite in Manhattan and helped fuel a tabloid narrative of a rivalry between her and up-and-comer Olivia Palmero that kept both women in the gossip headlines, New York magazine reported. Socialite Rank was later taken down.
Courtesy of Seth Browarnik/startraksphoto.com
Meanwhile, her personal life suffered; She and her husband divorced in 2009.
Later that year, she was photographed with Levi Johnston (yes, Bristol Palin's ex) at the Fleshbot Awards, where he was presented with a silver dildo trophy for Best Porn Newcomer for his Playgirl photo shoot. Days later, Tinsley was spotted hanging out with American Idol alum and Broadway performer Constantine Maroulis. The two were photographed looking cozy at a few more events, including at Mercedes-Benz Fashion Week in New York City, until early February.
Michael Buckner/Getty Images for Mercedes-Benz
Tinsley's professional life took a turn for the worse; Her reality show, which famously showed one of her friends dismissively declaring that it "really should be okay to say" the N-word, was canceled.
In 2012, she traded her New York City socialite life for sunny, breezy Palm Beach, Florida. She told Bravo's The Daily Dish she thought she had "had enough of New York" and was dating someone in Florida.
That would be Nico Fanjul, the son of a sugar baron. In April 2016, she made headlines when she was arrested for misdemeanor trespassing at her ex Nico Fanjul's Palm Beach home. She told Bravo she went to her ex's home that night to retrieve her purse and that they fought and the police were called. The charges were later dropped.
Palm Beach County Sheriff's Office
It later emerged that they had a volatile relationship and that police had been called to the home a few times over the past two and a half years, including for a 2013 incident in which Tinsley was hospitalized for a head wound and bruises on her face, eye and arms. She told authorities she was injured while trying to intervene in an argument between Nico and his brother, People reported. She did not press charges.
Nico's mother, Nicole Fanjul, told The New York Post that the allegations of domestic violence against her son are "hearsay" and signaled that Tinsley's behavior towards him "makes Fatal Attraction look like a cartoon."
"This is a result of a woman scorned," she said.
Tinsley did not respond.
She recently spoke to The Daily Dish about her arrest.
"I feel like after something like getting a mug shot and having it plastered all over every paper and all over the Internet, I felt like I hit rock bottom a little bit," Tinsley said. "So I just felt like there was no hesitation to join [Real Housewives of New York City]. I was like, 'What can go wrong at this point in my life?' I've been arrested. I was in jail for three hours, I think now this is fine. I think I can handle the Real Housewives."
"I'm just so happy to be back in New York and just getting to know new girls in New York, too, and having another group of friends," she said. "It's just been great."
(E! and Bravo are part of the NBCUniversal family.)