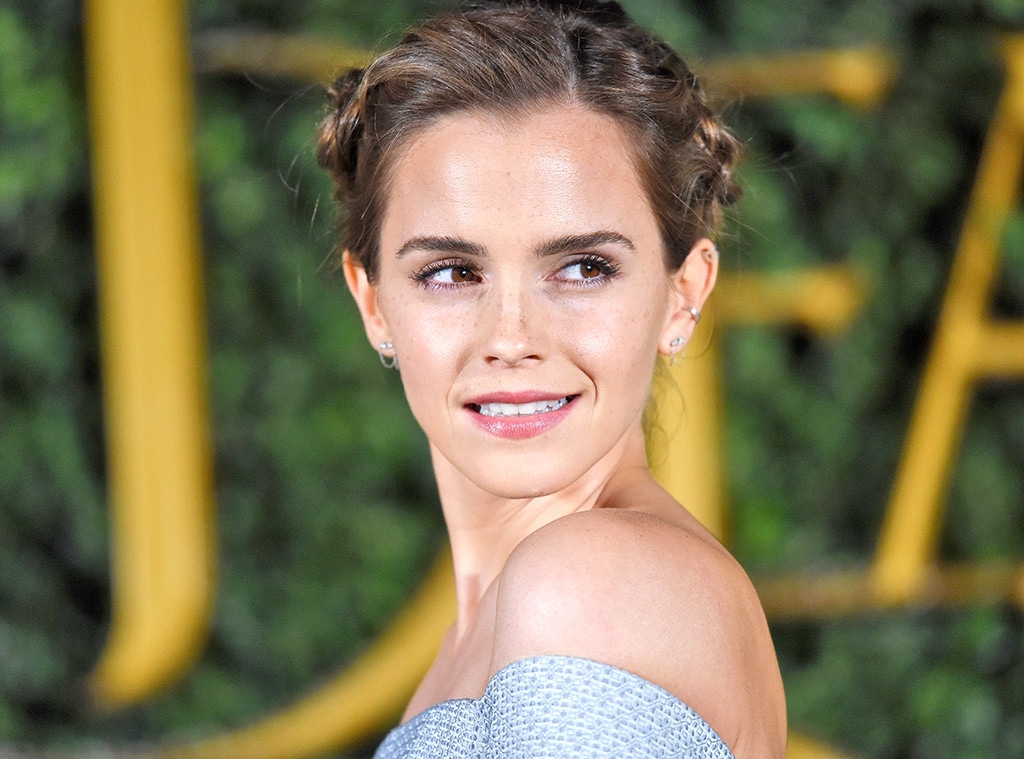 Dave J Hogan/Getty Images
Emma Watson knows the power of a press tour. Being that she's spent half of her life on the Harry Potter circuit, it makes sense that she's something of a prodigy in global promotion. So when it came time for another mega tour, this one for Disney's Beauty and the Beast, she came up with a genius side hustle.
Her aim? To bring awareness to sustainable fashion and beauty. Her method? She exclusively wore green glam and gowns and showcased all the details of each look on a new Instagram account –a venture that had never been done before in Hollywood.
"That's the kind of thing that's actually revolutionary. To go out of your way on that scale, the effect will be a ripple in the industry," reflects celebrity makeup artist Katey Denno.
Indeed, while we're already seeing an upshot—Anne Hathaway is currently promoting her latest flick Colossal with only sustainable fashions—it was really Watson's decision to also include natural beauty brands that will surely have a major impact on the clean beauty movement.
A Clean Break:
"Everything was done from [Emma's] heart and basically it was about healing the beauty industry," says celebrity makeup artist and RMS Beauty founder Rose-Marie Swift.  "She's healing the beauty industry by finally speaking up and not wanting a huge paycheck attached, which is amazing."
If you're wondering why more stars haven't been banging the drum for clean beauty, for one, as Swift mentioned, the movement is up against another, more powerful type of green: Money.
"A lot of celebrities are hoping they will get an Estée Lauder contract or get signed to Revlon. This is where all the big huge corporations have everybody by the balls—when it comes to being able to pay celebrities or to pay makeup artists. $3,000 to $5,000 a day to do a post—I'm self-financed, I can't do that," explains Rose.
Think of it this way: Most clean beauty brands are startups and don't have the financial backing to try and compete against these billion dollar mega-companies that have been titans of the industry for decades.
 "I think a lot of makeup artist and hairstylists are put in a corner because rates aren't what they used to be and then you've got these big brands offering $1,500 to use their hairspray or whatever," says celebrity manicurist Jenna Hipp, who has been using exclusively clean beauty products for years. "So I see it from the artists' side, we all have to make a living, but I also see it from my side. I had to switch for my health."
But it's not all about that paper. Politics also come into play, naturally.
Declaring your allegiance to clean beauty isn't like choosing between brands: It's picking sides, because clean beauty is more than a type of product. It's a way of life, a belief that is contrary to what the majority of the cosmetics industry is currently about. It's making an irreversible statement rather than simply being a spokesperson. And although it seems unfair, switching to clean beauty is usually viewed as "slamming the door" on conventional brands, explains Denno. Also, let's keep it real: Although the market is rapidly growing, clean beauty brands don't offer anywhere near the amount of options as traditional cosmetics brands when it comes to products, which can be limiting. So you can see why many celebrities and celebrity glam squad members aren't able or ready to draw that line. Or as another celebrity famously summed up the struggle: It ain't easy being green.
The Green Queens
There is one clean beauty brand that has signed an A-lister as its creative director. Perhaps you've heard of Gwyneth Paltrow.
Juice Beauty, a pioneer company in the organic beauty movement, announced its partnership with the Oscar winning actress in 2015, a pivotal moment for the industry.
"We wanted someone to actually join the company, to be a partner. It was a values choice for her because she knew with her values, she could no longer sign on with the big companies because they didn't have true natural beauty, much less organic beauty," explains Juice Beauty founder Karen Behnke. "So a plus for us were that her values are uncompromising but also that she's well-known for her drive towards excellence and quality."
The Goop founder has indeed built an empire on her health-and-wellness suggestions; she's a proven trend starter and her reach and impact are undeniable.  
So while many were furrowing their brows at a star of her status signing with a lesser known organics company, Gwyneth had already seen the rising tide and made sure she was on top of the next wave.
Since signing with the San Francisco-based brand, the 44-year-old has doubled down on the clean beauty movement: Increasing content on Goop.com, releasing a book titled Goop Clean Beauty and even launching her own Goop line skin care line in collaboration with Juice Beauty.
There is arguably only one other celebrity who has ascended to that level of entrepreneurial success in the green beauty game: Jessica Alba.
A few months after Paltrow coupled with Juice Beauty, Alba expanded her already successful Honest Co.—well-known for their safe, eco-friendly diapers, toys, bath and body products for tots and moms—to also include skin care and cosmetics. A year later she added hair care. According to Forbes, The Honest Co. has an estimated value of around $1 billion.
And isn't that the, well, beauty of the clean beauty movement. There is something so personal, so passionate of being a part of it, that celebrities aren't content with just being the face for it, they want to be a force behind it. Because it is more than just a brand, it's a belief. So we've seen Paltrow, Alba and Watson go all in—and it's paying off.  
Well & Good:
OK, but why is it paying off now?
"It really has to do with this whole wellness movement that's happening around the world, people are making better choices for themselves and their family," Tata Harper, founder of her organic skin care line of the same name, explains. "Food was the pioneer in the movement for the longest time. People understand that the most because you put it inside your body while a lot of times people don't realize the things you put outside of the body are also getting in the system."
Cut to 2017, when it's cool to be conscious and being "woke" means not just reading the labels on your muffin but also on your moisturizer too.  Because as Swift put it: "What is the point of cleaning up one's diet if one is still putting the toxic ingredient onto their skin?"
Health is the number one reason women switch to clean beauty. A recent Harris Poll survey discovered that 59 percent of women over the age of 35 say buying green beauty is important to them, while 73 percent of millennial women seek out cleaner, all-natural products.
As Jenna Hipp mentioned earlier, she—like most clean beauty brand founders—experienced a health scare and decided to DIY a less harmful alternative.
"I was getting nose bleeds, rashes and headaches from working on set with nail polishes—it was horrific!" she shares. "I got rid of everything–I didn't have one traditional nail product in my kit after that. I would use natural face and eye creams for hands and cuticles. And I was bringing in clear coats and mixing in my own nontoxic pigments on set."
Eventually, Hipp connected with RGB Cosmetics and launched her own line. Similarly, when Grace Lee was expecting her first child she found herself alarmingly unimpressed by the natural options for moms and moms-to-be. So she created Nine Naturals.
"Trying to sell our products early on was tough because women didn't even know of the dangers of a lot of ingredients," explains Lee. "Now with articles coming out all the time, people are a lot more aware."
Yes, just like with the food and fashion industry, the dirty underbelly of the cosmetics industry is being exposed as one with very little regulation and lots of synthetic chemicals like formaldehyde or parabens. Even more disturbingly, Europe has prohibited 1,400 cosmetic ingredients, while the United States banned only 11.
A Natural Makeover:
There is another major reason for the current rise of clean beauty. Although the movement has been around for at least a decade, it recently went through a bit of a renaissance in the last few years.
"A little bit of a repair work was needed to the green beauty movement because some of these brands that came out during the beginning weren't really green brands–half the time the stuff didn't work," says Swift. "There wasn't enough color payoff, the texture was terrible. The oils they used were cheap."
Denno agrees: "Years ago, when I first switched to green beauty I learned pretty quickly that not all the products would be up to snuff for the red carpet. That and I wanted packaging that was glamourous enough to give to my clients, for touchups or whatever. Women really don't want something in their purse that isn't pretty."
But then somewhere along the way, brand founders and chemists got a lot savvier with natural ingredients and packaging, thus brands became more sophisticated and appealing, inside and out. 
"Tata Harper was the turning point for me," says Denno. "Then RMS Beauty launched, followed by ILIA … And now I think no clean beauty brand is ever going to come to market unless they can compete with that."
So Fresh, So Clean:
Besides product and packaging, another part of the revamp was in the name. "Clean" is the latest variation and seems to represent the rebirth of the now more streamlined movement.
"Natural has been totally bastardized over the years because anyone can use it as a marketing term, same with green," says Annie Jackson, VP of Merchandising and Planning for Credo Beauty.
Words like green, natural and safe have no legal meaning when it comes to cosmetic labeling, which has certainly fueled the mistrust and misunderstanding for consumers.
Enter Credo Beauty. Launched in 2015, these clean beauty boutiques—some have christened Credo the Sephora of clean beauty—do not sell any products with ingredients they deem harmful. Not only that, they also promote full transparency when it comes to ingredients, packaging and sourcing. Credo has a list on its site of 23 "dirty ingredients," each with an easy-to-read explanation of why it's considered harmful.
"The primary difference is we're very tough on poor standards and dirty ingredients. Women don't need to sacrifice their health in order to use products with beautiful packaging that smell great and work great," says Jackson. "Why should you have to sacrifice all that just because you want to use something that's good for you and good for the environment?"
A lot of their brands are pricier than drug store brands, but there's a reason for that.
"When you have a formula that is so sophisticated and so high tech—and I know that a lot of us don't see naturals as high tech because they were introduced in supermarkets and apothecaries, you know, very hippie products—but it's really the ultimate luxury to have a product that doesn't have any industrial chemicals and have the best ingredients from around the world," explains Harper, the innovator of the "Farm to Face" movement. "Everything we do is so difficult; it's easier from a formulation perspective to use synthetics. But I don't, because I think that sustainability shouldn't be about gimmicks and marketing. It's really the way to do business in the future and an expected standard."
Don't worry, no one is suggesting you toss out all of your old products. Most clean beauty experts say to start with small, everyday changes. In fact, Credo even has a swaps list so if you have been loyal to, say, a Bobbi Brown eyeliner for years, it recommends an Antonym Cosmetics alternative.
And if you need even more help trying to decipher dirty ingredients and legit natural brands—well, there's an app for that.
Think Dirty allows users to scan cosmetics in the store and the app will provide them with a ranking of all the ingredients, as well as offer a safer, less synthetic option. 
"When we launched in 2013, we had 10,000 and now we have 200,000 products," Lily Tse, founder of Think Dirty, shared. "We're in over 33 countries, from Europe to Peru, and we've logged over 7 million scans. People are actively scanning and finding information."
Drunk Elephant Skincare/Instagram
Meanwhile, the experts themselves insist that, despite the hype, clean beauty doesn't have to be hard.
"I think it's a flexible topic—clean for me isn't necessarily the same as [for] someone else," says Tiffany Masterson, founder of Drunk Elephant, one of Sephora's most sought-after natural beauty brands.  
"It's very much a personal choice, take it as far as you want," Hipp says. "Anything is better than nothing and your body will tell you what it likes."
Or do as Sarah Gibson Tuttle, founder of Olive & June, does: "Every day make one healthy choice that will lead you on a path to clean beauty."
And while beauty fads come and go, this is one trend that isn't going anywhere.
"There's nothing that is happening in the beauty world in the next few years that is as influential and as intense as the rise of green beauty. Every single day I read about it on publications, it's an onslaught, and it's almost like a joke to me at this point because I've waited for so long with bated breath to see this happening, and here we are," Denno shared with a laugh.
"This is not a trend, this is a movement," says Harper. And it's officially gone mainstream.