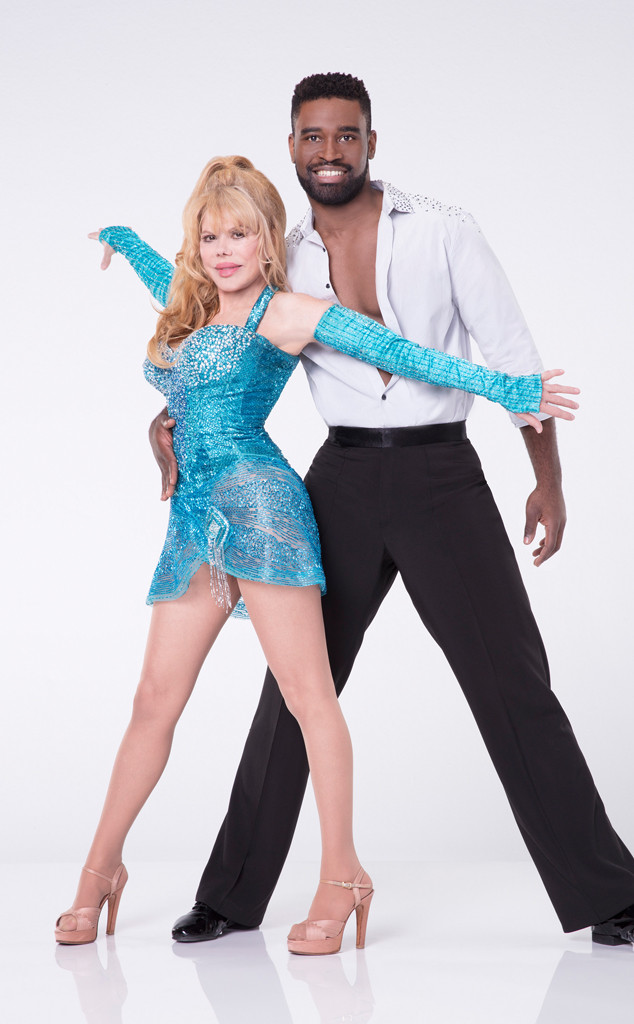 ABC
24 seasons in and Dancing With the Stars is still trying new things.
On tonight's episode, week three of competition, the show dedicated itself to the glitz and glamour of Sin City. That's right—for the first time ever, it was Vegas Night!
After a fabulous group number that had us seriously smiling from ear to ear from start to finish, we were treated to dances the celebrate just about every facet of the Nevada city that never sleeps. Len Goodman was in a much better mood after last week's episode-long tantrum he seemed to be throwing over just about everything, but getting nitpicky in his stead was Carrie Ann Inaba, who never met a lift she didn't want to ding.
And in the end, it was the delightful whirling dervish Charo who was given the boot after landing in jeopardy for the second week in a row, alongside Nick Viall. "Bruno, I'll see you in the parking lot," she yelled before running away from the mic to wave goodbye to the audience. Never change, Charo!
And now, let's talk about the dances!
Nick Viall and Peta Murgatroyd: 26/40
After last week's stumble, Nick rebounded during his tango with confidence and determination. We agree with Bruno that he's still stomping a bit, but you can tell he really cares about this competition. And hey, when all else fails, pull out the abs, right?
Mr. T and Kym Herjavec: 24/40
Look, Mr. T is never going to win this thing, but there's something so charming about how much fun he really seems to be having. It was lovely to see him ditch the callbacks to his macho career. And when he said he hadn't felt this handsome since his prom?! Just adorable.
Bonner Bolton and Sharna Burgess: 24/40
A bit of the intimacy and spark we'd felt the last two weeks between Bonner and Sharna was missing this week, huh? And that may have been one of the slowest Charlestons we've ever seen. It was just a little too stiff for our taste.
Heather Morris and Alan Bersten: 33/40
Now that was a tango! Heather's footwork was impeccable throughout. And though it was a quasi-return of Brittany S. Pierce (RIP, Glee), she wisely kept it to ballroom after last week's hip hop flop. Also, dare we say we like Heather with Alan more than we do with Maks Chmerkovskiy? We do.
Charo and Keo Motsepe: 24/40
Somehow, Keo managed to rein Charo's lovable insanity for a charming foxtrot that had all of the judges smiling from ear to ear. She didn't even lunge for the mic once afterwards! Was the dance a technical marvel? No. But it was sweet just the same.
Simone Biles and Sasha Farber: 32/40
Aside from the fact that she pretty much had no idea who Elvia Presley was, the Olympian wowed with her quickstep ode to the King. And that split drop? Amazing. We're not sure what Carrie Ann was watching that she felt was somehow only worthy of a seven.
Nancy Kerrigan and Artem Chigvintsev: 33/40
We've been enjoying Nancy just fine thus far, but tonight we finally got an extra dose of personality as she dove headfirst into the samba. She was terrific, as was Artem's adorable excitement over meeting Ricky Martin. 
David Ross and Lindsay Arnold: 31/40
Plenty of GIF-able moments, but barely any partner choreography. We remain in awe of the skills that David has, but we're a bit puzzled that the judges had nothing negative to say about all of the solo dancing despite rightfully laying into Heather last week. Sure this was a jazz, but a bit of a double standard, no?
Erika Jayne and Gleb Savchenko: 26/40
Erika's struggle with the speed of the jive was clear, but gosh darn it, we just love watching her on this show so much.
Rashad Jennings and Emma Slater: 28/40
Rashad may make his money playing football, but damn, the man is a dancer at heart. He is just such a natural. We noticed the wonkiness that the judges pointed out, as well. Not their best after the past two weeks, but hardly the worst. We fully expect Rashad will be around to make us swoon for many, many weeks.
Normani Kordei and Val Chmerkovskiy: 34/40
Flawless last week. Flawless this week. Normani is the one to watch this season, without a doubt.
Who was your favorite this week? And did the right person go home? Sound off in the comments below!
Dancing With the Stars airs Mondays at 8 p.m. on ABC.