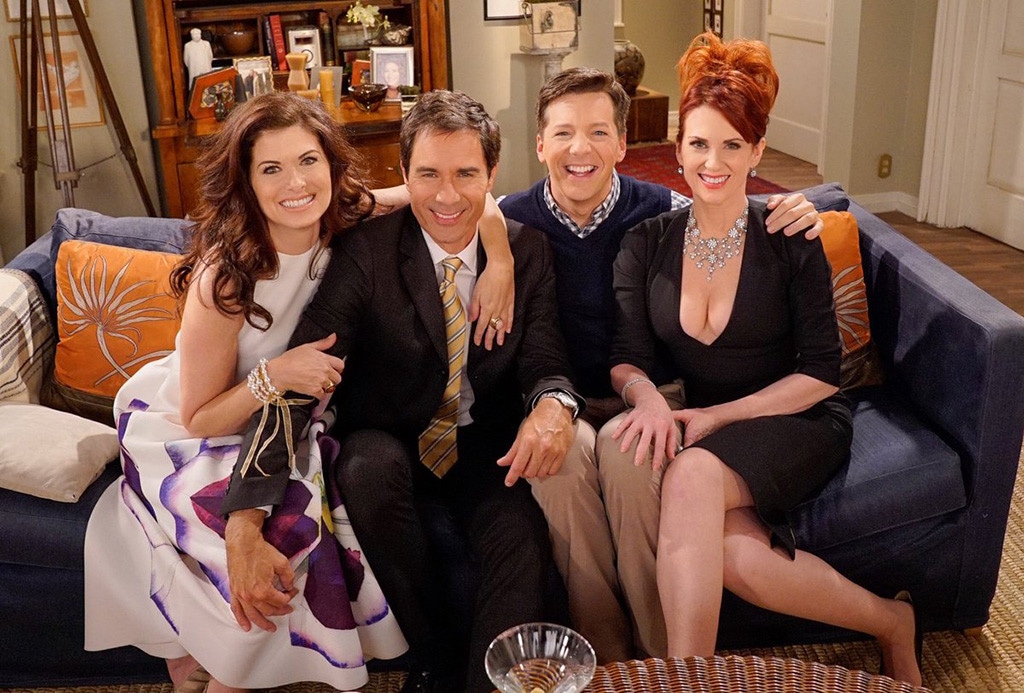 Twitter
Who knew that 11 years after Will & Grace went off the air, the beloved series would be returning for a ninth season?
As you may already know, Debra Messing, Eric McCormack, Sean Hayes and Megan Mullally are reuniting for a 10-episode season during beginning later this year.
Now, in an exclusive interview, Messing is looking back at the NBC show's beginnings in 1998. "When we filmed the pilot we knew that it was risky and we felt very deeply that it was an extraordinary pilot and the writing was beyond hilarious," Messing told me while promoting her new partnership with CoolSculpting (more on that in a second). "But we all looked around and said, 'We could be cancelled after three episodes...[because] America may not be ready for this show. As you know, Ellen DeGeneres' [sitcom] had just gone off the air. We just didn't know."
Will & Grace would go on to become a pop culture phenomenon, earning 16 Emmys and 83 nominations.
The Will & Grace comeback was prompted after the cast reunited for a get-out-the-vote video during the 2016 presidential election. The 10-minute special featured the four in character discussing Hilary Clinton and Donald Trump. It garnered about six million views online.
"NBC didn't even know we were doing it," said Messing, who was a surrogate for the Clinton campaign. "But then the phone call came and the four of us got together and had dinner and looked around the table and we were like, 'What do you think?' and we all unanimously felt we needed to laugh and we wanted more than anything to make other people laugh right now with the state of our country, the state of our world, the chaos, the fear and the confusion. We thought, you know what, we have so much to say in the only way we can say it, which is always putting the funny first but also always commenting on what is happening in politics and pop culture and social norms.
The new season will begin shooting in August. Details are being kept under wraps, but there is a very tricky scenario they must get past. When the series ended, the show jumped ahead 20 years with Will and Grace reuniting for the first time in 18 years when they're moving their children into their college dorms in...2026!
"I've been assured by our brilliant show creators that they have very quickly and magically created a universe in which we're all back together," Messing said. She also said they will "absolutely" honor the late Debbie Reynolds, who played Grace's mom on the show.
Will & Grace isn't Messing's only recent foray into the land of nostalgia. She plays Baby's mom, Marjorie Houseman, in the upcoming television adaptation of the 1987 movie Dirty Dancing. "Every song that you love from the original is in it, all the dancing is in it, but there are even more songs from that era that have been added," Messing said. "The choreography is from the choreographer of Hamilton. It's an insane amount of talent."
When I chatted with Messing she was actually on her way to Disney World with her 12-year-old son Roman.
"He's really really funny and that scares the crap out of me," Messing said about Roman, who she shares with her ex-husband Daniel Zelman. "I told him that when he was in my belly that I had already decided that he was going to be an architect but now he's old enough to say, 'Mom, I don't think we have to follow that plan.'"
And being a busy single mom is one of the reasons Messing has jumped on board as the new global brand ambassador for CoolSculpting, the non-invasive fat reduction treatment. "I never stop. I work all the time. I'm always involved with something," Messing explained. "And I'm a wimp so anything that involves knives or a hospital is not good. Here's something that you literally just walk into your dermatologist's office and they put something on my belly for an hour and then you put your clothes back on and you walk out the door and then a couple of months later [the fat] is gone."
Messing, who turns 49 in August, began the treatment a month ago. "I'm already seeing changes," she said. "It's fantastic. When I was 20, I could eat four Big Macs in a row and I'd still weigh eight pounds. I'm still naturally a slim person but I had a baby and it's like I exercised but that little bit of fat is not going away. I'm not going to starve myself because that's not healthy. So here's this option and it's non-invasive and it's safe and it doesn't hurt."
(E! News and NBC are both part of the NBCUniversal family.)