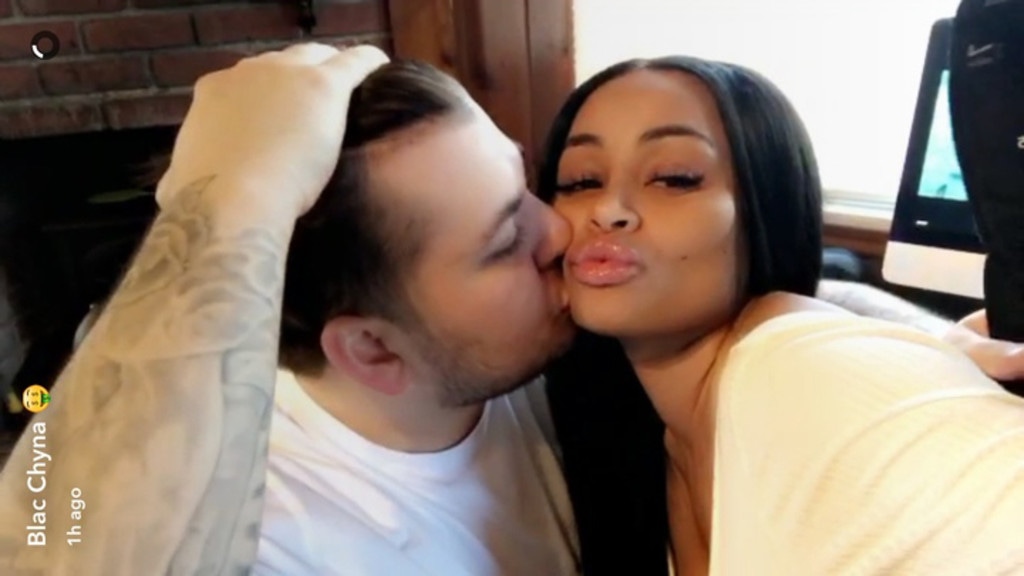 Snapchat
Well hello, Rob Kardashian and Blac Chyna!
The on-again, off-again couple reunited Saturday for a few PDA-filled videos shared to Chyna's Snapchat. Rob and Chyna pulled the plug on their engagement earlier this year and were successfully co-parenting their nearly 5-month-old daughter Dream Kardashian, but it appears these two have put their differences aside once more. 
In the clips set to Kendrick Lamar's new track "Humble," Chyna sits on Rob's lap as he cuddles her from behind. The E! reality star also presses his face up against her chest for a separate video that Chyna captioned, "Dream's daddy." 
Chyna then asks her former fiancee to "give me a kiss" before Rob plants a smooch on her cheek. And if this is just an April Fools' joke, Chyna and Rob sure know how to work it for the cameras. 
An insider previously told E! News of their relationship as exes, "They are amicable and get along when it comes to Dream... They haven't fully figured it out yet, but they are working on it."
A week prior, another source shared that despite their public ups and downs, the lovebirds of more than a year weren't ready to give up on their romance just yet.
Rob and Chyna are "working on staying together and focusing on Dream," the source explained in early March, adding that there is "a lot less drama right now."
Famous momager Kris Jenner also seemed to be playing a pivotal role in the extended Kardashian fam spending more time with Rob and his little girl. 
"The main reason why the Kardashian family is so involved with Dream is Kris, who has worked hard to focus Rob on being present for his daughter," an insider said. "Kris has been super focused on being the rock, and she's building a bridge between Chyna and the rest of family."
And after all, it's Chyna who has spoken openly about sticking by Rob's side through the good and bad. 
The Lashed Bar owner recently told Cosmopolitan South Africa, "Everything isn't always going to be peaches and cream. If it is, then it's fake. I'm in it for the long haul, so I feel like my advice [for anyone in a similar situation] is therapy, know each other's family, calling each other's moms."
She continued, "I feel like everything isn't going to be perfect, but I know we love each other and we're fighting for each other, and the people we surround ourselves with are rooting for us. It makes everything much easier."
Watch a brand new episode of Keeping Up With the KardashiansSunday at 9 p.m., only on E!