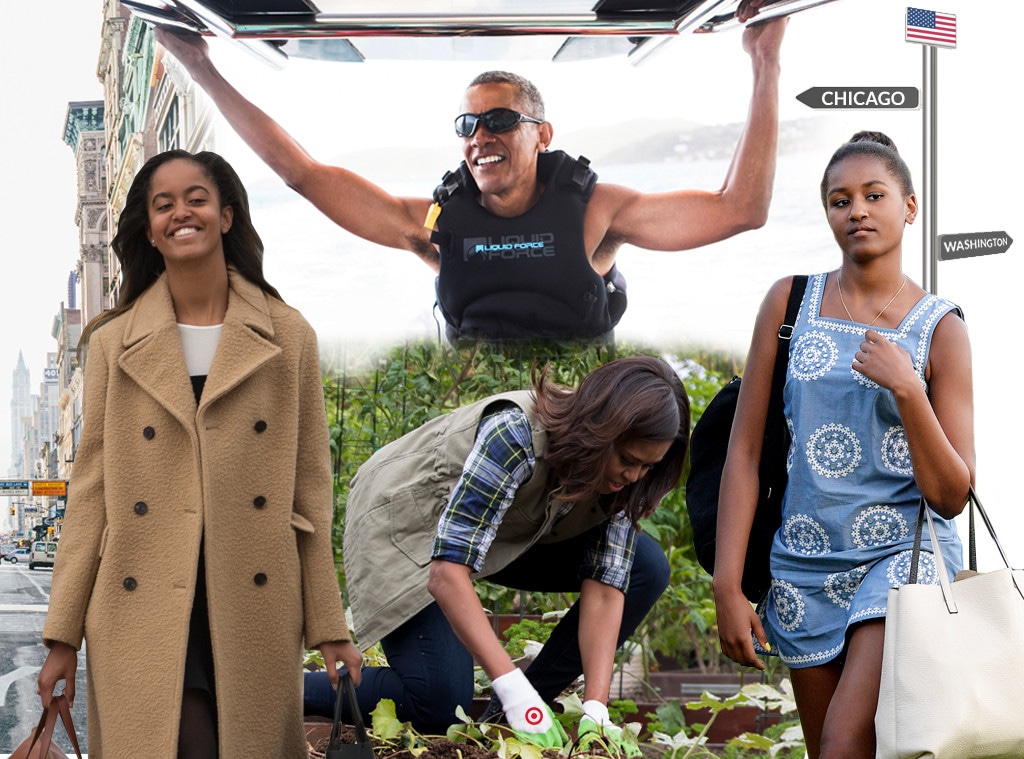 E! Illustration
Does anyone have a better gig in life right now than the Obamas?
Judging by a quick glance at the current political climate around the world, compounded by the shock waves reverberating from Washington, D.C., every day...we're going to guess the answer is no.
After eight long years in the White House, President Barack Obama, first lady Michelle Obama, their daughters Malia and Sasha, and their dogs, Bo and Sunny, moved out on Jan. 20 to make way for the incoming administration—and with that, off they went into the sunset, the now former first family relegated to the history books.
And though they're not going to be quite as past-tense as the 44th president had originally hoped that they would be, his retirement plan having taken a bit of a hit last November, the Obamas' first stop after boarding Marine One for the last time was Palm Springs, Calif., where they were greeted with rain—and from there...
John Angelillo-Pool/Getty Images
Well, from the looks of it, it was some sort of daredevil kitesurfing excursion.
For what seemed like far longer than the Obamas were actually on vacation, the Internet was awash with wish-we-were-there photos of Barack Obama joyously skimming the water in the North Atlantic. Though the whole family was there—there being Richard Branson's Moskito Island, in the northeast corner of the British Virgin Islands—Obama was the sole face of their otherwise very private trip.
Branson later blogged about challenging POTUS 44 to a friendly competition, whether Obama, new to kitesurfing, could stay up longer than the Virgin mogul, new to foilsurfing—and being duly humbled by the ex-commander in chief.
If there was any concern whatsoever that tensions from Washington were going to plague the former president once he was out of office...
Jack Brockway/Getty Images
Well, that's what kitesurfing is for, to get your mind off of things.
"One of the first stories Barack told me when he and Michelle arrived on Moskito Island was how, just before he became President, he had been surfing on a dangerous break in Hawaii," Branson recalled. When he came in from an exhilarating session, the new head of his security team turned to him and said: "This will be the last time you surf for eight years." For the next eight years he didn't have the chance to surf, enjoy watersports or do many of the things he loved."
After Obama trounced him in water sports, Branson recalled, "After all he has done for the world, I couldn't begrudge him his well-deserved win. Now he has left, I'm going back into the water to practice for the next challenge. On his next visit, we plan to do the long kite over to Anegada together. Next time, may the best (British) man win!"
We're guessing Obama doesn't plan on losing.
Michelle threw it back to their island idyll on Valentine's Day, her first Instagram post since they day they left the White House being a picture of her and her husband's sandy feet enjoying a moment in the sun together on the beach.
It presumably came as no surprise to the couple that, even when no longer in charge, their vacation sparked a bit of controversy, though mainly from fans who went from bemoaning that Obama was out of the White House to ultimately quibbling over whether it was appropriate for Obama to look as though he was having such a great time when there were was so much wrong in the world.
Some things never change.
So no wonder we haven't seen much of them since—surely the Obamas know that their post-White House experience is going to be different from that of other first couples, their brand of celebrity having transcended the pop culture line long ago thanks to their relative youthfulness, Michelle's importance to the fashion world, their huge celebrity fan base and the unprecedented level of coolness they exhibited in every relevant arena.
They must figure, well, the craziness will be there waiting for us. No need to rush back.
Although that means Michelle may not have yet taken that trip to Target she was so excited about.
"I want to go to Target again! I've heard so many things have changed in Target!" she told Oprah Winfrey at the United State of Women Summit last year about her desire to take a simple shopping trip again upon leaving the White House. "I tell my friends they're going to have to give me a re-entry training for like, 'okay, what do you do at CVS now? How do you check out?'"
But Michelle's big dream was to go outside for a walk, whenever she felt like it, alone—"or with a semblance of feeling like I'm by myself." 
NICHOLAS KAMM/AFP/Getty Images
The "semblance" is the more realistic goal, because Secret Service protection for former presidents and first ladies is forever—thanks, actually, to legislation signed by her husband. The law covers children of the president until they're 16, so 18-year-old Malia Obama is the only Obama who isn't guaranteed a detail—though ironically, she now has the paparazzi to help keep track of her. (Seriously, she was just pictured with a "mystery man" and everything. They grow up so fast!)
Sasha turns 16 in June—but as he does with Malia, Dad's still going to spring for security.
After being accepted at Harvard University, Malia opted to take a gap year following her graduation from Sidwell Friends School last June—and she has made the most of it. 
After two summers in a row interning on the set of a TV show, CBS' Extant in Los Angeles in 2014 and Girls in New York in 2015, she scored a 2016 summer internship at the U.S. Embassy in Spain. But while Malia definitely went to Spain, details of whatever she got up to on the job, if she took it, have remained privileged.
In June, she was with her mom, sister and grandmother Marian Robinson in Madrid, where the first lady was attending events as an advocate for improving girls' education around the world, and in July she took a few days to enjoy Barcelona with some girlfriends (and bodyguards).
Malia--who's also made a few headlines  is now in New York, once again learning about show business as an intern for the Weinstein Co. Her dad visited her last month and somehow swung some tickets to see Arthur Miller's The Price on Broadway, after which they met with the cast backstage.
TMZ identified a gentleman Malia was walking with in the city Wednesday (along with a female friend, and a bodyguard) as Stanford grad Rob Franklin, 23, whom she met while making the scene at Men's Fashion Week.
Sasha Obama, meanwhile, is a junior at Sidwell Friends School, and the family will remain based in Washington at least until she graduates in 2019.
Barack Obama told the Chicago Tribune last year that he would "certainly be spending time" in the Windy City—where he was a constitutional law professor at the University of Chicago and got his political start as a community organizer, then state senator and then U.S. senator—when he was no longer president. But he and Michelle have made no promise to any town, Chi- or otherwise, that they'll be there post spring 2019.
While they're in Washington, however, they're going to be comfortable. The Obamas are renting an 8,200-square-foot home in the conveniently located Kalorama neighborhood, close to Dupont Circle, Embassy Row and other places you've heard of from watching The West Wing or The American President.
The nine-bedroom, nine-bathroom home was last purchased for $5.3 million and, per The New York Times, Zillow estimates the monthly rent to be around $22,000. Built in 1928 but fully renovated since, the brick home boasts hardwood floors, a terrace and, of course, garden space that would be perfect for growing vegetables.
"It's a very quiet neighborhood; that's part of the reason why all of us like it there," the Obamas' new neighbor Tony Podesta, a lobbyist and brother of Hillary Clinton campaign chairman Jon Podesta, told the Times.
So that's where they've resumed their daily lives, just a short ride away from their old lives, and started a new routine—one that they're not yet ready to share with the world after years of being confined to the most exacting of schedules.
What we do know: Barack and Michelle have resumed tweeting from their personal handles, both having assured their worried supporters that they'd be getting back to work after their vacation. Aside from his New York trip and a March 5 visit to the National Gallery of Art with Michelle, the former president has been the more elusive one, while Michelle's been spotted at the local Soul Cycle and has started to resume the type of appearances she made as first lady.
She made a surprise visit to Ballou STAY High School in D.C. on Feb. 28, International Women's Day, reportedly staying for two hours talking about higher education and the hopes, dreams and concerns of the 14 students she met with—some of them slightly older than your average high schooler and working toward GEDs and vocational training as well as traditional diplomas.
A week later she met with 12 incredibly surprised girls at DCPS Francis L. Cardozo Senior High School on International Women's Day, using Snapchat to announce her visit beforehand.
Meanwhile, Barack Obama can be content in the knowledge that his fans would love to see more of him too.
Talking to reporters a few days before Donald Trump's inauguration, he said of his immediate plans, "I want to do some writing. I want to be quiet a little bit and not hear myself talk so darn much. I want to spend precious time with my girls."
Writing, check. 
As expected, both Barack and Michelle signed massive book deals last month; the financial details weren't disclosed, but Penguin Randomhouse won the bidding and publishing executives in the know told The New York Times that opening offers were in the $18 to $20 million range for the president alone.
Side note, after receiving the basic yearly salary of $400,000 as president, Obama is set to collect an annual pension of $205,700 (the amount is determined by a law that dates back to 1958 and is the same as his four immediate predecessors), plus additional money he requested from Congress for office space and some other expenses in 2017.
Heading into month three of being just regular people, the Obamas are back in Washington, but it's anyone's guess what their next big news will be—or just how "back" they are.
His administration had said that Obama didn't plan to give any interviews for the foreseeable future, but he would speak out if an event compelled it. Ten days after he left office, he issued a statement via a spokesman that he "fundamentally disagreed" with President Trump's travel ban.
Barack and Michelle Obama may be living a new life—and a quiet one at that, for now—but if they're anything like other civilians, they're still living it on their toes.