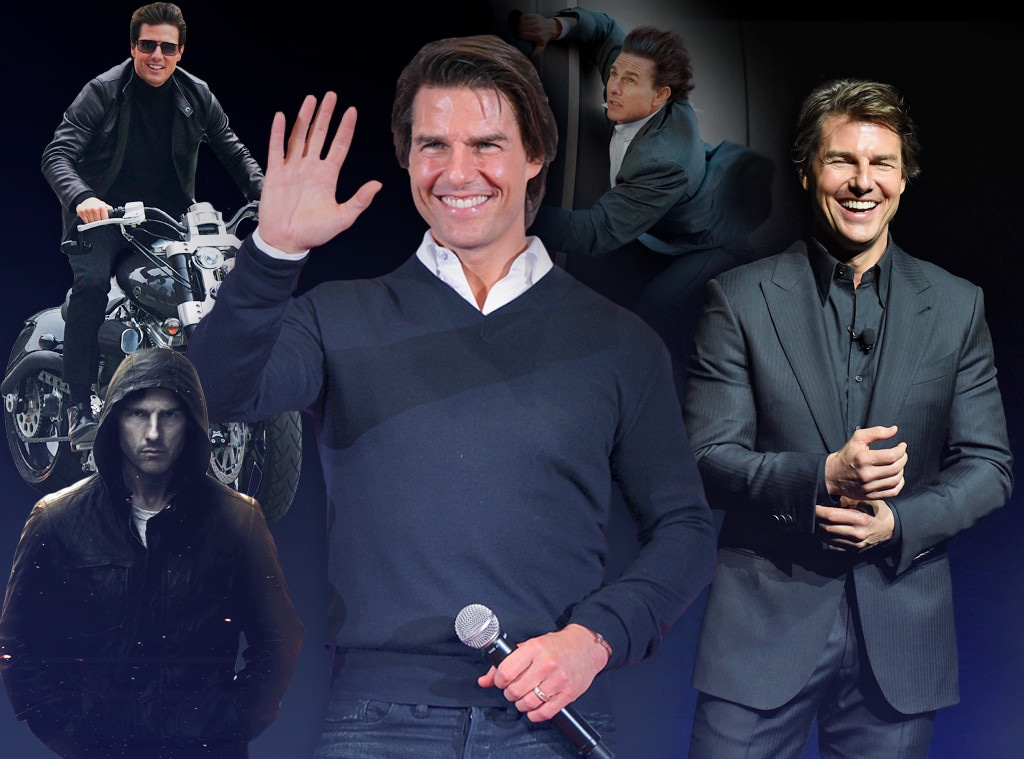 Getty Images/E! Illustration
"When I'm promoting a film, I'm not going to get caught up in anything else, and that includes all my personal things."
So Tom Cruise told Playboy in 2012 when the topic of Scientology was inevitably broached—as Cruise knew it would be when he agreed to sit down for the world-renowned "Playboy Interview" in the first place.
But he did go on, more so than usual, about his "personal things."
"I have respect for what other people believe," he continued. "What I believe in my own life is that it's a search for how I can do things better, whether it's being a better man or a better father or finding ways for myself to improve. Individuals have to decide what is true and real for them. I'm fortunate in the life I have...I've gotten to travel to different places all over the world, to see the commonality of the human experience.
"It's something I look for. Whether it's in Canada, France, India or Russia, even though people have different color skin and they believe in different things, there is a commonality of the human experience that is very real for me."
Yet he never used the S-word, nor does he in public, almost ever.
Since he gave that interview almost five years ago, Scientology has only grown more controversial with the release of Lawrence Wright's Going Clear: Scientology, Hollywood and the Prison of Belief and the companion HBO documentary, as well as Leah Remini's crusade to expose alleged abuses within the church.
Moreover, not long after that interview, in which Cruise called wife Katie Holmes an "extraordinary person" who had been making him happy since the moment he met her, he got divorced.
So it's no small wonder that, afterward, Tom Cruise crawled into a hole and pulled the hole in after him when it comes to revealing anything about his personal life. 
He continued to churn out movies, doggedly clawing his way, stunt after death-defying stunt, back to the No. 1 spot at the box office in 2015 with Mission: Impossible—Rogue Nation.
Thinking the wildest stories in his tabloid repertoire were behind him after his marriage ended, and with the at times off-the-rail exchanges in interviews fading further into the past, Cruise started to resemble an exotic animal, one who was on display periodically but otherwise kept to his own habitat, far away from binocular-toting adventurers.
And he continues to confound, the inscrutable star seemingly leading a fulfilling life but also ensuring that no one is at all the wiser. For instance, it's reasonable to assume he's been on a date in the last five years—but unlike with most stars, the answers aren't hiding in plain sight.
Chung Sung-Jun/Getty Images for Paramount Pictures
We're starting to hear tales of Tom again lately because he'll soon be shooting the sixth Mission: Impossible film, reports of the franchise's death having been greatly exaggerated not long after Cruise started dating Holmes years ago.
He popped up at a West End performance of Harry Potter and the Cursed Child in February, and then at Buckingham Palace, hobnobbing with royalty at the 75th anniversary celebration of the Outward Bound Trust earlier this month. And then he was rumored to be head over heels for 28-year-old British actress Vanessa Kirby, best known for playing Princess Margaret on The Crown and now a member of the M:I 6 cast.
While we've heard that the whole story is nonsense, what was actually most striking is that Cruise reportedly flipped for Kirby after watching her in The Crown—which would mean Tom Cruise was watching Netflix, just like a normal person (even if he was watching on his phone while doing loop-de-loops in a fighter jet or something, and we wouldn't put it past him).
Cruise, however, hasn't been one to officially slam rumors outside of a legal arena, such as when he sued In Touch and Life & Style in 2012 for reporting that he had "abandoned" daughter Suri Cruise.
Add being compelled to say much more than he presumably wanted to about Scientology and his family to the list of reasons why he buttoned up after this period of his life. 
And with all that silence comes a bunch of loose ends, which Cruise told Playboy he didn't really mind all that much.
"This is something I learned growing up, moving and always being the new kid," he said. "There's what people say, and there's reality, and you can't worry about stuff like that. Do you wish they wouldn't say certain things? Yeah, you wish. Does refuting things help? Not really. There comes a point when you just have to go, 'You know what? Here's how I've lived my life: I've never been late to set. I make films I believe in. I feel privileged to be able to do what I love.' You just have to keep going and remember that. The other stuff? I hear it, I read it, I get it. But life is not a matter of trying to prove anything to anybody."
If the stress ever gets to him, he doesn't let it show—and he certainly hasn't let it age him.
Now 54, the same goes as it did five years ago when, asked his tips for staying so youthful-looking, he said, flashing that famous toothy smile, "I honestly have no idea. I work. I'm always with family. I train, I go without sleep. I just go hard."
Obviously being in perpetual motion has done a body good, but just what is he going so hard at during all that awake time? Besides riding motorcycles, climbing up daunting rock faces, letting planes take off while he's dangling from the door and...Soul Cycle still, perhaps? Pal David Beckham's a huge fan, after all!
While the paparazzi have never ceased keeping a close watch on Suri and Katie, it's impossible to know for certain that Cruise isn't seeing or otherwise communicating with his daughter, though sweeping claims about their lack of contact tend to rule the narrative.
Cruise admitted in a September 2013 deposition for his defamation lawsuit that he didn't see Suri for 100 days while filming Edge of Tomorrow in London, calling the logistics for a visit "impossible."
About talking to his youngest child on the phone, he said, "You have to work at it. I've gotten very good at it. I tell wonderful stories. I also find that, you know, Suri is a very happy child, and confident, and has a good sense of herself."
"Things change and there's different agreements, like in any divorce, where you work out schedules," Cruise added. "It's just a different set of circumstances. It certainly does not mean that I've abandoned my daughter." Asked if he thought Holmes left him to keep Suri away from Scientology, he said, per the transcript, "I find that question offensive. There is no need to protect my daughter from my religion."
Bruce Glikas/Bruce Glikas/FilmMagic
In the April 2017 issue of Town & Country, cover star Katie Holmes says she's committed to giving now 10-year-old Suri as normal a life as possible.
"It's very important that I'm present and she has a stable, innocent childhood," the actress told the magazine. "I feel so blessed to do what I do, but there's nothing in the world better than watching your child succeed."
A source told E! News last August, while Cruise was in Namibia filming The Mummy, that the actor talked about his kids a lot and would FaceTime and talk on the phone with Suri frequently. Moreover, the insider said, he misses his family when he's off filming a movie—which, as he's never been hesitant to say, becomes his priority when he's on the job—and he makes time to see his children when he isn't working.
Though sometimes the kids go to him. Connor Cruise, now 22, was the one most likely to be visiting his dad on a movie set, and was most recently photographed spending time with his dad in New Orleans when Tom filmed Jack Reacher: Never Go Back last year. Father and son could also be spotted sitting court-side at Lakers games or enjoying a Dodgers game together when Cruise was in L.A.
And while Cruise's other child with Nicole Kidman, daughter Isabella, left both of her parents off the guest list when she married Max Parker in December 2015 at London's Dorchester Hotel, the bride insisted it wasn't because of issues with Mom or Dad.
She and Max, whose parents were also not in attendance, just chose to go super-intimate.
"Of course, they're my parents," Isabella fired back at the Daily Mail when a reporter inquired if she talked to Cruise and Kidman. "Anyone who says otherwise is full of s--t."
Meanwhile, in recent months both Jonathan Lipnicki and Dakota Fanning, former child co-stars of Cruise in Jerry Maguire and War of the Worlds, respectively, said that the movie star keeps in touch.
"I went over to his house because I actually—I cold-called his office at United Artists and asked for advice, and he got back to me and I went over," Lipnicki told Access Hollywood about seeing Cruise about four years ago. "A big part of his success he attributes to being on time and being polite to people and knowing people's names. It was incredible to sit down with one of your favorite actors and have an hour-long conversation about acting."
Fanning, meanwhile, said on Watch What Happens Live that Cruise has sent her a birthday gift every year since she was 11. He apparently never forgets Renée Zellweger's birthday, either, and he's quite generous.
"He doesn't take any of it for granted," Zellweger told Vanity Fair recently about her Jerry Maguire co-star, reminiscing ahead of the film's 20th anniversary. "He's very professional and gets a lot of joy out of the process. I respect that so much, and that is what I took away from it. He loves making movies—he loves it."
Sadly, on a very personal note, Cruise lost his beloved mother, Mary Lee South, last month when she died in her sleep at the age of 80 after being in ill health for some time. People reported that Cruise and his three sisters attended a memorial in her honor at her local church of Scientology in New Jersey.
Last October, Cruise answered a question about Scientology for the first time in public for years, telling ITV at the London premiere of the Jack Reacher sequel, "It's something that has helped me incredibly in my life. I've been a Scientologist for over 30 years. It's something that is, you know...without it, I wouldn't be where I am. So, it's a beautiful religion. I'm incredibly proud."
While the three-time Oscar nominee never officially went on the record in response to Leah Remini's various musings about Tom's messianic place in the church, which were ramping up right around then while she promoted her A&E series Scientology and the Aftermath (now renewed for a second season), that seemed to be Cruise's response.
Just last week, an excerpt from a new biography about former Paramount head Sherry Lansing made the rounds, in which studio exec John Goldwyn recalled Cruise stepping in when he was trying to divorce his wife, who was a Scientologist, in 2003. Per the account in Stephen Galloway's Leading Lady, Cruise was privy to Goldwyn's divorce filing and, feeling that some of the allegations were persecutory toward Scientology, fired back at Goldwyn, "'It's because of people like you that I have to ride in a bulletproof car and why I cannot practice my faith openly.'" (Always one to step in when there's a problem to be solved, however, Cruise ultimately helped smooth the whole thing over and expedited the divorce settlement, as the story goes.)
Though he's easily the most famous face of Scientology, it's true that Cruise hasn't exactly "practiced" out in the open—no more so than other celebrity members of the church, anyway, such as John Travolta or Kirstie Alley. Most of the anecdotes about Cruise's work with the church are third-party stories, and even the surreal informational video he shot only went viral after it was leaked in 2008.
But with The Mummy set to open in theaters on June 9, what Tom Cruise fans can look forward to is more of what makes him such an appreciated presence on any screen or red carpet: unbelievable anecdotes about all those dare-devil stunts, infectious energy on the red carpet, amiable interviews, late-night comedy bits and the inimitable aura that precedes Cruise wherever he goes.
So he'll pop up from wherever it is he's hanging his hat to promote the anticipated blockbuster, and these days, that's more likely to be a hotel suite or a rental house with a fridge teeming with chicken breasts and coconut water.
In 2013, Cruise sold his 2,200-square-foot apartment in New York City's East Village for $3.3 million. In 2015, he sold a gated compound in the Hollywood Hills for $11.4 million, and last year he finally unloaded the sprawling Beverly Hills estate he once shared with Holmes for $39 million. Billionaire financier Leon Black reportedly snatched up the 35-room house and environs via a pocket listing.
Meanwhile, he also reportedly listed an estate in the English countryside for about $6.2 million, as well as the Telluride, Colo., spread he memorably showed Oprah Winfrey around in 2011 for $59 million—all supposedly with an eye on settling down in Clearwater, Fla., home of Scientology's "Super Power" Flag building.
"Tom has long planned to leave L.A.," a source told People last May after the Beverly Hills house sold. "He doesn't need to be there for work—he's off doing movies all around the world. It's not the center of his life anymore."
As of October, per Curbed Miami, Cruise hadn't bought in the area yet—but he also probably didn't have a spare second to look (or sign off) on any properties, if he for some reason is not planning on moving into the two-story penthouse of a Scientology-owned high-rise building called the SkyView. He was in Africa shooting The Mummy during the summer, then it was off to Georgia in the winter to shoot American Made, he's been back and forth to London, he was binging The Crown on Netflix...
"Making films—my life has been focused for it, around it, and I've always wanted to do it my whole life. So, that is my legacy, my movies," Cruise told E! News in October at a fan screening of Jack Reacher: Never Go Back in Harahan, La., near where the action thriller was shot.
"I really wanted to travel the world and work in different cultures, and be part of different cultures, and celebrate different cultures. I'm interested in that; I encourage that. It's been a real privilege and a gift to be able to do that."
In that case, mission accomplished.