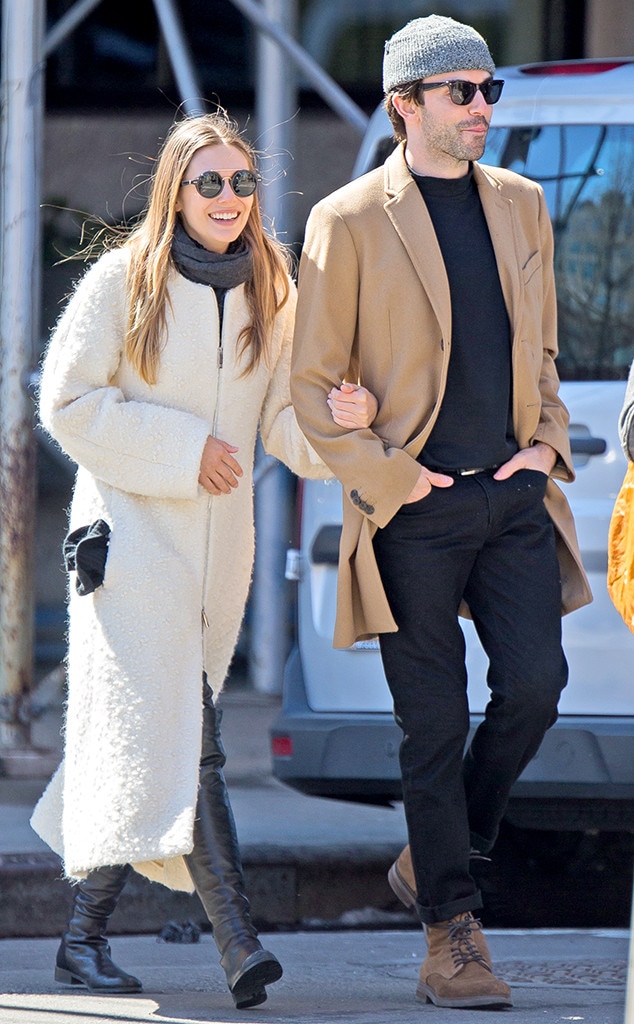 Team GT/GC Images
Elizabeth Olsen has a new man in her life!
E! News can confirm the Captain America: Civil War star is dating singer-songwriter, Robbie Arnett. Mary-Kate Olsen and Ashley Olsen's little sis recently stepped out arm-in-arm with Arnett in New York City, prompting many to wonder who the lucky guy is and how the lovebirds first linked up.
Well, we've learned Elizabeth and Robbie's romance sparked back in early February when they met while on vacation in Mexico. Our insider described Olsen's boyfriend as a "great guy," adding, "They are in an exclusive relationship and Lizzie is excited about him. She deserves it. It's very new though, but they seem to like each other a lot already."
Hey, those smiles don't lie. Here are five things to know about Mr. Arnett: 
Kelly Sullivan/Getty Images
1. He's in the Music Biz: First things first, Robbie is one of those creative types. He's a vocalist in Milo Greene, an indie pop quartet that formed in 2009 and saw chart-topping success three years later with their self-titled debut album. Arnett started the band with his college buddies, and went on to release two EP's and a 2015 sophomore album called Control.
Only weeks ago Milo Greene released its third EP compilation, titled Never Ending, and wrapped up a four-date tour along the West Coast just in time for Arnett to be in the Big Apple by Monday. Perfect timing, no? 
2. Robbie Has a Connection to the NBA: Well, sort of. Los Angeles Clippers star J.J. Redick is a self-proclaimed huge fan of Robbie's musical endeavors. So much so, that in a 2012 interview the NBA player revealed he listens to "1957" before every game. The admiration is mutual, as several members of Milo Greene have described themselves as basketball nuts. 
3. He's Very Much a Fan of the Cryptic Instagram Post: In what appears to be an image posted to Arnett's private Instagram page, we present some possible insight about his romantic Mexican rendezvous with Elizabeth. Shared right around the time our source says the duo crossed paths, Robbie captioned a snapshot, "that time i was in san jose del cabo. rt after that hot tub. after those special gummies. after that mescal margarita. before the purple made my legs look really strong."
And yes, we are indeed reading between the lines with this one. 
4. He Might Have a Future in Film: Something tells us Robbie is intrigued by Elizabeth's career, given his own interest in the cinema world. When Milo Greene first got off the ground, its bandmembers intended to create tunes for film and television.
Arnett's bandmate Marlana Sheetz told CBS News in 2012, "Originally when we started this band we wanted to create music that we could potentially see being placed in movies and TV. We really love scoring and that's how we wanted the music to sound." They even put together a short film entitled Moddison released in collaboration with their first album. 
5. No, Like He's Really Into Movies: Robbie's official Instagram account is riddled (and we mean riddled) with movie posters. In many of his posts he draws comparisons between what's going on in his personal life to a movie plot, most recently alluding to his recent time in New York City to Eddie Murphy and Angela Bassett's 1995 horror-comedy, Vampire in Brooklyn. Do you see where we're going with this? 
He captioned the image, "already craven to return." We see what you did there, Robbie. 
—Reporting by Alli Rosenbloom